The main issue when considering desk height would be if you're short, how low your desk height needs to go when sitting down. Desks tend to be made for taller people because it's less noticeable if a desk is too tall for people compared to a desk being too short.
If you're short then you can always raise up your chair and use a step stool for your feet. It is simply easier to make this adjustment than for someone to be too tall for their desk. This is why the industry standard desk is going to be higher than a lot of people need.
Average Desk Height
Let's take a look at the average sitting height for a "normal desk". The average computer desk height will generally range from 28 to 30 inches with the industry standard being 29 inches. However, may go as low as 24 inches. This is, of course, looking at a standard desk and not one that raises and lowers down.
This is going to be important to know, especially if you are using a sit/stand desktop workstation. In this scenario, you'll be using a standard desk and then adding a stand-up option to that. Usually, they give a standard max height that these desks are fit for, but this doesn't account for various desk heights.
Make sure to measure your desk before adding a desk conversion. If you need to know the correct height of your desk while standing than check out this article.
What is the Ideal Desk Height While Sitting Down?
So is the industry standard 29 inches going to be the best height for most people? The answer is a definitive no. Of course, everyone isn't going to want to use the same size desk. It's absurd to think that someone who is 5'2 would want the same size desk as someone 6'10".
But, unfortunately, most employers have a standard desk that everyone has to use. However, if you are looking for a desk for your home office (or if you have a cool employer) then you can pick something that is going to suit you personally. So, let's get down to it.
I'm going to give you what works for me and then you can get estimates from that. I'm 6'2″, so I can use a taller desk. In fact, most people my height would want a 29-inch or even a 30-inch desk. What personally works for me is a 28-inch desk, though. Why? Because I lay back more when I sit down. While laying back my legs go lower than if I was sitting upright. So this is something you should consider. In other words, if I sat upright 29 inches would be ideal. Laying back 28 inches is ideal. Make sense? Ok good.
Now clearly you will be able to adjust the height level of your chair as well and this will make a difference also. But of course, you want your legs to be in a comfortable position. Because of this you really want a desk that is either at the exact right height or just an inch or two from that ideal height.
So here is a chart giving you a guide for what height your desk should be based on your individual height.
 Correct Desk Height While Sitting Down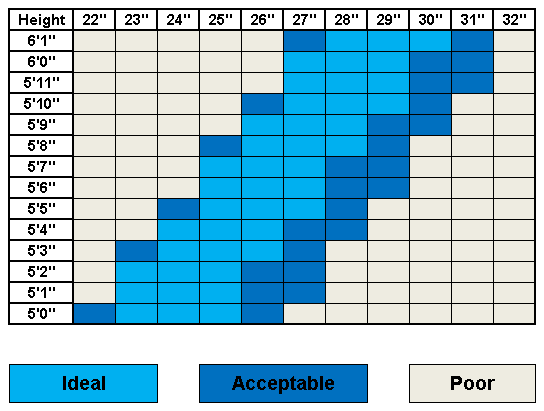 Clearly, if you're a shorter person, you are completely out of luck. You have to adapt to what you've been given, which means, of course, adding some type of stool to put your feet on. Wouldn't it be nice to actually have a desk that fits you?
Instead of buying a child sized desk the best solution is to get an adjustable standing desk that has a wide height range that goes as low/or nearly as low as you need for your particular height. This means getting a full sit/stand desk to replace your current desk. This is also a great solution for people who are really tall and need something higher up.