If you're looking for the best ergonomic chairs for a standing desk in 2019, here are some of the best options that you can find on the market today.
Now when looking for a standing desk chair there a few different kinds that you can decide to go with. Those are tall office chairs (drafting chairs), leaning seats, active seats, or just a standard office chair that will work as long as your standing desk is adjustable and you can switch back and forth from sitting to standing.
Don't worry, I'm going to break down some of the best choices in each category for you and hopefully make your choice easy.
First, let's go ahead and give a quick breakdown of each so you can decide which is best for you.
Different Styles of Chairs for Standing Desks
Tall Office Chairs aka Drafting Chairs
Drafting chairs are great because they are designed specifically for taller heights. The only difference between these and a standard office chair is that it's higher off the ground. That's it.
But at the same time, with it being higher off the ground that means that these chairs really aren't designed so that you can lay back much. Obviously, with the taller height if a chair allowed you to lay back too far then it would fall over. So they tend to mainly upright chairs and in addition to that don't usually hold as much maximum weight.
It's also important to note that if you have an adjustable height standing desk then there is no reason to get a drafting chair. Drafting chairs are made for standing desks that do not adjust to lower heights.
And honestly, unless you already have a standing desk that doesn't adjust then I wouldn't buy one. Adjustable height standing desks are the way to go.
Leaning Seats/Stools
These really take a standing desk to the next level, and to be honest, they aren't for everyone! These are also known as "active seats" as well because of the fact that you don't ever get to fully sit down so you're engaging your core throughout the day.
Now don't get me wrong, it's not intense by any means, but at the same time when you're used to sitting comfortably for most, or at least some of the day and now all of a sudden you can't really do that, it can be a bit challenging.
With a leaning seat you don't ever really stand either, so you're always in an in-between position. For people who love to stay active, this would be a chair to consider. For a lot of people who are just trying this standing desk thing out and don't really know what to expect, you may just want to sit this one out (pun intended).
Active Seats
Wait, didn't we just go over this with the leaning seats and all? I mean you just said they are considered active seats…yeah yeah I know, but they can go beyond leaning seats.
Basically active seats are seats that make you engage your core. So these can also be stools that just have no armrests but don't lean. These can even be balance balls! If you don't want to go all out with a leaning seat then there are some more affordable options you can go with.
Again, these are something to consider if you're an active person and don't mind a bit of a challenge as using these for a full day is a complete game changer.
Ergonomic Office Chairs
And finally, if you have an adjustable height standing desk, then you can always just use a traditional office chair. And honestly, for most people, this is the way to go.
Obviously, you can't use a traditional office chair for your standing desk if it doesn't adjust, but when we say "standing desk", 90% of the time they are adjustable and allow you to sit or stand.
The thing is, if you're standing for a good portion of the day, it's not a bad idea to just sit down as well. After all, too much standing isn't exactly a good thing either. Basically what you want to do is limit the damage done from one or the other and standing desks (that adjust) are perfect for that.
The key here is to find something that works for you, lumbar support is going to be very important, but not everyone is going to want the exact same thing. With that said, let's get to it!
Gamer Chairs
These are basically the same category as your ergonomic office chairs but they tend to be a lot more eccentric looking. In addition to that, a lot of them have the option to lay completely back. And for some people, reclining back may actually be a better way to go.
Gamers want something that's comfortable, and if you're gaming you can even lay down and play. You usually won't have a boss yelling at you to sit upright!
That being said, these can work great as office chairs to pair with your standing desk. Especially if you have a bit of a laissez-faire work atmosphere where you can use something that stands out.
Best Chairs for Standing Desks
Tall Office Chairs
Herman Miller Aeron Drafting Chair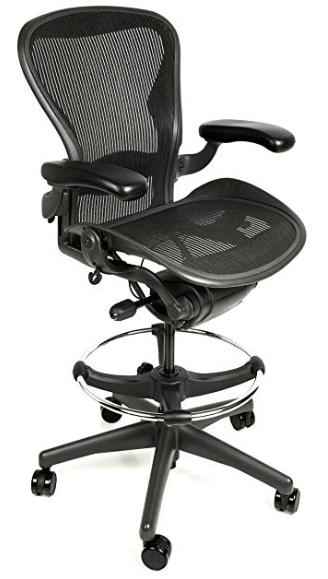 Herman Miller arguably makes the best office chairs on the planet, and the Aeron is the most infamous option you can go with from their line.
Now, the drafting chair version of the Aeron is no exception to top of the line quality as it is made to last for the long run. There is a reason this chair is one of the most used chairs by Fortune 500 companies.
The high-quality materials and craftsmanship of the Aeron make it one of the most comfortable chairs money can buy.
Some of the features of this chair include adjustable arms, tension control, pneumatic height adjustment, tilt lock, 3 different chair sizes, and lumbar support that offers two different firmness settings.
Simply put, this is one of the best office chairs you can find and if you're looking for a drafting chair then going with the Aeron gives you a chair that is still more comfortable than most ergonomic standard office chairs.
This may be out of the price range of a lot of readers, but the 12-year warranty that Herman Miller offers with all of their chairs makes it a great investment for anybody looking for the ideal chair to help counter lower back pain and provide overall comfort.
Pros
12-year warranty
Option to recline
Adjustable arms
Tension control
Tilt Lock
Lumbar Support
High-quality materials
Cons
Highest price range for an ergonomic chair

---
Harwick Evolve Mesh Drafting Chair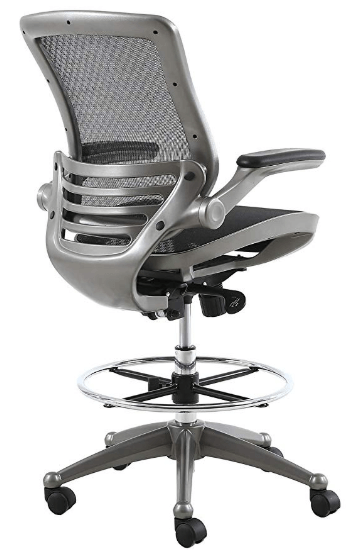 If you want to get something that really lasts but just can't justify spending the money on a Herman Miller (or Steelcase), then Harwick offers a heavy duty option that goes for quite a bit less.
And this chair even comes with a 10-year limited warranty. So like the Aeron you're getting something that is backed up by a warranty that far exceeds industry standards.
This is another drafting chair that really paid attention to detail and put it in the same ballpark as a standard ergonomic office chair.
The attributes include a 325-pound seating capacity, lumbar support, and flip up armrests. This chair is a very comfortable option if you want a drafting chair that still allows you to somewhat lay back.
Because of the way it's designed, although it doesn't recline further back, with the angle of the chair you can lean back a bit. With a lot of other drafting chairs, you can't do this.
The main downside if you go with this is the fact that the armrests don't have adjustable height. So they are locked in place and other than moving them out of the way they are going to stay in place. However, they are designed to keep your arms at the correct ergonomic position, so for most people, this won't be an issue.
Pros
Option to recline up to 30 degrees
Lumbar Support
Supports up to 325 pounds
10-year warranty
Flip-up armrests
Great value
Cons
Armrests aren't adjustable/can only tilt up out of the way
Can't change pressure of the lumbar support

---
HON Volt Task Stool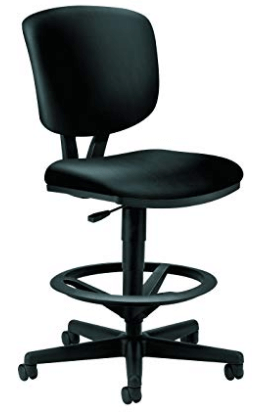 The HON Volt task stool is an excellent option that combines function, comfort, style, and a really affordable price.
What I love about the HON Volt is its simplicity. There are no armrests, it just does its job as a drafting stool. And the great thing about it is the modern sleek look it has to it.
You can choose either fabric or "sofThread" leather and both give it a high-quality professional look.
Some of the features include adjustable height, the ability to raise and lower the footrest itself, 360-degree swivel, and most importantly a full lifetime warranty.
Other than all of that is the comfort it provides while sitting as the cushion itself is much better than other basic "cheaper" options.
This is the perfect chair to go with if you're looking for simple, effective, and cost friendly.
Pros
Sleek design
Adjustable height
Footrest has adjustable height
Soft cushion
Full lifetime warranty
Great value
Cons
No armrests
Doesn't tilt
Minimal lumbar support

---
Ursa Petite Drafting Chair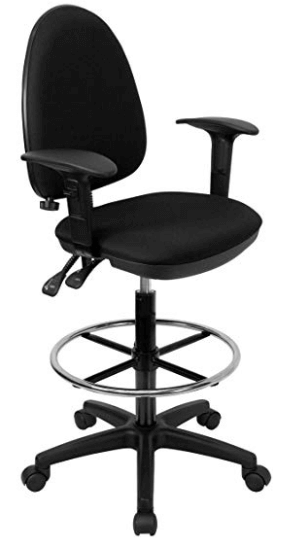 This chair is designed for, you guessed it, petite individuals. It has a slightly smaller seat and overall footprint than a lot of other drafting chairs.
In addition to that, the total heigh only reaches 28 inches tall while most other drafting chairs tend to go to 30 or above.
It has easy adjustment, 360-degree swivel, and a basic backrest that allows you to be able to sit back and even allows the option to recline, something you wouldn't expect with this small of a chair.
If you're a shorter person and like the basic yet stylish look of this chair then it's something that you can't go wrong with and comes at a nice price.
The Ursa also comes in a few different color options so if you don't want the all-black they have a navy or burgundy style you can choose from as well.
Pros
Perfect for petite individuals
Reclines back
Waterfall front edge designed for comfort
Excellent value
Cons
Limited and shorter height range than most other options (24-28 inches)
No armrests
Limited lumbar support

---
Studio Designs Modern Drafting Chair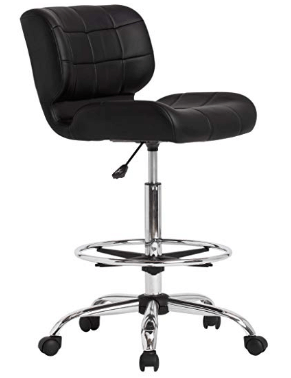 Studio designs has an excellent drafting chair that comes at a very affordable price. As I'm currently writing this article is going for less than $130 making it quite a bit more affordable than most drafting chairs.
In addition to that, it's built really well. The all-black vinyl and minimal design give it an elegant look that I think a lot of people would love as the style really gives off an architecture/drafting feel to it, which of course is exactly what they were going for.
Now, clearly, you can tell just by looking at this chair that if you're looking to recline back, this isn't the chair for you. It's designed to allow you to sit but not fully relax, which is completely fine for some people and may even be exactly what they are looking for.
Another thing to consider is that although this chair does adjust it doesn't go quite as low as other drafting chairs as it ranges from 28.5 to 32.25 inches in height whereas a lot of others tend to go down to 24 inches.
But hey, it's a drafting chair, so that probably won't really matter. If you like the modern look of this chair then go for it.
Pros
Sleek modern appearance
Comfortable cushion
High maximum height level at 32.25 inches
Very affordable for a quality drafting chair
Cons
No armrests
Doesn't recline

---
Best Office Mid-Back Mesh Drafting Chair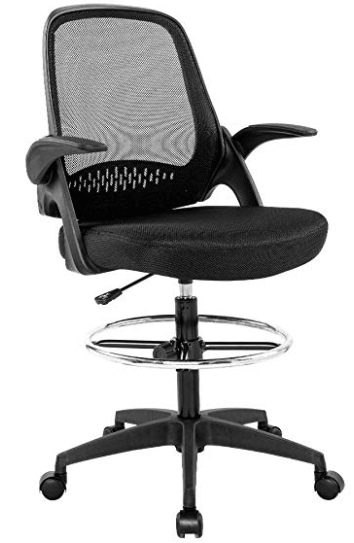 I'm not saying this is the best office mid-back mesh drafting chair you can find, what I am saying is that it's a drafting chair, and it's made by Best Office.
Talk about an excellent marketing campaign though. Anyways, this may actually be the best budget drafting chair you can find because it usually goes for less than $100.
You certainly can't say that about most of these on this list. And you aren't going to get quite the same quality spending this amount of money. But hey, it's a great budget drafting chair to go with.
Anytime you can skip out on going out to Applebees and buy a chair instead, you know you're making a wise economic decision.
I mean it isn't like you sit in this chair and falls apart just because it costs less, hell the reviews on it are overwhelmingly positive, just view it as more of a temporary option than a longterm solution.
Pros
One of the most affordable drafting chairs
Adjusts up and down
Armrests flip up
Cons
Only a 1-year warranty
Cheaper materials
Can't recline
Not always available
***The drafting chair is currently out of stock, this is currently sending you to their traditional office chair***

---
Office Factor Clerk Teller Drafting Chair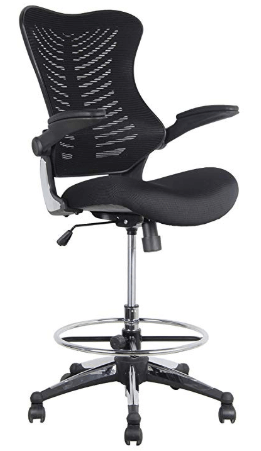 Now if you're looking for affordable, but want to step your game up a bit, then the Office Factor clerk teller drafting chair is a terrific choice.
This would probably be considered a mid-level chair in terms of price but it is definitely worth the additional money spent.
It has more cushion, a really nice look to it, and even allows you to tilt back. Not only that, but it comes with a 5-year warranty so you know you're getting a product that should last awhile.
This really is a good choice to go with if you like the style as the reviews on the overall comfort of this chair suggest that the price point could be a lot higher, possibly making this the best value pick for what you're getting.
The chair is height adjustable up to 30 inches and at its lowest level is nearly the same as a standard chair. Some of the complaints about it are that the ring itself isn't adjustable and that the seat has a bit of a decline on it. If those things don't matter to you then this is an excellent choice.
Pros
Flip-up armrests
5-year warranty
Lumbar Support
Very affordable
Cons
Non-height adjustable armrests

---
Leaning Seats
Ergo Impact LeanRite Chair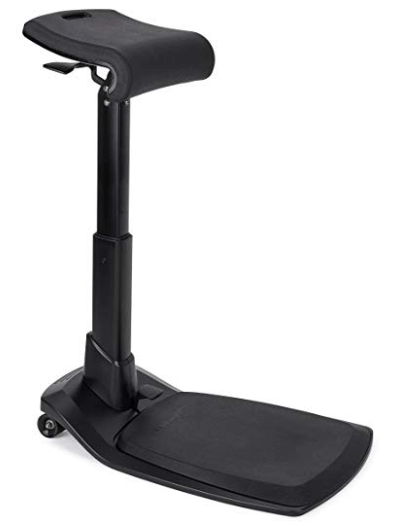 This is my favorite active leaning seat you can get for a standing desk. It is simply has everything that you need in the perfect standing desk chair.
It's built to last, it is comfortable, and the tilting seat technology is better than anything else on the market.
With a lot of other leaning seats, there are complaints about them breaking down or not lasting. Not with this product, as you can see from the way it's built just how sturdy it is.
Now, for this style of leaning seat where you have the anti-fatigue mat attached to it, you could also consider the Focal Upright Locus chair as an alternative. I would say the Focal Locus has this chair beat aesthetically, but in terms of performance, I think this leaning seat is the best you'll find on the market.
The seat itself is able to be tilted allowing you to stand up at the exact perfect angle. Not everyone will like sitting at a leaning seat at the exact same angle, and this seat allows you to tilt to your liking.
Now, the actual frame itself stays in a constant upright position. This is a great feature because with other leaning seats where the bar itself angles it puts a lot more stress on the chair and doesn't give it the same long-term stability this leaning seat has. This is an excellent long-term investment if you're looking for a leaning seat.
Pros
Built to last
Tilting seat perfect for a leaning chair
Anti-fatigue mat attached
Quality aluminum frame
Mobile
Cons
Highest price range for a leaning stool
Only has a 270-pound weight capacity

---
Focal Mobis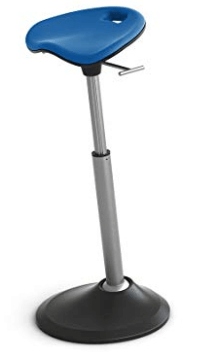 If you'd like something a little more mobile than the Ergo Impact standing desk chair, then the Focal Mobis leaning seat may be the next best thing.
It's built to last, unlike some other cheaper leaning seats. The one shown here is actually the original Mobis but they have an updated Mobis II as well which has a slightly different looking seat.
Both of these are great options and the Focal Pivot leaning stool is another option to consider from Focal. The stability of this leaning stool may be its best feature as the steel bar supporting it is completely solid.
It's 300-pound weight capacity and adjustable height tall enough for users 6'8″ makes this stool accessible for most people.
The rubber base grips the floor well and you won't have to worry about any sliding. The one complaint about this chair is that the stool itself may be too firm for some people.
It's made of a high-quality EVA foam that you won't have to replace for years, but at the same time, it is a bit more firm than some other choices you can go with.
The shape of it is perfectly designed to fit your bottom though, so that may be a moot point. At the end of the day this is a terrific leaning seat and you won't find many designed with the same quality.
Pros
Built to last
High quality steel bar
Comfortable EVA foam cushion
Contoured seat to fit your bottom
300-pound weight capacity
Cons
Higher price range
Seat may be too firm for some people

---
Varichair by Varidesk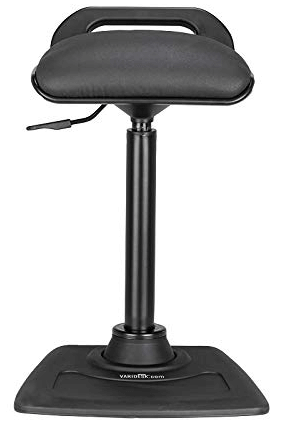 The Varichair by Varidesk is a leaning stool worth mentioning. This comes at a mid-level budget point that is going to be ideal for most people.
Essentially, it costs about half of what the higher end options listed here do. Which is actually surprising coming from Varidesk as their products tend to be at a higher price point.
What I like a lot about the Varichair is that the cushion is a lot larger than some other or even most other leaning stools. It has more room as well as a soft cushion to sit on.
Varidesk is one of the leading innovators in ergonomic office equipment and revolutionized the industry of adjustable height standing desks so you would think their leaning stool would be an excellent choice.
However, the reviews seem to be hit or miss as a lot of people complained about it not lasting or the rubber part on the bottom pulling off of the pole.
Pros
Comfortable cushion
Wide range of motion
Adjusts to a tall maximum height
Looks cool
Cons
Long term durability is questionable
Only a 220-pound weight capacity

---
Learniture Active Learning Stool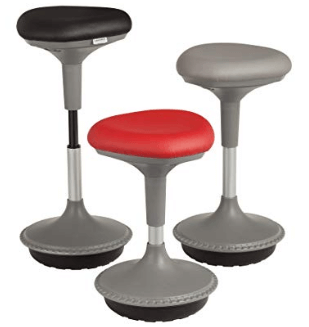 If you just can't justify spending the money on some of the above-mentioned leaning stools then the Learniture Active Learning stools are an excellent budget choice.
They go for quite a bit less and yet the reviews on them are still overwhelmingly positive. The functionality of this leaning stool is almost just as good as your higher priced choices, it just likely won't last as long.
But it's able to be adjusted with a pneumatic gas lift that allows you to change the height from 18.5 inches to 28 inches.
It also is able to be angled quite a bit, however, the one thing with this leaning stool where it is lacking is that you can't really use it in a partially standing position very well.
The other options listed here have seats that are made specifically for that and this one doesn't fit the bill quite as well. Either way, it is a quality active seat that will allow you to engage your core while sitting while saving you quite a bit of money.
Pros
Great value/affordable
Comfortable cushion
Adjusts from 18.5 to 28 inches
Non-slip base
Mobile
Cons
Maximum height is lower than most leaning seats
Not very stable while using in a standing/leaning position

---
Focal Mogo Leaning Seat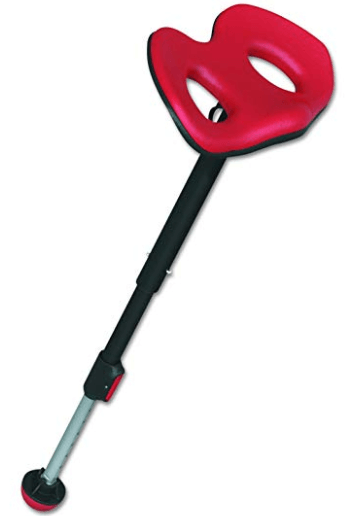 The Focal Mogo leaning seat is worth getting for a couple of different reasons. First off, it's going to be much more affordable than almost any other quality leaning seat.
But in addition to that, its small footprint is what makes it so unique. You can simply collapse it down to where it is just under 19 inches as it comes with a bag you can place it in.
The mobility of this chair makes it a terrific option because you can use it anywhere, you don't have to keep it in your office for your standing desk at all times.
Also, the fact that this leaning stool is so affordable and versatile in its use makes it an excellent buy whether or not you are going to use it full time.
If you aren't completely certain on whether or not you want to get a leaning seat that you're going to use all the time then go ahead and try out the Focal Mogo and see how you like it.
You could always use it in addition to a standard office chair as full-time active leaning seats may not be for everyone.
Pros
Minimalist and mobile
Non-slip rubber bottom
Very affordable
Adjustable height
Cons
Seat cushion may be too firm for a lot of people

---
Other Active Seats
Swopper Classic by Aeris GmbH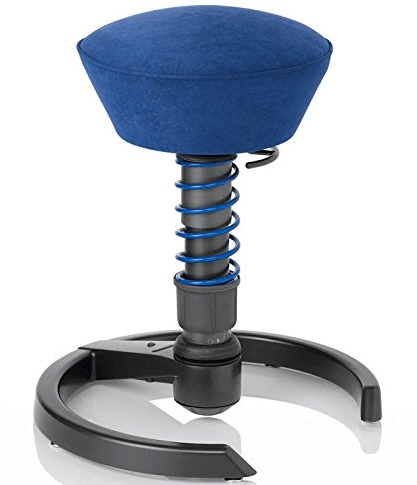 If you are looking for a top of the line active chair then Swopper Classic by Aeris GmbH may be your best choice. It's an active seat that allows you to bounce and yet may actually last you a decade.
With the active bounce spring technology, it allows you to engage your core without putting as much pressure on your spine. Now, you can actually tilt this if you want to, but it's not necessarily made primarily for leaning.
To help justify the amount of money you're spending on this, it comes with a 5-year manufacturer warranty. So you can expect it to last for at least that amount of time.
Even though this is an active chair you may actually be able to use this for a full work day because of the fact that it's so comfortable. The cushion combined with the spring just put it's on another level and justifies the price tag.
Pros
High-quality materials
Comfortable cushion
5-year warranty
Tilts, sways, and bounces
Adjustable height
Cons
Highest price range for a wobble chair

---
Zenergy Ball Chair by Safco Products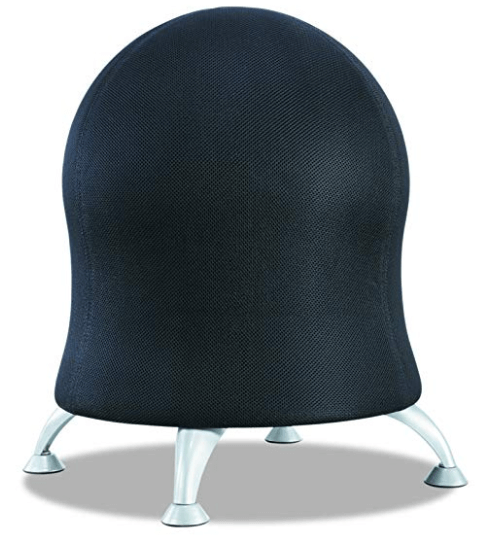 If you want to go with a balance ball as your active seat, then this really is an excellent and affordable way to go. Now granted, sitting on a freaking ball may not work for most offices.
So, enter the Zenergy ball by Safco Products and you have a balance ball that looks professional enough to use in just about any office.
There literally is a ball hiding in there. You just pump it up from the bottom if it starts to lose some air and you're back in business.
This is a nice alternative to the Swopper Classic if you want a hands free style chair that allows you to bounce. The only thing to consider here is that it's not going to last nearly as long.
So money saved up front may not pay off in the end. But hey, if you're not completely sure about trying this style of chair out then go ahead and get the Zenergy Ball Chair now and you can always upgrade later if you like it enough.
Pros
Looks like a real chair
Allows you to bounce
Can get with legs or without
Multiple color options
Cons
Although more affordable still pricey for a balance ball
Unlikely to last for a long time

---
BetterPosture Saddle Chair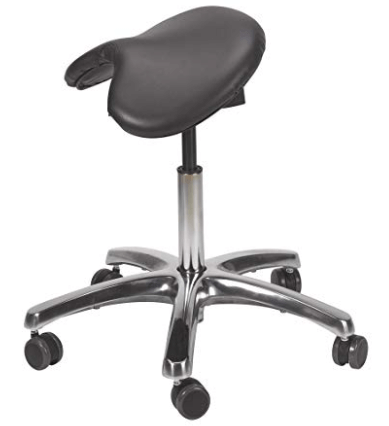 Saddle up partner. Because all of you cowboys out there now have an office solution for being stuck in an office and not out riding your horse.
It's the BetterPosture Saddle Chair. If this thing isn't odd to you at first glance, well then it may be the chair for you.
Not everyone would go for something like this. In fact, probably hardly anybody would. But that doesn't mean it actually won't be a good "active seat" that can help you with your posture.
You're basically sitting in the same position you would be on the active stools that allow you to bounce, only you don't bounce, you just ride an imaginary horse.
Okay okay, all jokes aside, a lot of people love this style of chair and it does wonders for their lower back pain. If the tilted seat is something that would work for you over a flat chair then is definitely one to consider.
Pros
Sturdy steel base
Gas lift height adjust
Promotes good posture
Comfortable cushion
Cons
Doesn't actually sit on a horse
Doesn't make you a cowboy

---
Standard Ergonomic Office Chairs
Steelcase Gesture Chair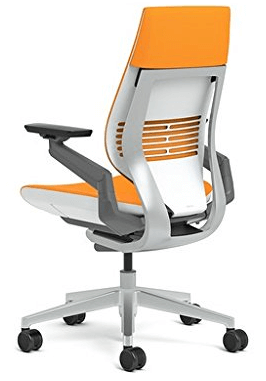 I had previously used the Steelcase Leap chair for years and absolutely loved it. It is a chair that is built to last for a decade and goes above and beyond in terms of comfort.
Now, the Gesture is Steelcase's newest and most innovative product on the market, and its design is definitely a step up aesthetically.
As for the comfort of the chair itself, the innovation behind it is that it is a chair designed to move with your body and compliment people's natural movements while using the latest technology on the market.
Postures and sitting positions are changing quite a bit with people sitting all day and using iPads, smartphones, and laptops 8 plus hours a day. The Gesture chair is supposedly the answer to what the modern worker needs.
It comes at a higher price range than most, but like Herman Miller products, Steelcase chairs are considered some of the top ergonomic office chairs on the planet and warrant the extra cost.
Personally, this is my favorite ergonomic office chair you can go with. The look of it is like no other and they have several color options you can go with. You simply can't go wrong with this chair.
Now if you're wondering just how I can recommend a chair that costs this much (along with a few others on this list), maybe you should just see for yourself the difference in overall quality.
See the Gesture in this video below:

Pros
Designed for modern day sitting postures
Comfortable cushion
Excellent warranty
Armrests adjust in all directions
Lockable tilt
Can adjust seat not only vertically but horizontally (forward and backward) as well
Adjustable lumbar support
Cons
High price range
Headrest isn't included

---
Herman Miller Embody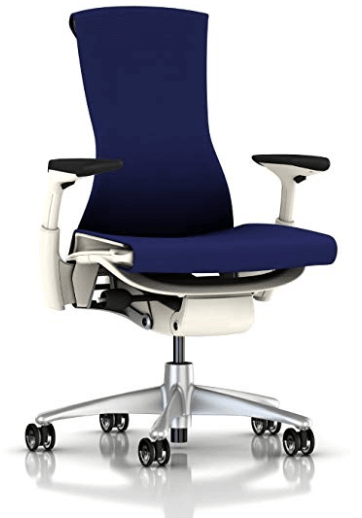 We already mentioned the Herman Miller Aeron chair above which is their most popular model. But I wanted to include something else from Herman Miller because every option they have is going to be an excellent choice.
While other choices like the Sayl, the Mirra 2, and the Setu chair made by Herman Miller are all worth considering, the Herman Miller Embody chair may be the best choice in terms of the aesthetics combined with comfort.
It really is a terrific looking chair, and of course, is built to last you a solid decade if you decide to go with it. This is a made in America chair that will exceed of quality of a cheaply made product coming from China.
The Embody allows you to recline if you want to but is primarily made for people who want to sit with an upright posture as fits perfectly to your back and provides plenty of lumbar support, yet flexes with the movements of your back at the same time
With 13 different color choices, this chair is one of the best choices for anyone looking for the ideal office set up. And again, the fact that it comes with a 12-year warranty makes it an excellent long term investment.
Pros
Adjustable arms
Firm Lumbar Support
Able to flex with your body
Tilt optional
Excellent warranty
Quality materials
Comfortable cushion
Cons
Highest price range for an ergonomic chair
Headrest isn't included

---
LaZBoy Executive Chair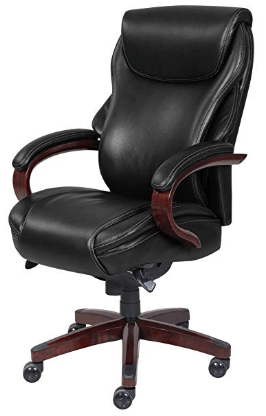 Going with an executive chair could be a great option as these have quite a different look and feel to them than other office chairs.
The name goes directly with the vibe these chairs give off as they are perfect for any executive who is looking for a classy and elegant appearance.
The LaZBoy Executive chair is one of the best you can find on the market, which is no surprise since they are known for making really comfortable chairs.
Unlike some other executive chair options, this one actually has some lumbar support. And in combination with that, the thick comfortable cushions on this seat make it a great choice to go with.
The one shown above is the black and brown which I think has a really classy look to it, but they have a good selection of colors outside of that. So if you want all black, brown, or gray then they have that to choose from as well.
Pros
Comfortable cushion
Elegant look to it
Waterfall front edge
Adjusts up and down
Can rock back and forth
Cons
Doesn't recline
Arms don't adjust
Bonded leather, not 100% leather

---
CLATINA Swivel Executive Chair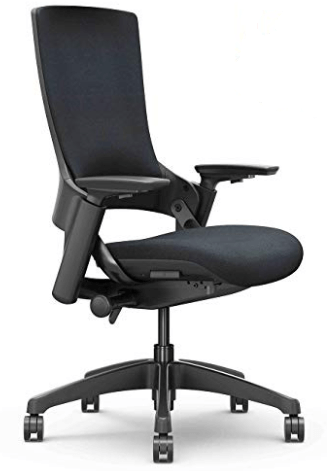 The CLATINA swivel executive chair is a terrific mid-level option for those of you who just can't justify forking out over a grand for a quality chair.
This is a good option to go with and reminds me of some of the Steelcase chairs as it as the same general look to it as the Steelcase Leap chair.
It doesn't exactly have the same ergonomics though as the seat itself doesn't fit your body quite as nice as it's a bit more upright.
That being said, this chair has quite a bit of the same features you would look for in a high-end office chair. It has adjustable height armrests, 45-degree reclining capability, a steel reinforced base, and even an optional headrest.
Not to mention that it comes with a 3-year warranty. So this may not be a decade long option as your all day desk, but it should at least give you a few good years.
Pros
Adjustable arms
Adjustable lumbar
300-pound weight capacity
3-year warranty
Great value
Tilts/locks in 3 positions
Tilts up to 45 degrees back
Optional headrest
Cons
While 3-year warranty is good for the price, suggests this chair may only last a few years

---
Duramont Ergonomic Office Chair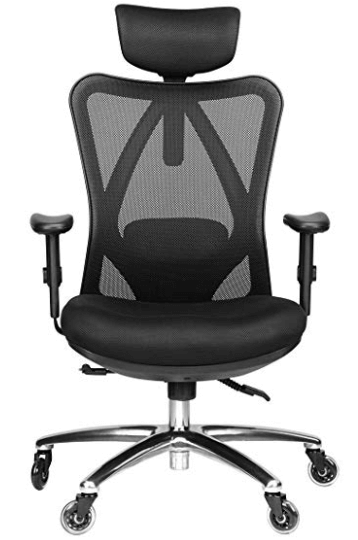 As an alternative to the Herman Miller Aeron chair you can go with the ergonomic office chair made by Duramont. Again, this is another more affordable task chair that still has quite a bit to offer.
The reviews on this chair are overwhelmingly positive. As I'm currently writing this article it has a 4.6/5 rating on Amazon with over 160 reviews.
That tells you that more than likely it's going to be a safe bet if it falls in your price range and at the same time has the features you're looking for.
Speaking of features, this chair offers a 30-degree tilt, adjustable armrests, 330-pound weight capacity, and lumbar support where you can change the pressure put on your lower back.
All of these make it an excellent mid-level choice and will be a great chair to pair with any standing desk.
Pros
Adjustable arms
Lumbar Support
Headrest included
90-day money back guarantee
330-pound weight capacity
Excellent value
Tilts/locks in 3 positions
Cons

---
Gamer Chairs
Hbada Gaming Chair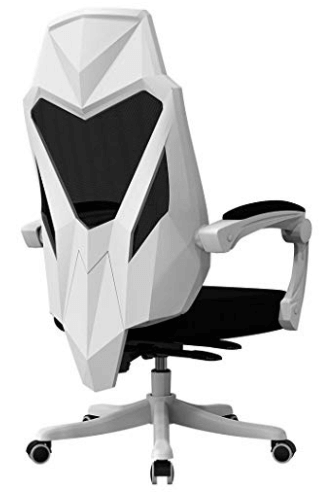 Hbada has a few different gamer chairs you can go with and all of them get good reviews. They have the option to lay back to 135 degrees of an incline making this a chair you can really relax in.
They even have the option to add a footrest for about ten bucks more. I'm not sure how well that would work for most people who are using a standing desk, but it's nice to have that option.
Unlike some other gamer chairs, Hbada sells chairs that are quite affordable as they tend to go for around $150. Other game chairs could run you twice as much.
While the chair shown above definitely has a full on gamer chair look to it, they do offer a couple of other options that look more office appropriate, and even have one designed as primarily an office chair.
If you like the look of the Hbada chair then with it going for such an affordable price it is a chair worth considering.
Pros
Affordable
Lumbar Support
Headrest built into chair
Tilts back 45 degrees
Cons
Arms don't adjust
Only has a 225-pound maximum weight capacity
Looks like it should be in Star Wars

---
AK Racing Gamer Chair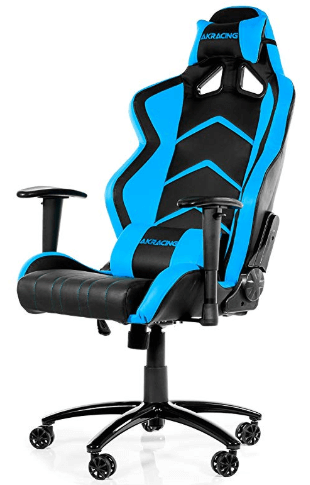 And finally, we saved the best for last with the AKRacing gamer chair. Ok, maybe it isn't the best for everyone, but for me personally, it is a Godsend.
Now, my back issues are different than most people and I actually prefer laying back quite a bit. That's the only thing that works for me. Does anyone remember Steve Nash laying down on the sidelines? Yeah, that's me.
Well, enter the AK Racing gamer chair. It reclines down completely flat. In addition to the ability to lay down unlike almost any other office chair, it is really a well-built chair.
The leather on it is made it last for years (I've used mine now 3 years with no issues) and it aesthetically it is one of the most flamboyant yet badass looking chairs you can go with.
That being said, now in 2019 there are a few knockoff brands you can go with and spend less money on, but personally, if you want to go with a gaming chair, I say go with the AK Racing chair as it is an excellent chair that I think you'll love.
If you need one that is a little bit more office friendly looking, then they even offer an all-black executive style gaming chair you can go with.
Pros
Looks cool
Lumbar Support
Tilts all the way flat so you can lay down (170 degrees)
Several style options including an all-black executive style (more suited for an office)
Made from high-quality materials
Armrests adjust up and down
Headrest built into chair (with pillow included as well)
Cons
Cushion may be too firm for some people

---
FAQs on standing desk chairs
Is it really worth it to buy a high-end ergonomic chair?
I'm sure a lot of people will look at the price of say a Herman Miller chair or a Steelcase chair and immediately think these are made for corporations and millionaire/billionaire executives and they aren't something the "average" person should consider.
And I get it, it's a lot of money to put down at one time on a chair. But at the same time, most of these have warranties on their parts that last a decade or even longer and that is something you generally don't get with cheaper chairs. Sometimes warranties may be on a product but companies will look for every reason not to actually back it, while with almost all of the higher end chairs they tend to follow through on their warranty if anything happens.
You have to think of it as an investment because you're getting something that is going to last a lot longer if you decide to buy a high-end chair. What is the actual cost if you break it down by how long you will use the chair?
So a cheap $150 chair with a 1-year warranty that lasts a couple of years may actually cost you more in the long run if you think about an $800 chair lasting 12 years. Or at the very least it could even out and be around the same price.
At the end of the day though, you'll likely spend more long term but you'll also be sitting in a lot better chair for years to come. And of course, above we listed some chairs that will cost way less and still provide almost all of the same features.
That being said, these high-end chairs are definitely on another level. It's all personal preference and also depends on whether or not you want to put that much money down up front.
Can you actually use a leaning stool or active stool all day?
When you switch from using a traditional office chair over to a leaning seat it can be quite the transition. If you don't already have a standing desk yet and are used to sitting all day then it's going to be even more of a challenge switching over.
Going from one extreme to another may not be the best option, although there are people that do just that. For most people, though, I'm guessing that a somewhat slow transition would probably be the best way to go. You could try keeping your old chair around and using your leaning seat half of the day and using your traditional seat the other half of the day.
But eventually, it's not for everyone, but you definitely can use a leaning seat for a full 8-hour workday. These leaning seats put a lot less pressure on your spine and a lot of people actually prefer working all day in a leaning stool.
You just have to be someone that is really devoted to being "active" because they don't allow your body to be quite as lazy as before lol.
How long should I sit during a typical workday?
This will also depend on the person, but just because you went out and got a standing desk doesn't mean that you now need to switch from sitting 8 hours a day to standing all day long.
Having a good balance of sitting to standing is going to help out your body the most and, I hate to sound like a broken record here, but it's probably going to depend on each person how much they should sit each day.
Personally, some days I sit for about 90% of my workday, other days I stand for close to 75% of my workday. I'll never go much beyond standing for more than 6 hours in an 8 hour day. That's just me though. Other people do just the opposite and prefer standing most of their day.
The key is to listen to your body. You'll know if you've been sitting too long and you'll know if you've been standing too long, sometimes it's easy to be lazy and not stand! But you're body will appreciate if you do stand when you have that voice in your head telling you to get off your lazy ass lol.
If you want a general guideline though, a 50/50 split of sitting to standing tends to work well for a lot of people.
Can you use these chairs without a standing desk?
Clearly, the traditional ergonomic office chairs can be used with a standard office desk. As for the other chairs like leaning seats, drafting chairs, and other active seats, for the most part, you're not going to use these with standard desks.
Leaning seats are designed for standing desks and there is no point in trying to use it at lower heights as this would defeat the entire purpose of it.
And drafting chairs are the same way, they are elevated to higher heights for a reason. These chairs are made specifically for taller desks (usually standing desks that are not adjustable). Now, a lot of drafting chairs might allow you to lower them to the point where you could use them with a standard desk.
But this doesn't make much sense because you might as well just get a standard office chair. Unless you switch back and forth from a standing desk to a standard desk and move your chair back and forth from each desk then there isn't much of a need to go with a drafting chair outside of a standard chair. If you're not using a standing desk then there is no reason to use a drafting chair.
As for the other active seats we spoke about (balance balls, spring-based stools, etc.), you could technically use them with a standard desk. But I couldn't imagine having to sit like that all day and not be able to switch to standing for parts of your day. That's just me though. These active seats engage your core so you'll have to consider the fact that you'd be in that position all day long. Hence why these chairs are great if you pair it with a standing desk.
Are you able to set chairs on top of treadmills?
A lot of people who have standing desks actually use treadmills designed for standing desks so they can be more active. The question is, can you actually place your chair on top of the treadmill you are using without damaging either the treadmill itself or the belt on the treadmill.
You'll have to check out the information based on your specific treadmill as most of these won't have the exact same specifications. And the truth is that you very well could damage the belt of your treadmill using the wrong chair.
Wheels will actually be better than a solid bottom because they won't place such hard indents into your treadmill, though, and most office chairs that have wheels should be able to sit on top of a treadmill without doing too much damage.
Of course, you'll want to make sure the base of your chair actually fits onto the treadmill before buying something!
Summary
I've tried to provide a good selection of some of the best chairs for standing desks you can find in 2019. With such a vast amount of options to choose from, I'm sure there are several other options out there that would work well that wasn't even mentioned here.
But I tried to breakdown exactly what's going to work best for everyone including high-end options, mid-range options, and even budget options.
You don't have to go with the most expensive option as every single one here listed should be a high-quality chair. However, some of these higher priced chairs are pretty insane in terms of quality.
If you're not certain which style of chair to go with then you really can't go wrong with a standard office chair as long as your standing desk adjusts up and down and isn't locked at a standing height.
However, if you want to take it to the next level then going with an "active chair" could be a great choice. Overall, this article provides 22 different chairs you can go with.
Be sure to check out more information on the size and specifications before actually buying as the last thing you want to do is have to return it for something else!
Hopefully, everything listed here is enough to help you find the best chair that will work for you. Is there anything on here that you think should be included that wasn't? Let me know in the comments below!