Here is my list of the best sit/stand desktop workstations aka desk converters you can find. This is updated for 2017. I have these rated based on quality compared to price looking at the best overall value.
A lot of these will be directly compared to the Varidesk as it is one of the leading industry innovators. There are plenty of Varidesk alternatives that you may actually prefer over their top model, the Pro Plus 36.
The various types of desk converters included here are:
Z-Type Converters
Floating Arm Converters
Base and Post Converters
Electric Converters
Mainly what you will see on this list is that it is flooded with the Z-type style converters. There is a reason for this as these tend to be priced less yet still are top of the line quality and I put a lot of emphasis on how affordable these options are.
You really can't go wrong with any of these desk options though, and I included various styles as not everyone is going to want the same thing. Here they are.
Best Sit/Stand Desk Converters
1. Ergotech Freedom Desk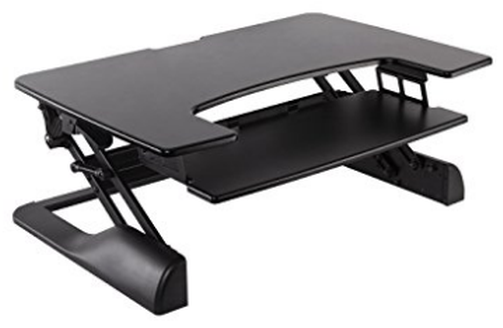 The Ergotech Freedom desk has improved on the Varidesk in many ways.
The tallest height is better as the top tray reaches 19.6 inches, it also goes as low as 5.1 inches which is lower than the 2nd desk listed, the ZipLift.
The main attraction to this desk is its price. The 36-inch model can go as low as $290. It tends to range between that and $370.
The fact that it is elite in specs but is more affordable than other top quality desks makes this one of the best choices you can go with.
Despite the low price they still offer a 5-year warranty which is incredible for a Z type desk conversion.
Another great feature is that it is designed to add a monitor arm to it. It has a 10mm grommet hole on the back. Now granted, many of the other desks listed here may be capable of having a monitor arm added as well, but the issue is that raises the cost even more.
With the Ergotech you could add a monitor arm to it and potentially still spend less than you would on another top desk converter.
This is the ideal set up, to have a monitor that can smoothly adjust back and forth and be at the correct height. This gives you perfect ergonomics while sitting and adjusting back to standing as you can adjust your monitor as needed.
If you are able to find this in the low $300 range it is absolutely worth picking up as it is one of the best converters for a lower cost.
OVERALL RATING: 9.5/10
AWARD: ELITE YET AFFORDABLE
2. ZipLift Standing Desk Converter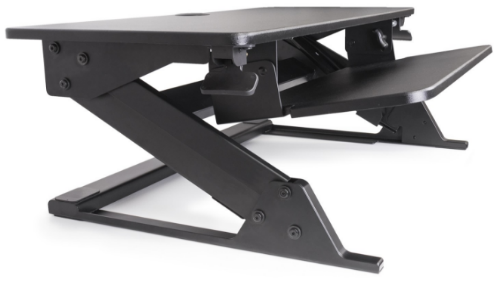 A lot of people are going to like this desk more than anything else.
This desk simply outperforms most others in quite a few categories.
It is one of the taller Z-type workstations you will find at 20 inches tall.
It has an unlimited number of stopping points since it uses a gas-strut mechanism.
It has the option to accommodate any monitor arm with the grommet hole in the back and also there is nothing in the way if you wanted to clamp a monitor arm.
And it's pretty much completely silent. It's an all-around beast when it comes to doing exactly what you want a sit/stand desk to do.
Plus it has an added feature that other desks don't have, you can tilt your keyboard tray to improve ergonomics for your wrist.
So why did it fall short of number 1? The lowest monitor height is 6 inches off your desk, ideal is 5 or less. This is partly what allows it to reach such a tall maximum height. However, while sitting I personally think this is too high off of your desk. For some people (people who sit completely upright) this may not be an issue.
I think for a lot of people, this would be the best all around desk, especially if you are someone that sits completely upright. It also comes in almost $50 cheaper than the Varidesk, going for $349. Lately, they have even been including a standing mat with it for free making this an even better buy.
OVERALL RATING: 9.5/10
AWARD: MOST COMPLETE DESK CONVERTER
3. The Versa Power Computer Desktop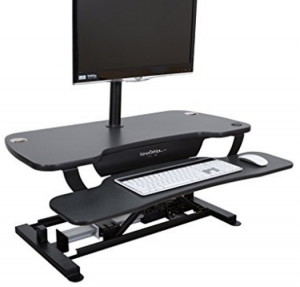 The Versa Power Computer Desktop is an all-around terrific desk when it comes to sit/stand workstations.
It is currently the only electric-powered Z-type lift on the market. All you have to do is press a button and it will raise and lower to your liking.
It has a height range of 5″ to 20″ making it one of the tallest desk conversions as well.
Not only that but it has a weight capacity of 80 pounds. So it can easily hold 2 monitors as well as a pair of dumbbells if you wanted to. In other words, it can carry more than enough weight.
It has optional accessories like the added monitor mount shown in the picture above. It has 3 slots for these to be added giving a nice extra feature to the overall experience of the desk.
The main negative I have is that it isn't quite as fast moving up and down as some manual options. However, this isn't much of an issue because it doesn't take that long.
If you aren't worried about that then this may very well be the best sit/stand desktop workstation you can buy. You can generally find it for slightly less than what the Varidesk goes for.
OVERALL RATING: 9.4/10
AWARD: BEST ELECTRIC SIT/STAND DESK CONVERSION
4. Fully Cooper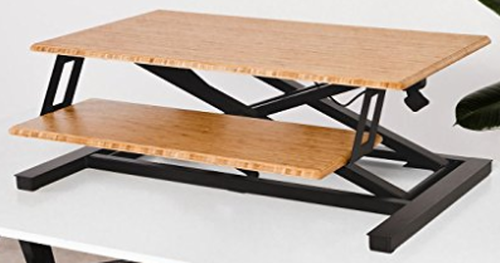 The Fully Cooper is so high on the list because it has excellent specs and yet you can get it for less than $300, as it generally goes for around $290.
The Cooper desk converter is the tallest Z-type desk you will find as the keyboard height reaches to 17.3 inches tall and the monitor height reaches 22 inches tall. Ideal for someone as tall as 6'5″.
Not only that but its hydraulic lifting system allows infinite stops instead of incrementing stopping points. Like the other Z-type options all you have to do is squeeze the 2 levers on the side. Adjusting with this desk is quite easy.
The downside would be that the top level only goes down to 6.3 inches, which is comparable to the ZipLift desk. Although I don't think it is quite as nice as the ZipLift, it is taller and cheaper. So that may be the difference in making this desk the ideal desk for you.
GRADE: 9.4/10
AWARD: TALLEST Z-TYPE DESK CONVERTER
5. Varidesk Pro Plus 36 Height-Adjustable Standing Desk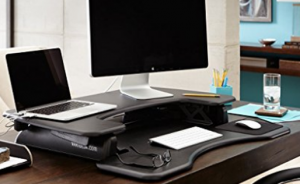 This is rated towards the top because Varidesk has a solid track record and is one of, if not the leading innovator in the industry.
In fact, pretty much all of the desks on this page came from what Varidesk originally put on the market.
The Varidesk Pro Plus 36 is one of the most all-around versatile desks they offer and it still holds its own to the other converters listed here.
On over 1,000 reviews on Amazon, it has a 4.8/5 star rating. This is unheard of on any product.
It's versatile in that you can move your monitor to the bottom level if that is something you like to do while sitting. Personally, using the Varidesk I move my monitor down since I tend to lay back more when I'm sitting.
This makes it closer, as well as easier to see since it is then less than an inch off the desk. Not everyone will like doing this, but you have that option if you want to considering it has over 14 inches of available space on the bottom tray. You just have to move the monitor back up when standing.
It also has 11 different height settings so that you can choose the height that is right for you. On the lowest setting, the top tray sits at 4.5 inches. The tallest height goes to 17.5 inches which is as high or higher than most sit/stand desktop workstations. Going all the way down to less than 5 inches while sitting makes this ideal placement for your monitor in a sitting position (and you have the option to move it even lower).
Another great feature is that when it stands it moves towards you so that you don't have to lean forward to see the monitor. Overall, this is a great product and well worth the cost.
OVERALL RATING: 9.3/10
AWARD: LEADING INDUSTRY INNOVATOR
6. 
FlexiSpot Height-Adjustable Standing Desk Riser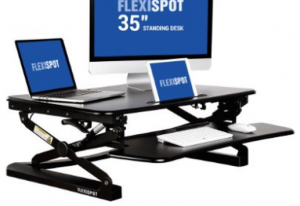 This ranks so well because of its quality combined with price. The original price is actually slightly less than other top options at $375.99 BUT you can usually find it on sale for less than $300.
Its style is a lot like the Varidesk but it also matches and even outperforms it in certain categories.
It has 12 different height adjustments compared to 11 for the Varidesk, and it reaches a maximum height of 19.7″ off of the desktop, which is more than 2 inches higher than the Varidesk making it one of the taller desktop workstations, ideal for tall people.
It holds 35 pounds making it fully capable of holding 2 monitors. The width is 35″ which will fit most desktops. It also utilizes a gas spring hovering system that makes the up/down adjustment extremely easy while staying vertical as it raises saving you additional space.
The downside to the Flexispot desk riser is that it only lowers to 5.9″, again, the Varidesk goes down to 4.5″. It also only has 8 inches of space on the lower tray compared to over 14 on the Varidesk. You may be able to put your monitor on that level but it would be a tight fit. If it wasn't for those 2 things it would be ranked higher.
Overall, it has great features while having an overall height that will work well for taller people making it a great buy, especially if you can get it for a hundred dollars less than other top desk conversions.
OVERALL  RATING: 9.3/10
7. Cadence Standing Desk Converter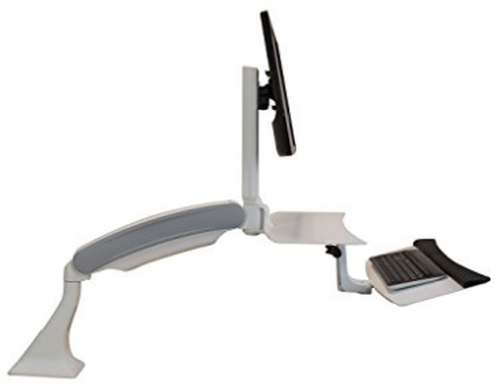 I wanted to provide another style that you may find more interesting than the traditional Z type desk. This is basically a monitor arm attached to a standing desk! Pretty cool right?
It's a really solid desk conversion. The main downside (like others of this style) is the price. This bad boy goes for $549.
The price, however, is a direct reflection of the quality as it is made by iMovR and they simply put out excellent products when it comes to sit-stand desks.
This is no exception, and like the ZipLift desk (also made by iMovR) this is great for taller people, in fact, it's the best desk converter for tall people that I've seen. It is even taller than the ZipLift raising up to 22 inches for the top work surface and just over 18 inches for the keyboard level! This is taller than any of the Z type desks.
Another great feature when looking at the height level is that the monitor isn't just 4 inches above your keyboard because of the monitor stand attached to it, so the monitor is going to be at the correct height level. This means you don't have to look downwards at your monitor. This is where the Cadence outperforms the Z type desks.
It also allows you to tilt your monitor. Unlike other desk converters of this type, instead of having to keep your monitors flat, this allows you to be able to change positions sitting and standing and still get your ideal monitor position.
The Cadence may just be the best desk workstation if it wasn't for the price. At $549 for the single monitor option and $599 for the dual monitor option this just isn't going to be for everyone. The great thing, however, is that they actually offer a 5-year warranty so it makes this a quality investment.
If you prefer a desk converter over an entire sit/stand desk then this makes complete sense if it's in your budget.
OVERALL RATING: 9.3/10
AWARD: BEST DESK CONVERTER FOR TALL PEOPLE
8. Ergotron WorkFit-T Sit/Stand Workstation

The Ergotron is another desk conversion that has improved upon what the Varidesk started in many ways. It has a better height range, costs less, and has a longer warranty.
In fact, it comes with a full 5-year warranty. Which like the Ergotech Freedom Desk, is top of the line for Z type desk converters.
The height range is one of the tallest going as high as 20 inches above your desktop, it also goes down to 5 inches while sitting. It also has 20 different height ranges compared to just 11 for the Varidesk.
The one concern about this desk is the keyboard space. You can always go with the Ergotron WorkFit TL to add more space if you want. This is basically the same thing but larger, however, it's going to cost a little more as it usually tops the $400 mark.
Have you noticed the specs on this are virtually the same as the Ergotech? I would even say it is built marginally better than the Ergotech, but the price difference makes it not quite as attractive.
Overall, it is one of the best desk converters you can buy, though.
OVERALL RATING: 9.3/10
AWARD: BEST WARRANTY
9.
UpTrak Dual Level Sit/Stand Adjustable Desk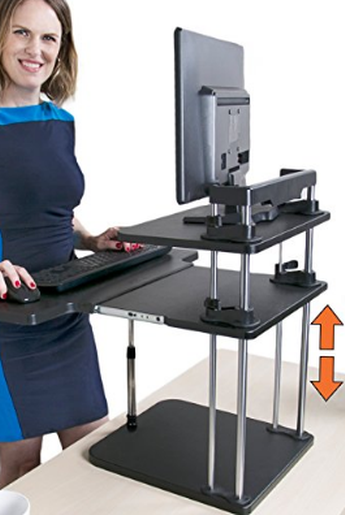 The UpTrak Dual Level sit/stand desktop workstation is so high on the list because it has the smallest footprint of any of the workstations listed here. It flat out gets the job done and is very lightweight while taking up very little space.
The small footprint combined with its affordable cost makes this a great buy, especially for someone looking to get a sit/stand desk for the first time.
This desk is also perfect if you have a job where you move cubicles periodically, or if you have don't have a whole lot of space. It holds up to 25 pounds, which even though isn't as much as other workstations is still enough to hold most keyboards+monitors/laptops. Plus it only weighs 21 pounds.
Adjusting heights is very easy. It looks as though it may be somewhat of a challenge, but once you get used to it, it takes less than 10 seconds to adjust. It won't be quite as easy as the higher rated sit/stand workstations but it is still easily adjusted, nonetheless.
When sitting the UpTrak's top level sits at 4.25″ and goes up to 17.5″ and the keyboard tray goes as high as 15 inches making this a good option for people as tall as 6'2″.
The keyboard tray is also adjustable so that you can move it towards you. It ranges from 18.5″ to 25″. In other words, you can move it almost 7 inches closer to you if that is something you prefer.
Last but not least, this is more than likely going to be cheaper than most quality sit/stand desks. The original price is $299.99 but I've never actually seen it go for that much. You can find it in the $150 range quite often. However, if you still think that is too much to spend on a sit/stand desk then check out my post on the most affordable sit/stand desks.
The main negatives to the UpTrak Dual Level sit/stand workstation is that it isn't going to be as sturdy as the other options listed. However, despite its low weight shouldn't have any issues with a single monitor and doesn't wobble at standing heights.
Overall, this is a terrific buy for the price.
OVERALL RATING: 9.2/10
AWARD: SMALLEST FOOTPRINT/MOST AFFORDABLE
10. InMovement Adjustable Standing Desk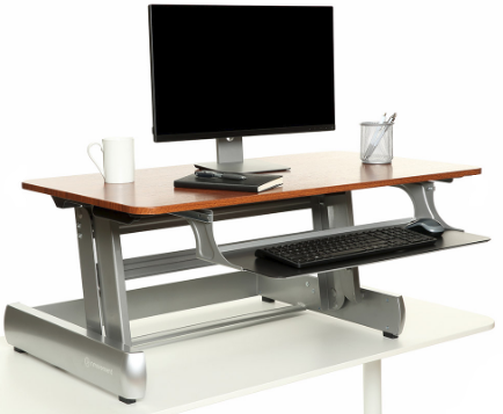 This desk is another elite sit/stand desk conversion. But it may just be the sleekest looking option of all the Z-Type sit/stand desks.
The wood finish on top combined with the smooth metal on the bottom makes this stand out compared to the others.
The good thing is the specs are top notch as well. It stands as tall as 18.75 inches with the monitor tray going as low as 5 3/8 inches while sitting.
It is also a bit wider than most of the top-rated desks as it is 41 inches wide, giving you some extra desktop space.
The downside is that it has a small keyboard tray. So I would recommend using a smaller keyboard with this option. You can fit a regular keyboard and mouse but it may be a bit tight.
Either way, if you go with this option then you may just be the coolest person in your office. 🙂
OVERALL  RATING: 9.1/10
AWARD: SLEEKEST LOOKING Z-TYPE
11. Eureka Desk Converter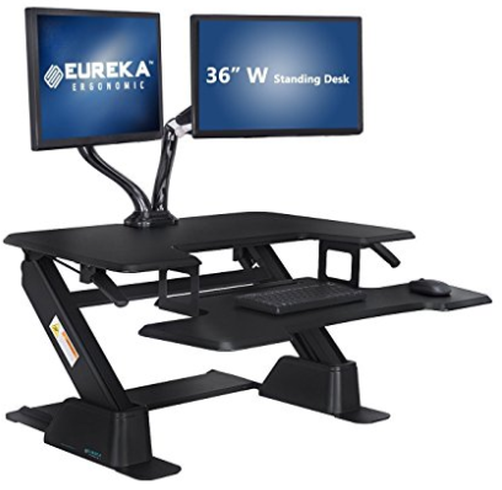 The Eureka Desk just kind of came out of nowhere. It's newer to the market, and out of all the other Z-type converters here it probably mimics the Varidesk more than any of them.
Like the Varidesk, instead of a solid square block on top it has an area cut out so there is more room on the bottom level. Which I personally really like as it gives you room to either move your monitor down or use a laptop there.
The original price is listed at $499.99, which I think is too high. But you can tend to find it on sale for less than the Varidesk.
And oddly enough it actually outperforms the Varidesk in a couple ways. First, it is taller. The keyboard trey goes up to 15 inches and the top level goes to 20 inches. The downside to this is that while sitting the top level is slightly higher than the Varidesk. It sits at 5.75″ instead of 4.5″ compared to the Varidesk.
Second, it has an unlimited amount of stopping points instead of having to lock in at certain increments. This is a marginal improvement as the Varidesk has so many stopping points it isn't a big issue.
Either way, at the end of the day this desk converter is an awesome choice, especially if you can get it at a discount price.
OVERALL RATING: 9/10
12. Ergotron WorkFit S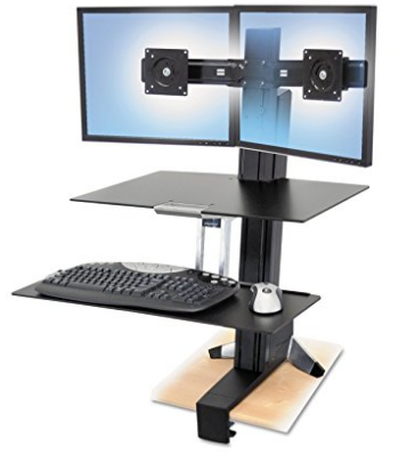 The Ergotron Workfit S is one of the most popular sit/stand desk conversions, and it is a really good option.
Its ability to easily slide up and down makes it an attractive choice over the other Z-type options mentioned.
Here is what I don't like about it though: the price and the fixed position of your computer monitors. It is also only tall enough for someone roughly 6'0″ tall. This is why it's not higher on the list.
The Ergotron is one of my favorites of this style though. The main thing I like about this option compared to the rest is that it fits to the front of your desk instead of the back. This gives you a comfortable distance between you and your computer monitor.
The other options that fit to the back of your desk simply will not work for anyone that tends to lay back while sitting, as it makes it uncomfortable trying to view your monitor.
The price is going to range around the $500 range for this desktop workstation which puts it in the same ballpark as a full sit/stand desk. Personally, I think if you're going to spend $500 it makes sense to buy a full desk as opposed to a desktop workstation. But, a lot of people may not be able to do that if their employer doesn't allow it, or you may just prefer the workstation set up instead.
The issue like I mentioned is that the monitors are unable to be angled at all. You are able to move them up and down, which is good. But you can't move them forward or turn them. This is one of the biggest complaints with the base/post style desk converters.
If those issues don't bother you, then this desk is an excellent choice.
OVERALL RATING: 8.9/10
13. 
Fancierstudio Riser Desk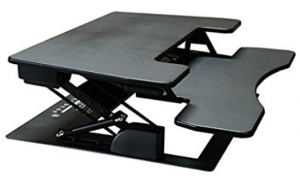 This sit/stand workstation ranges from 5 to 17.7 inches giving it good up and down range. It also has 8 different height adjustment levels putting in the ballpark of the Varidesk and Flexispot.
The other main feature of this is that the keyboard tray is large enough to hold a monitor. It isn't quite as spacious as the Varidesk's keyboard tray but it should fit some but not all monitors. Also, the base price for this model is $199.99, quite cheaper than most quality sit/stand desk converters. This makes it a great value purchase.
The negatives to this item are that it weighs 64 pounds and yet only holds 30 pounds. Most sit/stand workstations that have the 2 tier technology can hold 35 pounds and tend to weigh less than 50 pounds. So this is going to be bulkier than most other models.
At the end of the day though it is a quality product at a discounted price. It's not lacking much behind some of the other top-rated desk converters but yet you can buy it at almost half the price.
OVERALL RATING: 8.9/10
AWARD: BEST Z TYPE VALUE PICK
14. Ergotron Workfit-A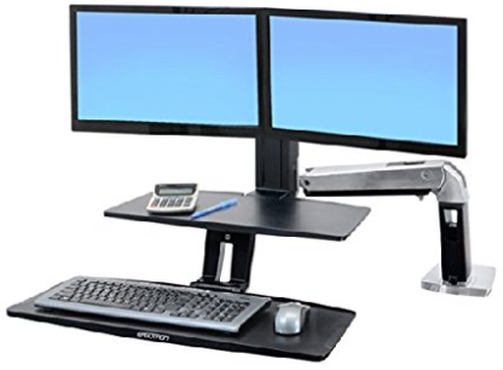 The Ergotron Workfit A is another solid desk conversion but ranks lower because of its price. This style is actually really cool, but I think if you're going to buy a floating arm standing desk converter then it makes sense to go with the Cadence by iMovR.
The benefit of this one over the Cadence though is that you can get it slightly cheaper as it tends to range between $450 and $500.
As you can see it is a quality desk that is fully capable of holding 2 monitors. It also has a keyboard tray that can go lower than desk level, which can be more ergonomic while sitting.
Another benefit of going with this style is the ease of adjusting is even simpler than the Z-Type desks. Which is why they tend to cost more.
Ergotron is another one of the leaders in this industry and if it fits in your budget, you can't go wrong with this option.
OVERALL RATING: 8.8/10
15.
AirRise Pro Standing Desk Converter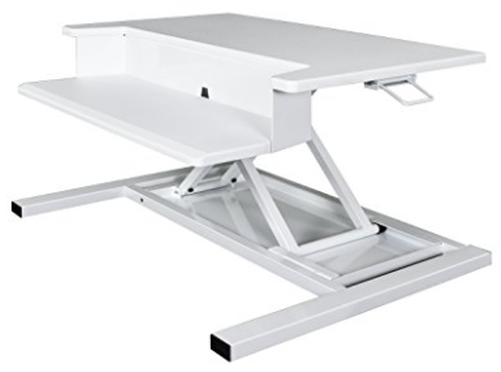 The AirRise Pro is great if you're looking to save money. It is a lot like the Fully Cooper only isn't as tall.
I actually preferred their earlier desk converter the Executive, but this desk is cool because it isn't like every other Z-type desk. And the Executive is discontinued…at least for the moment.
The original price of this desk is pretty standard at $395 but I've never actually seen it go for that much. You can tend to find this on sale, possibly as low as $169!
So basically this is the discounted Fully Cooper. That desk again goes for just under $300, so if you find this on sale you could get it for almost half of that.
The downside mainly is the height range, which is rather limited. The top shelf ranges from 5″ to 15.75″. The bottom shelf ranges from .75″ to 11.5″.
This means that while sitting it goes rather low which is good, but while standing it is only tall enough for someone maybe 5'10" tall. So if you're under 5'11" then this may be worth considering.
OVERALL RATING: 8.7/10
16. 
X-Elite Pro Height Adjustable Desk Converter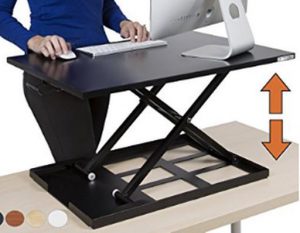 Although this sits towards the bottom of the list, it is still a high-quality sit/stand desk. On Amazon, it currently holds a 4.7/5 rating with over 400 views. This is outstanding.
The height ranges from 2.5″ to 16″, and as you can see the workstation is one solid large flat surface. So for someone that doesn't care for the 2 tier setup, this could be the workstation for them. It does seem visually more appealing with the solid surface.
So why so low? Well, there are a few main drawbacks. For one, it only holds 20 pounds, so even though it is large enough for 2 monitors the weight limit may keep you from being able to do this.
Also, I've been raving this entire page about how great the Varidesk is because you can put a monitor on the bottom tray making it virtually desktop height, so why not a grand appreciation for this only being 2.5″? The reason is that your keyboard will also be at that level, unlike how on all of the 2 tier setups that tend to be less than an inch off of your desktop.
Unfortunately, with this set up your keyboard will also be at the same height as your monitor when raised which isn't as comfortable while standing. This actually makes it ideal for laptops though.
If the concerns listed don't bother you than the X-Elite Pro is a terrific choice.
OVERALL RATING: 8.6/10
17. The Desk Riser by House of Trades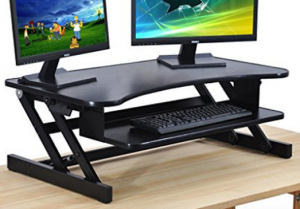 This sit/stand desk is easily adjustable with 2 squeeze levers on the side. It has 5 different height settings ranging from 6.5″ to 16.5″. The width is 32″, smaller than many of the above listed.
The best feature of the Desk Riser is that it can hold up to 50 lbs. Most sit-stand workstations will max out at 30 or 35 pounds.
Not this. It allows you to hold 2 monitors with ease while not having to worry about putting too much pressure on it while working.
The technology is the same as many of the above mentioned as it uses 2 squeeze levers to adjust up and down. It doesn't, however, have quite the versatility as it has less of and up and down range.It also doesn't have room to move the monitor to the lower tray like the Varidesk.
It also doesn't have room to move the monitor to the lower tray like the Varidesk. Despite its limitations you can generally find it cheaper than most options on this list.
OVERALL RATING: 8.6/10
18.
Halter ED-258 Sit/Stand Elevating Desktop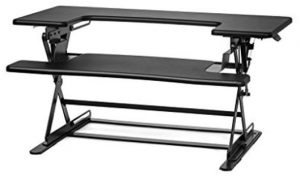 This design is much like the others in that it has the 2 tier setup, squeeze handles for easy up and down adjustment, and a total height of 16.25″.
The original price of $599.99 is pretty ridiculous, however, you can tend to find really good deals on Amazon. If you can find this desk in the lower to mid $200 range then it is a good buy.
However, it isn't at the top because it isn't quite as well built. Overall, it's a solid product but has limitations.
It is pretty basic however does mimic the Varidesk quite a bit in terms of the way the top level and bottom level are designed. It has more room on the bottom level. It doesn't have quite the room on the bottom level that the Varidesk does, however.
It is also important to note that it doesn't list how many different height settings there are. Looking at reviews people did state you could use various height levels, who knows how many it has though. The lowest height setting for the top tray is 6.5″ and the highest is 16.25″-not as versatile as most other models.
OVERALL RATING: 8.6/10
19. Riser Standing Desk Converter by Uplift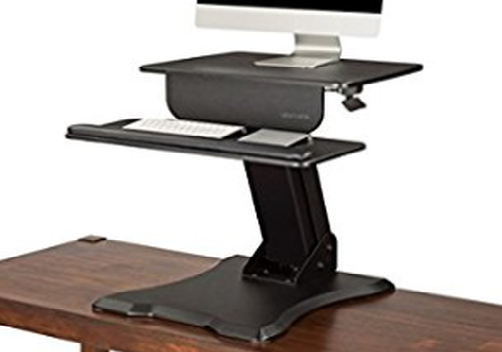 If you're looking for a smaller desk conversion then this can be a good option.
It is only 27 inches in width, most of the Z-type converters are at least 30 or 36 inches wide.
It also has quality height range with the monitor tray reaching 16.7 inches off of the desk.
The main downside is the awkwardness of it and the sturdiness. It only holds 28.6 pounds, however, this should be expected with the smaller size.
Also, the main complaint on this item is the wobbliness of it while in a sitting position as the main support actually keeps it sturdier while standing.
This is an excellent desk though, especially since you can get it around $220.
It also has an extra feature most converters don't have: the ability to lower the keyboard tray below your desk if you want.
These factors make this an option worth considering.
OVERALL RATING: 8.5/10
20. 
Victor DC350 Dual Monitor Sit-Stand Desk Converter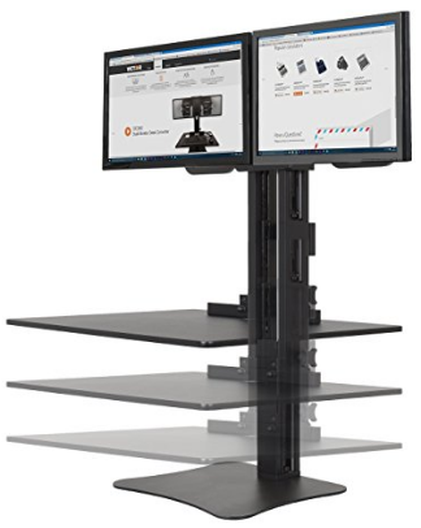 Next is the Victor DC350. Again, it isn't the typical 2 tier Z type desk I generally recommend.
If you're a fan of the base/post style then this is one of the most affordable options you can get. Unlike most of the others, it doesn't top the $400 mark. In fact, you may even be able to get it for less than $300.
The lower platform raises to 15.5 inches high and with the monitor mount, it would add even more height to the monitor level making it great for a taller person while standing.
The monitors are also height adjustable giving it more height versatility.
This sit/stand desk workstation allows the main surface to be lowered all the way down to desk level making it easy to type.
The main downside to this workstation is that when in the standing position there were a lot of complaints that the desk was wobbly and that you can't put too much pressure on it. Fortunately, they actually supply you with 2 adjustable supports in order to make it more sturdy while standing. This could be a little excessive having to do that every time, though.
Also, as I mentioned above, like most of these options it will be towards the back of your desk which will be too far away if you lay back at all while sitting. So in other words, unless you sit completely upright then this won't be the best option for you.
Overall this is a good sit/stand desk option that can provide you with a sleek looking setup different than most of the others listed here.
OVERALL RATING: 8.5/10
21. Humanscale Quickstand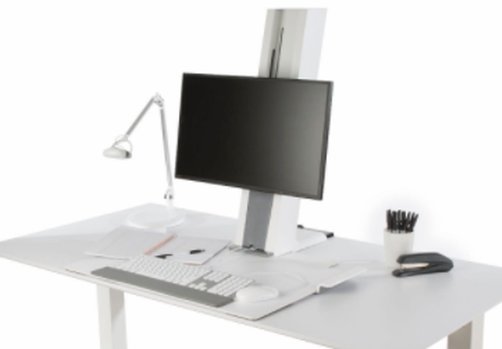 This comes in towards the bottom of the list, not because it isn't a quality desk, but mainly because of the price tag.
It originally went for around a thousand but now you can find it for around $700.
If you are looking for a top of the line desk converter, then again, I prefer the Cadence converter by iMovR. But not everyone wants the same thing, and some people may think this is the best converter on the market.
Anyways, as for the positives. It slides up and down smoothly, and while in a sitting position it goes less than a 1/2 inch off of your desk which is the best you will find.
The post also hides your wires as you can run them through so you won't have to worry about wires getting in the way.
It is also one of the sleekest looking desk conversions you can find as it almost looks sort of futuristic. The monitor is in a fixed position and doesn't move at all when adjusting or typing.
This, again, can also be a downside though. Personally, because of the fact that I tend to lay back when I sit and don't sit at a perfect 90-degree angle, the fixed monitor position is really annoying.
If you are someone that sits upright all of the time and rarely ever lay back then this probably won't bother you, and you may actually prefer it.
The height range is also really good if you go with the large version (for $50 more). It goes as high as 18″ off of your desk making it a quality option for tall people.
OVERALL RATING: 8.4/10
22. VIVO Height-Adjustable Standing Desk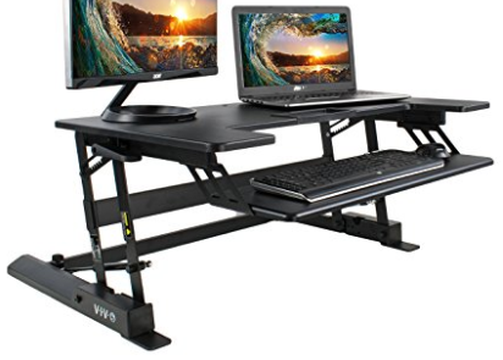 Ok, you get it by now. This is another Z-Type desk that is almost exactly like all of the other ones mentioned here.
Well, this is a newer item that gets good reviews and has a base price right under $200. So, again, if you are looking to save money this could be a good option to go with.
The specs are average. The height range is 6.5″ to 16″ on the top level. Nothing to get too excited about.
Also, a lot of reviews stated this desk conversion was either hard to lift up, or hard to adjust back down, hence why it is the last Z-type desk on this list.
It also appears to only have 4 height levels, it doesn't actually list how many so I can't say for sure. And finally, it only comes with a 1-year warranty. Which, of course, you should expect any time you spend less than $200 on a standing desk.
But, at the end of the day, this converter got positive reviews and could be worth going for.
OVERALL RATING: 8.3/10
23. Furrino Adjustable Laptop Table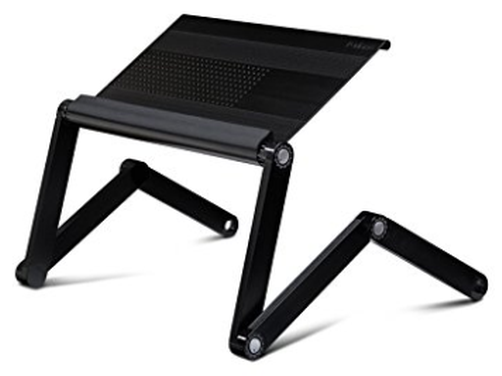 I wanted to include something else here for laptops because not everyone is going to be working on a CPU. If that is you then this may be the best option to add on top of your desktop.
The great thing is you can probably get it for less than $40! This makes it an easy addition that you really shouldn't think twice about. You will be able to convert your desk to be able to stand up without breaking the bank.
It also really adaptable as the 360-degree spring lock buttons allow you to position the stand several different ways and even reaches a maximum height of 17 inches above your desktop. Which is tall enough for someone about 6'4″ in terms of keyboard height.
The main issue with this, of course, is the ergonomics as your monitor isn't going to be at eye level. You will have to tilt your laptop up to view it. But that is simply the only choice you get with a laptop.
I think this is the best laptop desk converter to go on top of your desk, there are a few other laptop options in the same ballpark, though, you can check those out here.
OVERALL RATING: 8.0/10
24. SMONET Standing Desk Converter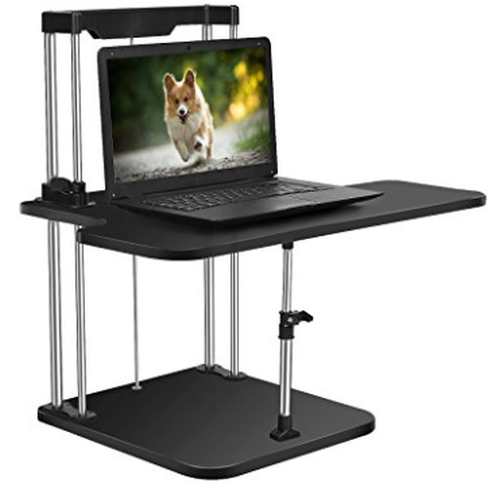 If you don't care about dual levels and want to get a cheap desk converter then you may be able to find this for less than $100.
The original price is $139.99 but you may be able to find it as low as $60.
I think the dual level desks are going to be a lot more ergonomic. but this could work well if you can tilt your monitor or if you are using a laptop.
And if you aren't too serious about getting a standing desk and want to kind of try it out, then this can be a terrific desk to start with.
The reviews on this converter are pretty average, as you would expect for the price. The sturdiness of this converter comes in to question as well.
Who knows how long this desktop option will last but that is the risk you will have to take buying a desk converter for this price. Which, ultimately could be worth it.
OVERALL RATING: 7.8/10
25. Spark by Ergrodriven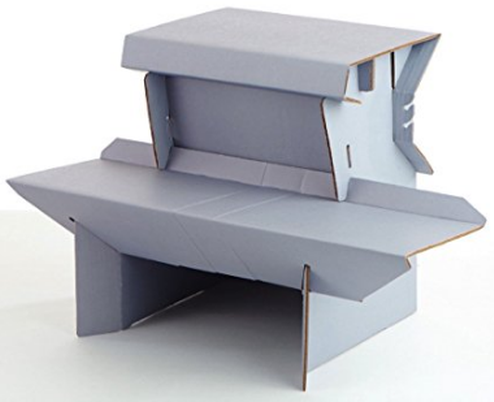 How about a box for a standing desk? lol Just kidding. Even though this is made of cardboard, it is made to do the job. It holds up to 60 pounds.
Of course, the most attractive part of going with a desk made of cardboard is the price. You can usually find this on sale for about $25. Not bad if you're looking to save money.
It even has the correct ergonomics while standing with the dual levels.
One of the biggest downsides is that if you want to sit down you have to remove the desk completely as, of course, it doesn't adjust up and down.
The other downside is that its made of fucking cardboard.
Don't expect this to be a long-term option by any means, but it will get the job done.
OVERALL RATING: 7.0/10
Desk Breakdown by Price
That was a lot of info to go through, so to help you break these down. Here are all the desks in order from the cheapest to the most expensive. You can also sort these by ratings by choosing the rating header if you want. Again, the ratings already have price as a factor in determining their overall score.
| Standing Desk | Overall Rating | Average Price |
| --- | --- | --- |
| Spark by Ergodriven | 7 | $25 |
| Furrino Laptop Table | 8 | $40 |
| SMONET Converter | 7.8 | $80 |
| UpTrak Dual | 9.2 | $160 |
| AirRise Pro | 8.7 | $160 |
| House of Trades Desk | 8.6 | $189 |
| Fancierstudio Desk | 8.9 | $190 |
| X-Elite Pro | 8.6 | $190 |
| VIVO Standing Desk | 8.3 | $195 |
| Riser by Uplift | 8.5 | $219 |
| Halter ED-258 | 8.6 | $240 |
| Fully Cooper | 9.4 | $290 |
| Flexispot Desk Riser | 9.3 | $290 |
| Ergotech Freedom Desk | 9.5 | $310 |
| ZipLift Desk | 9.5 | $349 |
| Victor DC350 | 8.5 | $349 |
| VersaDesk Power Pro | 9.4 | $390 |
| InMovement Desk | 9.1 | $390 |
| Ergotron WorkFit-T | 9.3 | $392 |
| Varidesk Pro Plus 36 | 9.3 | $395 |
| Eureka Standing Desk | 9 | $400 |
| Ergotron WorkFit-A | 8.8 | $445 |
| Ergotron WorkFit-S | 8.9 | $492 |
| Cadence Converter | 9.3 | $549 |
| Humanscale Quickstand | 8.4 | $699 |
Summary
All of these desktop workstations will provide a drastic improvement over any normal desk, and all of them are high-quality sit/stand options. Finding the one that works for you personally is the key, what is great for one person may not be for another person and vice versa. Hopefully, this detailed review will help you choose the best option that suits you.
What do you think about the list I put together? Is there anything you would change? Let me know in the comments below!