The Eureka Standing Desk converter is relatively new to the market, however, it looks to be one of the better options you can go with. Here is a full review with everything you need to know about this desktop option.
Eureka Standing Desk Converter
Company: Eureka
Style: 2 Tier Z Type
Best Place to Buy: Amazon
Average Price: $330
Overall Rating: 90.5/100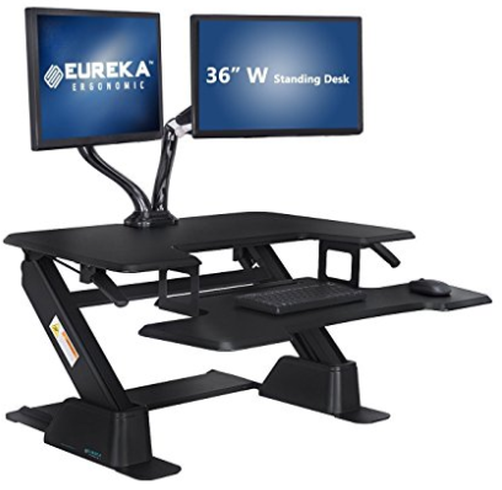 Specs
Height Range: Top level is 5.75″ to 20″ adjustable. Bottom level is .5″ to 14.5″ adjustable.
Width/Depth: 36″ wide, 22″ deep (top platform), 32″ total depth while standing
Speed: 3 seconds
Weight: 57.3 pounds
Weight Capacity: 35 pounds
Assembly: Comes fully assembled
Extras: Unlimited stopping points, 30-day risk-free guarantee
Warranty: 3-year limited warranty
Pros
Quality height range for a desk converter
Dual monitor capable
Monitor arm accessible
Decent warranty
Quickly adjusts up and down
Almost no noise
Unlimited stopping points
Stable, very little wobbliness
Comes forward while standing
Can tend to find on sale
Cons
Newer item, so less long-term certainty of quality
Only lifts 35 pounds
Heavier than most other desk converters that hold the same weight
Height range may only be tall enough for someone 6'3″ (see below)
Overview
The Eureka Standing Desk has quality specs and out of all of the desk converters out there, it may actually mimic the Varidesk more than other Varidesk alternatives.
It has just about the same amount of space on the bottom level like the Varidesk since it has an area cut out of the top level and also has over 9 inches of room already on the bottom level without the cutout. This is great because it gives you the option to move your monitor down if you need to.
The Eureka Desk is a newer item, so this review comes with a little bit of caution, and although it still ends up with a good rating at 9/10, this could a real sleeper of a desk converter. What am I talking about?
Well, it's kind of like drafting Kareem Hunt in the 6th round and then all of a sudden he turns out to be a complete badass (any fantasy football players).
In other words, you could be getting a real steal with this desk converter as the specs on it are high quality and if you can find it on sale, you may get it for a little bit less than other top converters.
The Eureka Standing Desk in More Detail
Aesthetics
The Eureka Desk looks pretty cool. Like I said it is a lot like the Varidesk as it has more room on the bottom level, but it still has a completely different look than the Varidesk. It almost looks like a robot sitting on your desktop. Which, by the way, how much does this look like robocop's arch enemy? Seriously.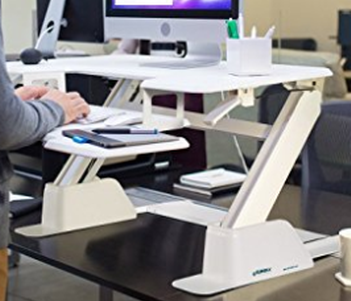 You can't tell me they don't look alike.
Anyways, it is a cool looking desk and to this day, nobody has reported being shot by it. So you should be good there. 😉
Price
The original price of the Eureka Desk is $499.99. I think this is too high, but fortunately, you can tend to find this item on sale. For example, at the time I'm writing this review it is currently on sale on Amazon for $290. If you can find it for this price then it makes it a quality purchase.
UPDATE: This converter now has the base price listed at $369.99 and goes on sale as low as $290.
As a comparison, the Pro Plus 36 made by Varidesk goes for $395 and you don't tend to find it on sale. So this item can be found at a reasonable price.
Now to be clear, you can find Z type converters closer to the $200 range but they don't tend to be nearly as well built as this model.
Warranty
This desk converter comes with a 3-year limited warranty. Which is pretty solid. The Varidesk only has a 1-year warranty so it has it beat there. On the other hand, there are some desk converters that have 5-year warranties.
Desktop Space/Versatility
As mentioned above, this desktop option has more space on the bottom level than most other Z type options. Instead of having a square top level it has an area of just over 6 inches cut out of it.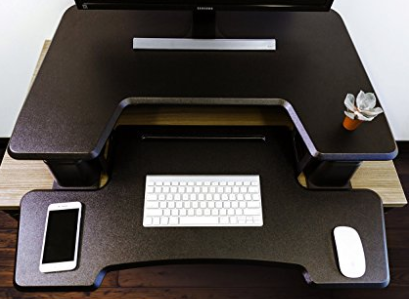 This gives you the option to shift your monitor down to the lower level for a more ergonomic monitor level while you are sitting. This is a feature I love with Z type converters.
Also, it can hold any standard monitor arm. If you add an articulating monitor arm to a Z type converter then you really have the ideal set up and this offers that.
Height Range
The height range of this desktop workstation reaches 20 inches high off of your desk, which is towards the higher end of the spectrum when looking at Z type converters.
The most important level to look at though is the keyboard level. It doesn't matter how high the top level is if the keyboard tray isn't high enough that you can type while standing.
The keyboard height stands at 14.5″ high off of your desk, which is the same as the Varidesk. This means it will be more ergonomic than the Varidesk while standing, but less ergonomic while sitting as your monitor will be raised higher off your desk (we are used to it being desk level).
These are things you should consider while looking to buy the Eureka desk. Overall, though, it should work for someone as tall as 6'3″, and maybe even 6'4″ or 6'5″ if you have a 30-inch desk and don't mind your hands being slightly below elbow level.
Build/Sturdiness
The build of this desk is much like other converters only weighs a little more. Like most, it is capable of holding 35 pounds. The total weight of the desk is 57 pounds. Generally, converters tend to weigh 50 or fewer pounds so this desktop workstation is a little bit bulkier than most.
The fact that it weighs more, however, ensures that is it a sturdy product and doesn't wobble much at all even while at the tallest standing height.
In fact, Eureka states that they test their gas springs over 100,000 cycles to ensure stability. So, according to them, they have extensively tested the durability of the product and it is built to last.
Adjustment
The adjustment of Eureka desk is simple. You just squeeze 2 levers and adjust up or down. This should be relatively easy with a single monitor. If you are using double monitors then it may be a little harder to adjust but nothing the average person will have an issue with. Overall, you can adjust it in just a few seconds.
Extras
The desk has an unlimited amount of stopping points due to its gas spring adjustment. A lot of other options will be limited to a certain number of stopping points (anywhere from 3 or 4 to as many as 11 or 12). This desk can smoothly adjust to any level off of your desk up to 20 inches.
Another extra is that they offer a 30-day money back guarantee. So if you buy this desk and decide you don't like it, you can send it back, no questions asked.
Oh, and it looks like a robot. Just another extra.
Check out this video to see it in action:

Final Verdict/Overall Score
| Factor for Total Score | Rating (Out of 5) | Impact on Final Score |
| --- | --- | --- |
| Durability/Quality | 4.5/5 | 18/20 |
| Stability/Wobbliness | 4.5/5 | 13.5/15 |
| Price | 4/5 | 12/15 |
| Height Range | 4.5/5 | 13.5/15 |
| Desktop Space/Versatility | 4.5/5 | 13.5/15 |
| Aesthetics | 5/5 | 10/10 |
| Speed | 5/5 | 10/10 |
| Total after normalizing | | 90.5/100 |
More Info and Where to Buy Online
Eureka Standing Desk at Amazon.com
Eureka Standing Desk at Eurekaergonomic.com