If you're trying to figure out the best ergonomics when picking out a desk, then look no further. I'll break it down for you so that you know exactly what height your desk should be for a standing desk.
This is mainly going to be a question for taller people when looking for a standing desk option, if you're shorter then you won't have to worry about looking for a sit/stand option that is tall enough. However, people over the 6′ height level need to know for sure their desk is going to be tall enough for them.
This is probably why you're at this article, right? You're tall, and you need to know how tall your desk has to be. This leads us to what you're  looking for.
What is the Correct Height for a Standing Desk?
You'll want your monitor to be at eye level or technically slightly lower so that the top end of the monitor is eye level, and you'll want the keypad to be at elbow height or slightly below.
Using me as an example. I'm 6'2″, and prefer my keyboard height to be 45 inches or 3 feet and 9 inches and the top of my monitor to be at 69 inches tall or 5 feet 9 inches tall.
To help put this in perspective for your own height range, here are charts showing the ideal height ranges you'll want to keep both your desk at and how high you need your monitor to be:
Correct Desk Height While Standing (Keyboard Level)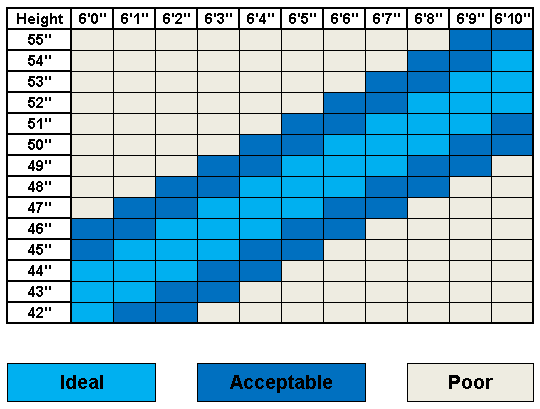 Correct Monitor Height While Standing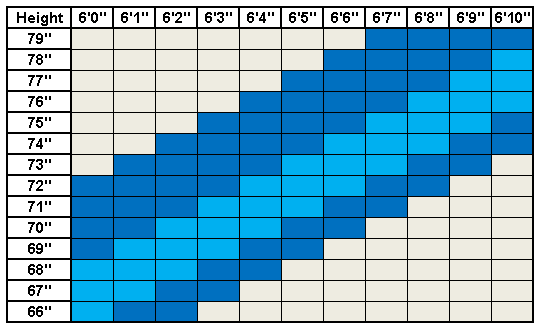 You can use these charts above as a guide to help you when choosing a sit/stand desk. The thing is that most sit/stand desks will accommodate people up to about 6'6″. The main issue taller people will have is when you are using a sit/stand desktop workstation to your already existing desk, as these won't be quite as high as a full sit/stand desk.
To make it easier for you I broke down a complete list of the tallest standing desks you can buy, if you want to skip ahead and find those then read this article.
Adding a Sit/Stand Desktop Workstation to Your Desk
It's important to know 2 things before you buy a sit/stand option that goes on top of the desk you already have. First off, how tall is your desk? And second, how tall is your desktop workstation?
The average desk height will generally range from 28 to 30 inches with the "industry standard" being 29 inches tall. However, desks can go as low as 24 inches.
Before you buy a sit/stand workstation make sure to check out the chart above and add the height of the option you are going to buy (keyboard height, not monitor height) to the height of your desk to make sure it will be tall enough for you.
The last thing you want to do is buy something that isn't the correct height and end up having to send it back for something else.
Looking at the chart above and assuming you have the tallest desk already at 30 inches and went with the tallest sit/stand option at 15 inches reaching a total height of 45 inches means the tallest height a sit/stand desktop workstation would accommodate for would be for someone up to 6'3″ tall comfortably and possibly up to 6'5″ if you don't mind letting your keyboard tray sit a little lower.
But, let's say your desk is only 28 inches and you went with an option that only raises your desk height 10 inches. Then the standing desk level would only be 38 inches. This height would only be ideal for someone under 5'11" tall. Clearly, this wouldn't be recommended for a taller person. You can see how important it is to pick out a desk tall enough for you.
If you're taller than 6'5″ then instead of getting a desktop option that sits on top of your desk, I would recommend just getting a full sit/stand desk instead.
More on Monitor Height
Now that you've figured out how tall you need the desk level/keyboard level to be, you then need to make sure your monitor is high enough for you. As long as you pick out a desk riser option that has the keyboard height a few inches below the monitor height then most monitors should be able to raise high enough for you while standing.
If then it's still not high enough for you then you can always add a monitor stand if you need to. For full sit/stand desks and desktop workstations that are durable enough, I highly recommend getting an articulating monitor arm mount as they can be easily adjusted for height. With most desktop workstations though you may not be able to use a monitor arm and may have to go with a plain old monitor stand, but again, if you already picked out an option that has different levels for the keyboard and for the monitor you probably won't have to do this.
Conclusion
The bottom line is that if you're under 6 feet tall then, for the most part, you don't have to worry too much about your sit/stand desk being tall enough. But if you're over 6 feet tall then use the charts above to make sure you're getting an option tall enough for you. The taller you are the more likely it is that you should go with a full sit/stand desk instead of a desktop option on top of your "normal" desk.
I hope you found this article useful. If you have any questions or concerns, let me know in the comments below!