Here are some of the tallest standing desks you can find. Technically, I only recommend sit/stand desks, but what you want to know is if your desk will be tall enough for you while standing. So if you're on the taller end of the scale then this is everything you need to know when looking for a standing desk.
Now, before we get to the list, to give you some perspective on standing desks, what you need to know is that most sit/stand desktop workstations will probably only accommodate someone just over 6 feet tall. Bummer.
I assure you these desks I'm recommending here will be good enough for almost any NBA forward, however, just to make sure you can always check out this article which tells you the exact height your desk should be for your specific height.
Also, monitor arms or monitor stands are always recommended to keep your monitor at the correct level.
Now, let's get to the point. Here is a list of standing desks made to fit tall people.
Best Standing Desks for Tall People
Lander Desk by iMovR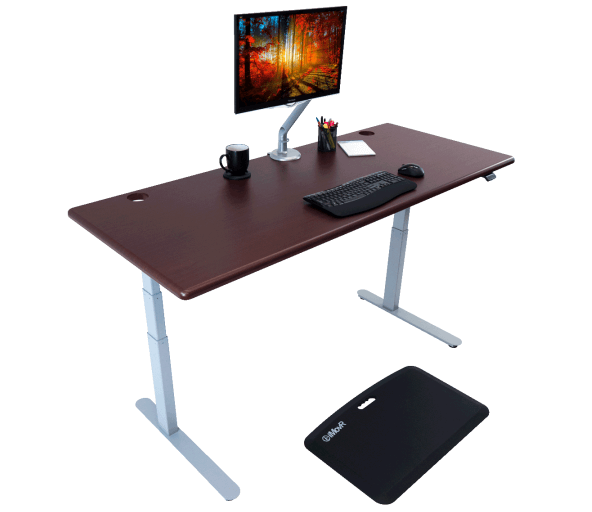 This desk is flat out tall. The height with the desktop is 50.5″. According to the height chart I mentioned above, someone 6'8″ could comfortably use this desk and if you don't mind keeping your keyboard tray a little lower then someone up to 6'11" could " less comfortably" use this desk.
BUT one of the main features of the Lander desk is that it offers a built-in adjustable ergonomic keyboard tray. This allows you to tilt the keyboard tray to your liking. In other words, you could tilt the keyboard tray down and this would negate the uncomfortable bending of your wrists. So, someone 6'11" could use this desk comfortably because of this feature.
This alone puts it above most other desks in terms of maximum height, but we're not done there. They also offer 6-inch height extenders that you can add to the base of the desk. With these added someone up to 7'5″ could use this desk.  At this point, just about anybody on the planet could use this desk! This makes it the tallest standing desk money can buy.
The only thing I don't like about this standing desk is that they changed the name of it, as it used to be the Omega Everest, talk about a cool name for a tall standing desk! Oh well, I guess the desk itself being improved upon is better than a name.
Uplift V2 Standing Desk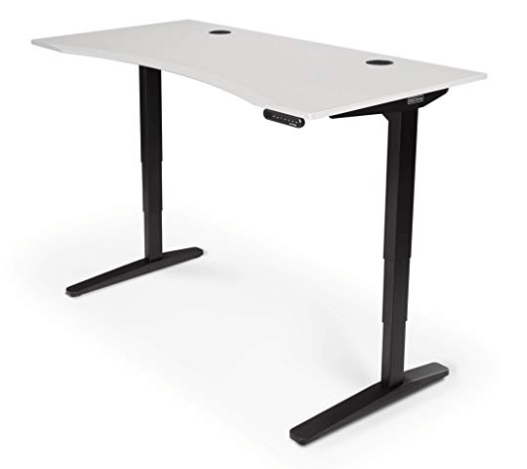 If you want to cut your total cost in half from the Lander desk, then your best option is the Uplift V2. The tallest height is 50.5 inches making it as tall as the Omega Everest without the extenders. Ideal for someone 6'8″ and possibly tall enough for someone 6'11".
If you are taller than 6'8″ then you would have to be okay with keeping your wrists bent a little bit. Also, a monitor arm would be highly recommended in order to keep your monitor at a height high enough that you don't have to strain to look down.
The Uplift is one of the best sit/stand desks you can find, not just because of its height. It's also affordable and still maintains a high-quality standard.
Ergopose "Epo" Standing Desk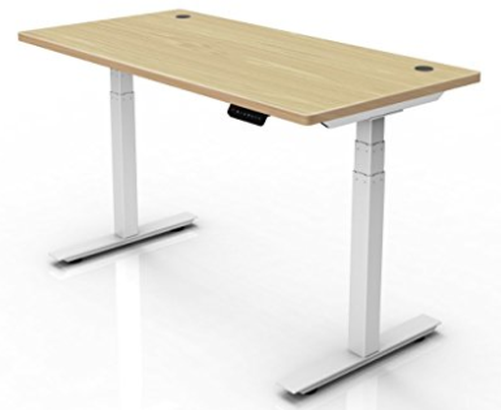 If you're looking to save money and still get a standing desk made for tall people then the Ergopose electric desk is going to be your best option. Although I don't consider this to be as quite high quality as the UpLift V2, it isn't far off and it will save you almost a hundred bucks on the frame to go with this option over the Uplift.
Its max height is 49 inches without the desktop, so you'll be close to 50 inches with a desktop. This makes it ideal for someone 6'7″ and again, depending on if you're okay with bending your wrists a little, could be fine for a person up to 6'10".
The base price for the frame goes for less than $400 which is outstanding for a full sit/stand desk, as a lot of these tend to push about a thousand dollars. I do recommend adding your own desktop to keep your overall purchase down. For a full desk that isn't low quality, this is the most affordable standing desk for tall people.
UPDESK Pro Standing Desk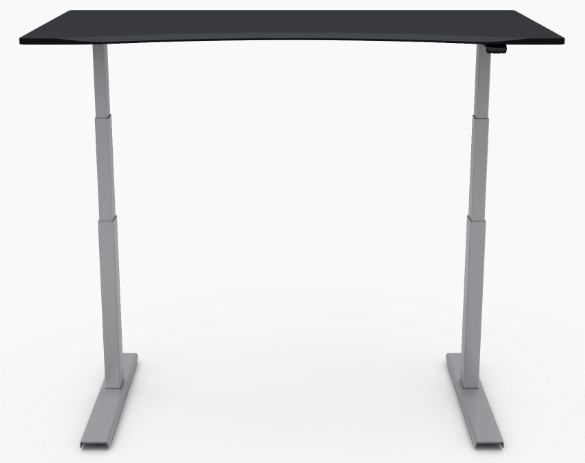 UPDESK makes some elite standing desks. You'll get your money's worth if you choose to go one their standing desks.
Now, the maximum height for their UPDESK Pro is 49.5 inches with the tabletop included. Sound familiar? Yeah, this is right in the range of the other full standing desks that were mentioned above.
However, if you were to go with the castor wheels that UPDESK offers to go with their standing desk then the maximum height places you at 52.5 inches tall!
That puts it in the same ballpark as the Lander desk. However, one thing to consider with that is using wheels may decrease overall stability.
Good thing that UPDESK is one of the sturdiest desks you can find though, so this really shouldn't be much of an issue. They have a 375-pound weight capacity on the desk which is the highest I know of.
Ok, so with no wheels this desk is ideal for someone about 6'7″. Add the wheels and it's ideal for someone 6'10", push it to the limits and someone over 7 feet tall can use this desk.
Focal Upright Locus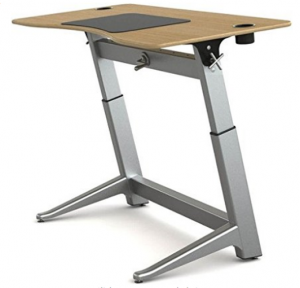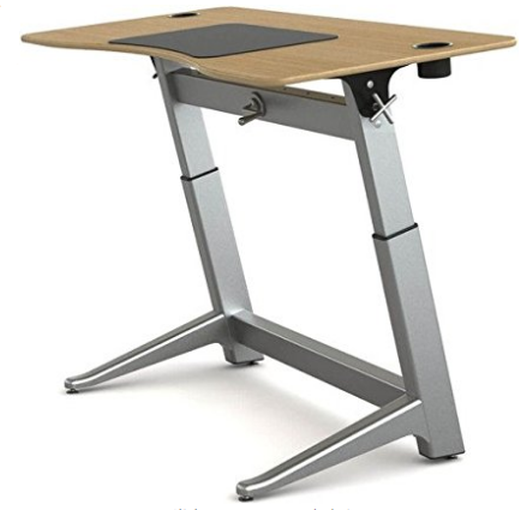 This desk reaches a maximum height of 48 inches. Doesn't sound all that high, does it? Don't worry, this desk is completely different than the other options mentioned. You don't fully stand, and you also don't fully sit. This desk is made to pair with their leaning seat.
This puts you in an in-between position that allows your body to be comfortable by not putting too much pressure on your spine, but also not putting too much pressure on your knees.
Because of the tilt that you sit at this desk accommodates people up to 6'8″. It's an awesome desk but also costs a pretty penny. You'll be spending right around two thousand dollars for this excellent piece of equipment combined with the leaning seat. Which of course may not be for everyone, but if you love the concept could be worth the price tag.
Fully Cooper Standing Desk Converter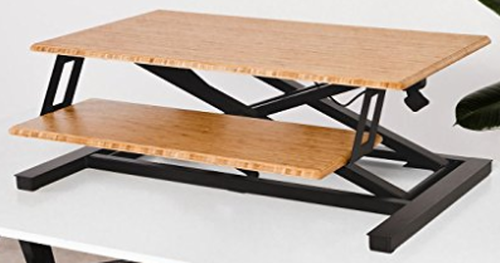 The Fully Cooper is currently the tallest Z-Type desk converter you can find right now. In other words, it isn't a desk itself, it sits on top of a desk.
With most desk converters the keyboard trey usually isn't above 15 inches and the monitor level usually doesn't go beyond 20 inches. These simply aren't as tall as full standing desks.
With the Fully Cooper, though, you get a keyboard height of 17.3 inches and the top level sits at 22 inches. Depending on the height of your desk, this would comfortably fit someone 6'5. This could even get by for someone roughly 6'8″ with unideal ergonomics.
The great thing about this desk is that even though it's taller than most desktop workstations, it is still affordable for the quality it has. The Cooper Desk Converter will probably save you about $70 if you choose this over the popular Varidesk. This is a terrific price for the quality that you are getting as most standing desks on this level (pun intended) go for closer to $400.
VersaDesk Power Pro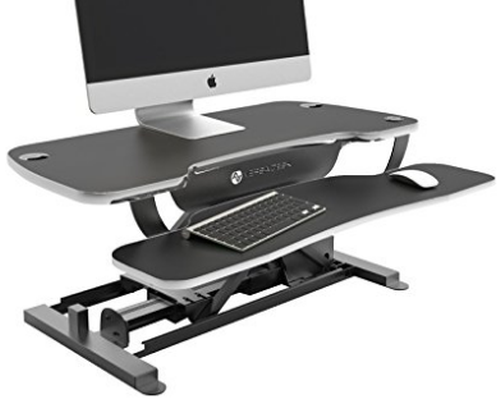 Versa Tables comes through with a terrific option for tall people. This is another great Z-type desk converter that even though isn't quite as tall as the Cooper, may be better overall. This is a high-quality desktop option that I rated as one of the best workstations you can find.
Its max height for the monitor level is 20 inches and the keyboard level is 3.5 inches lower than that which would sit at 16.5 inches above your desk. This means a total height of about 46.5 inches.
The total height will depend upon your desk level, but assuming it is the highest height desks tend to be at (30 inches), then that means this desktop option is tall enough for someone 6'4″ and with a little strain someone as tall as 6'7″ could use this option.
Again, this is one of the tallest desktop workstations as opposed to a full desk that you will find for taller people. These options simply just are not made for tall people, but this one is another exception.
With everything this desk comes with, it's surprising that the base price on it is actually $5 less than a Varidesk. Not to mention, it's 2.5 inches taller as well. This is an excellent standing desk converter to buy for taller people.
Hero 37 FlexPro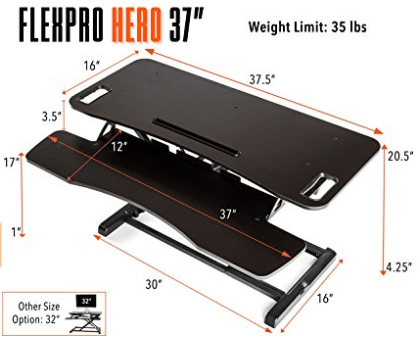 Ok, here we go. Most people want a standing desk but don't want to invest a ton of money into one (even though it's completely worth it).
But the Hero 37 is going to be the most affordable standing desk for tall people. Usually when trying to find a standing desk that actually accommodates someone over 6'3″ then you're going to have to pay more.
Not with the Hero 37 as this desk tends to go around the mid $200 range, and if you're lucky you may even find it for just under $200! I can't stress how much of a quality purchase this is.
Stand Steady makes quality standing desks and this is their version of a desk converter specifically made for tall users.
Basically, this is a lot like the Cooper Standing desk as the bottom level goes up to 17 inches, the main difference is the top level only goes to 20.5 inches instead of 22 on the Cooper.
Don't let this fool you though, this is more ergonomic while sitting even though the top level doesn't go as high. It's really apples and oranges between this and the Cooper, but you're more likely to find this for less money.
Cadence Desk Converter by iMovR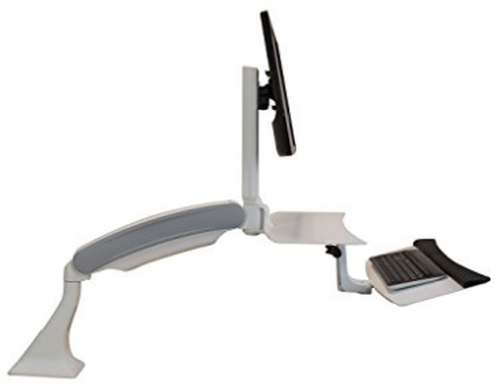 This is even taller than the Versa Tables converter and as far as I know is the tallest sit/stand desk converter you can find right now.
The keyboard height reaches 18 inches above your desktop and the top tray reaches 22 inches above your desktop. However, as you can see the monitor is raised even higher above the top tray so your monitor height will be at the correct level while standing. Making this perfect for tall people. This is another area it really stands out over all other desk converters.
If you're looking for a desk conversion instead of a full desk and you're over 6'5″ then this will be your best option if you can fit it in your budget.
This really is the ideal standing desk converter and fortunately, the price recently went down making this one of the best standing desks you can buy.
Other Quality Standing Desks for Tall People
Other desks that are tall or even surpass the 50-inch mark that didn't make the list include:
The Ergotron Workfit D: This is a quality desk but the crossbar on the bottom may get in the way for taller people while sitting.
The ErgoPrise Uprise: The is a stable desk that is 51 inches tall, however, it costs more than the Uplift 900 and I don't see the quality being much better/or any better.
The NextDesk Terra: The desk height on this is 50.5 inches, which is really tall, but it's in the same price range as the Lander, which I prefer over this.
The Jarvis by Fully: This is one of the most popular standing desks, and I didn't list it above, but that doesn't mean it isn't tall. In fact, it's probably ideal for someone 6'7″. I just didn't list it above because this desk is so much like the Uplift V2, and I really think you can't go wrong with either, but the Uplift is an inch taller.
ZipLift Desk Converter: This is almost just as good as the Versa Tables in terms of height, in fact, the top level actually goes slightly higher at 20 5/8 inches tall, however where it falls slightly behind the Versa Tables converter is that the keyboard height only goes up to 14.6 inches. This is going to be the most important measurement.
Flexispot Standing Desk Riser: This is another desktop option that sits on your desktop. It isn't as tall as the Versa Desktop though. The keyboard height sits just under 14 inches and the monitor height is 19.7 inches.
UpTrak Dual: This is a really affordable option that will work for someone up to about 6'3″.  Again, this is a desktop workstation so that's pretty good. The keyboard level can be raised up to 15 inches, however, the top monitor height is only 17.5 inches.
Base and Post Desk Converters: There are quite a few of these that could have made the list, a couple of which include The Humanscale QuickStand or the Innovative Winston. But this style of converters I consider to be a lesser value and yet cost more so I didn't include them. If you can spend that much on a converter get the Cadence instead.
Desk Breakdown By Height/Price Range
Here is a breakdown of all these desks and what price range they fall under. Remember, desk converters will cost less but are placed into the price range they fall under for a typical desk converter while full desks are listed under the price range they would fall under for a full-sized standing desk.
| Standing Desk | Ideal Height | Max Height | Price Range |
| --- | --- | --- | --- |
| Lander Desk | 6'11" | 7'5" | $$$$ |
| UPDESK Pro | 6'7" | 7'1" | $$$$ |
| Uplift 900 | 6'8" | 6'11" | $$$ |
| Ergopose Epo | 6'7" | 6'10" | $$ |
| Focal Upright | 6'8" | 6'8" | $$$$$ |
| Fully Cooper | 6'5" | 6'8" | $$$ |
| Cadence Desk | 6'5" | 6'8" | $$$$ |
| VersaDesk | 6'4" | 6'7" | $$$$ |
| Hero 37 FlexPro | 6'4" | 6'7" | $$ |
As you can see I listed the ideal maximum height as well as the height you could push it to if you really needed to. The Lander desk could potentially even work for someone taller than 7'5″ without it being too uncomfortable with its ergonomic desk tray. This makes it the ideal tall desk.
Also, some of these desks come at a high price so I tried to include some good options that won't break the bank for you. The Ergopose "epo" and the Hero 37 desks are great options when on a budget but still looking for a taller standing desk.
Conclusion
If you are tall, all of these desks are excellent desks. I consider these to be high quality as well as tall, and not surprisingly a lot of the desks listed here are on my list of best overall sit/stand desks.
Having extra height to your desk is good whether or not you personally need it, this really ups the overall value of the desk giving it more versatility. You could need the extra height, especially if more than one person uses the desk.
What do you think about the options listed here? Do you like them? Is there anything that I missed you think should be included?
Let me know in the comments below!