If you're looking for the best electric standing desks in 2019 then here are some of my favorite options you can find. I've included a few different styles and price ranges to choose from.
Going with an electric standing desk really gives you the ideal workspace as desk converters that you place on top of your "normal desk" are great, but are also a bit cumbersome. A full-sized electric standing desk really gives you the best overall functionality.
They are easy to adjust, give you a lot of workspace, and are terrific to use with treadmills if you want to up your game even more.
Why You Should Choose an Electric Standing Desk
Now, choosing an electric standing desk is likely going to cost you more money than if you were to choose another style like a desk converter or a manually adjustable full-size desk. But I'm telling you, this really is the way to go if you want the ideal office setup.
Desk converters are great to have, but switching to a full-sized electrical adjustable height desk just takes things to the next level. But hey, there are more affordable full-sized options you can go with as well.
Other full sized sit/stand desks include:
Squeeze lever adjusted desks
Crank desks
Now, a squeeze lever style desk could be an appealing style to go with because these desks adjust so fast. It's literally 2 seconds and you've went from sitting to standing and vice versa. However, for obvious reasons, these can't hold nearly as much weight as an electric standing desk.
Most of these tend to max out at about 80 pounds in overall weight allowed, and the more weight you have on this type of desk, the harder it will be to adjust up and down. That being said, most computer monitors only weigh about 10 pounds so even if you had two or three monitors it likely wouldn't be too much of an issue to adjust.
As for full-sized crank standing desks, I really don't recommend these at all. Yes, they will probably cost you about half the price of either an electric standing desk or a squeeze lever desk, but the process of having to crank your desk up and down every time you want to switch positions is simply too much of a hassle to make them worth it.
To adjust from a sitting to standing position with a crank desk will likely take you even longer than an electric standing desk. I'd guess you'd probably be fine with it for a couple of days, maybe even a week, but then you'd start to just decide not to stand nearly as often because having to crank your desk up is just too annoying.
This is what makes electric standing desks the best overall option for full-sized desks. They are so easy to adjust up and down you have no issues doing it several times a day. And although, they do take a bit longer to go from a sitting to standing position than a squeeze lever style desk, the fact that they are so much sturdier really sets them apart as the best overall option. That and it requires doing nothing except pressing a button.
That being said, here are my favorite options you can go with.
Best Electric Standing Desks
1. Lander Desk by iMovR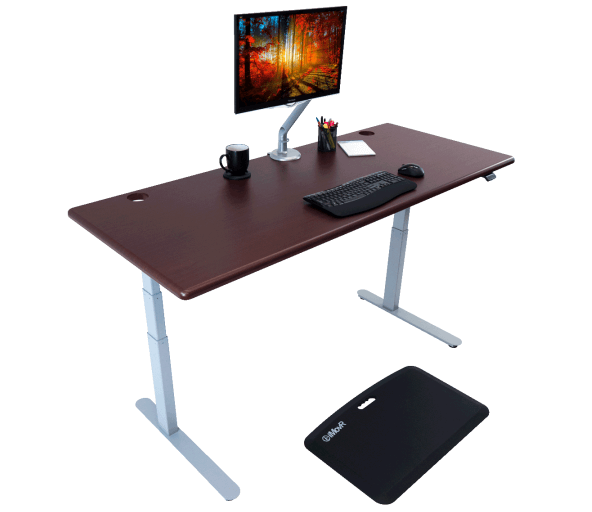 iMovR makes some flat out excellent standing desks, and the Lander desk is the newest and most innovative desk they have to offer.
Now, to be completely honest, I didn't think I'd be recommending a full-sized standing desk in this price range. The price point is above what I originally wanted to recommend.
However, after careful consideration and adjusting for all factors, not only is this desk my favorite standing desk, but if you break it down by the number of years you'll have it for compared to the overall amount you're spending, then this desk could end up being just as affordable as some of the cheapest standing desks.
And at the end of the day, why would you not want to invest in something this important? Seriously. How much did you spend on your couch? How much did you spend on your bed? Yet when it comes to our office workspace that we sit at for 8 hours plus a day people want to somehow go as cheap as possible. Really?!
Over the last several years, I had to change my thoughts on this as well. I started out using books, then went through a couple standing desk converters, then finally came to the decision that I should update my life and get a quality standing desk that will be around for around a decade, and got the Lander desk.
And let me tell you, this desk is simply outstanding. The way this desk stands out from the rest (cough, get it, get it-nudge) is that it is (almost) entirely made in America and is designed with craftmanship that left absolutely nothing lacking.
It's the tallest standing desk you can find, it's quieter than almost every other standing desk, it adjusts faster, holds up to 360 pounds, comes almost completely pre-assembled,  has an optional adjustable tilting keyboard, is made with a higher grade steel than just about every other standing desk on the market, has contoured edges, and also has a bluetooth enabled "health coach" that comes with the desk.
In addition to all of that iMovR has what seems like an infinite amount of options as they have 8 different 30-inch deep table top sizes to choose from as well as desktops ranging from 3D-laminate to custom made solid wood tops.
All of this comes from their hands on made in America approach to producing standing desks. Oh, and did I mention they offer the best warranty you'll find on a standing desk as they cover the frame for a lifetime, the motor and electric base for 10 years, and the desktops for 5 years.
So just do some basic math with these standing desks on total price divided by years and if this desk gives you a decade then you just saved yourself a lot of money (and frustration).
Now, this isn't to say that the other desks on this list won't serve you well (they are all good choices), I'm just saying, this is my favorite standing desk and in my opinion, the best full-size electric standing desk you can invest in.
RATING: 9.3/10

---
2. Energize/Cascade Standing Desks by iMovR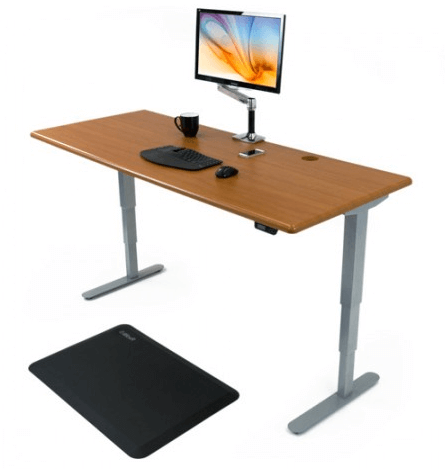 The Energize or Cascade standing desks also made by iMovR, is another terrific standing desk you can go with. Now, this is going to cost less than the Lander, and the price is going to be more comparable to some of the mid-level options on this page.
These two (Energize and Cascade) are essentially the same desk, the Cascade just includes their patented SteadyType keyboard trays and will cost a bit more than the Energize.
Now with the price point of this one, it was tough to decide if I should recommend this over other quality options like the Uplift V2 or the Jarvis desk by Fully.
But overall, the fact that this is made in America certified as well and also comes with the same lengthy warranty as the Lander, for me, makes it a ranked a bit higher than those options. The fact that the warranty isn't any less seals really the deal for me.
Now, the specs on this standing desk aren't quite as good as the Lander, or actually some of the standing desks I have ranked a bit lower than this one, but it is still an excellent desk.
Where it lacks behind, though, is that it isn't as fast, doesn't go as high, is a bit louder, and doesn't have as much weight capacity. All things you should expect paying less.
And really, this desk is going to compare in the price range of other popular electric standing desks like the Jarvis desk or the Uplift V2 desk (both are on the list), however, this desk is still primarily made in America, unlike those options.
So even though the specs on this desk technically show a bit lower than those, I have it ranked higher because I think it's built better, and ultimately, will last longer after thousands of up and down adjustments.
RATING: 9.1/10

---
3. UPDESK Pro Standing Desk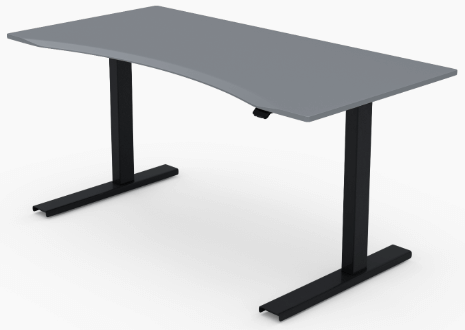 The UPDESK Pro standing desk is another "elite" level standing desk that will compete with the Lander desk listed above, as it has a made in America base that has quality that should exceed what you'll get from the Jiecang made frames that you're getting with popular electric desks like the UpLift V2 and the Jarvis desk by Fully.
Currently, the price on the UPDESK Pro is $895 (prices vary) for the 30″ x 60″ desktop which is going to be a nice in-between price of what you would pay for a Lander desk at a higher end and what you would pay for a foreign made desk at the lower end.
Still, that's a lot of dough for the average person to come up with, and the warranty on the desk is the same as the UpLift and Jarvis (which we'll get to soon) as it comes with a 7-year warranty.
Hhmmm…can I at least get an extra year! Guess not, but still, this desk should exceed the quality of an electric desk that is foreign made.
And it actually outperforms the Energize/Cascade desks made by iMovR in terms of speed, sound, and weight capacity. So if you don't want to go all out and get a Lander desk but still want a desk made in America, then this could actually be the next best thing. It all comes down to the fact that iMovR offers a better overall warranty as well as a far better selection of sizes and colors you can go with. That's the only reason I have this desk listed behind the Energize/Cascade.
But if you just want an all-black 30″ x 60″ electric standing desk this is a terrific option to go with. In fact, it has the highest weight capacity of any electric standing desk (that I'm aware of) at 375 pounds. Not that you'll ever have that much weight on your desk, but could be a reflection of the quality of this standing desk.
RATING: 9/10

---
4.  Uplift V2 by HumanSolution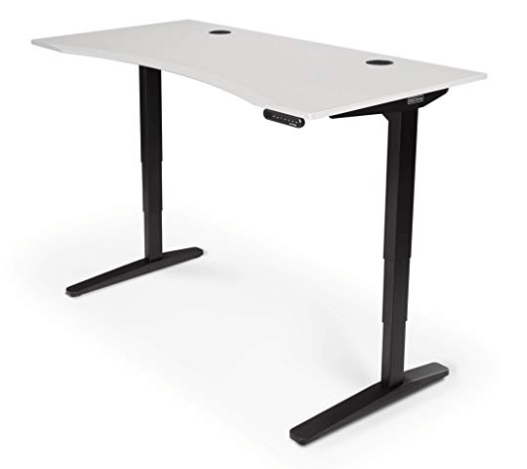 The UpLift V2 by Human Solution is next up. Now, just to be clear, it's really apples and oranges with this desk and the Jarvis desk made by Fully.
I give this desk the slight edge overall, but really you could just flip a coin if you're having a hard time choosing. Overall, in terms of quality, this desk may be about 2% better, but then again that's about the amount of money you would save going with the Jarvis as it tends to be priced a smidgen under what the Uplift V2 is usually priced at.
Both are known for their bamboo desktop options they offer as a style, which, allegedly is good for the environment (although there is some debate on that).
One way this desk may separate itself from the Jarvis desk in terms of quality is that they have added support in the corner of the frame where normally it is just a 90-degree turn from the legs to the top part of the frame.
With the UpLift V2 they have additional support in the corner. Basically, it's a 45-degree angled connection where it goes from the legs to the top frame.
As for the specs of the desk, it is top notch as it is super quiet, holds ups up to 355 pounds, reaches over 51 inches in total height, and comes with a 7-year warranty.
And wow, 7 years for a warranty is outstanding, especially considering that the base of this desk is made in China. Companies tend to try to cut costs while outsourcing and thus, tend to cut quality as well, however, including a 7-year warranty on this desk gives assurance you are getting a quality product.
Now, unlike the options mentioned by iMovR above, this desk doesn't include a warranty on the desktop itself. However, 7 years on the electrical and frame makes this electric standing desk worth investing in.
RATING: 8.8/10

---
5. Jarvis Electric Standing Desk, by Fully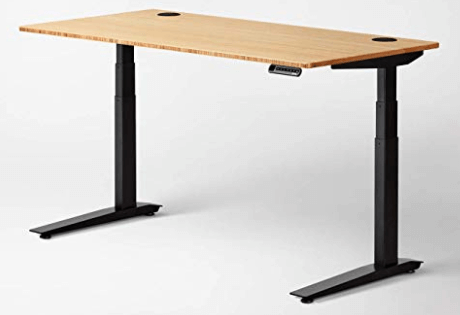 The Jarvis desk. You basically already read about this desk because it's so damn similar to the UpLift V2 standing desk.
But, let me make it easy for you, as here are a couple of reasons to go with the Jarvis desk over the Uplift V2 desk.
First off, it's usually a bit cheaper as the frame on this desk tends to be about 5-10% cheaper, and overall, that's probably what you will likely save with add ons as well (although not always the case).
Next up, the overall maximum height of this standing desk reaches just over 50 inches with their basic desktops, and the Uplift V2 (non-commercial) edition reaches 51 inches. So in other words, unless you're 6'7″ or taller then that height difference won't matter at all.
Another minute example of how the specs on this desk are different from the UpLift V2 is that is only has a 350-pound lifting capacity, while the UpLift V2 has a 355-pound lifting capacity. Unless you're doing squats on top of your standing desk, then that really means nothing to you. However, this could be an indication of the marginal quality difference between the 2 desks.
Now, at the end of the day, this desk is very similar as it comes with a 7-year warranty on the frame and electrical. It also has the option to upgrade from a basic up/down button pad to include 4 preset memory options.
It's going to accommodate almost anyone in terms of height. So unless you're extremely tall or extremely short then this desk will likely work for you. And at the end of the day, it's an electric desk worth investing in. And who knows, the next time you read this article, it may even be ranked ahead of the UpLift. Again, it's apples and oranges with these 2 desks.
If you can get this standing desk for less than the UpLift and the things I mentioned above don't matter, then go for it.
RATING: 8.8/10

---
6. Seville Classics Airlift Standing Desk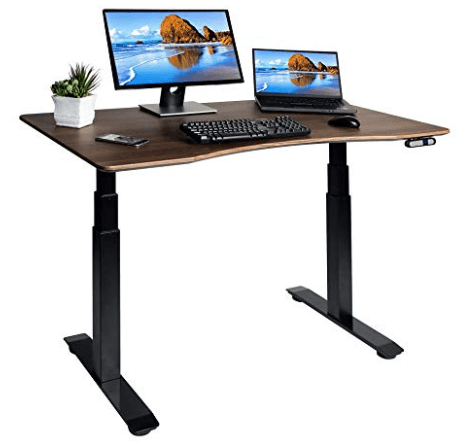 Now we're entering a new category as there are now a lot of affordable electric standing desks that previously weren't available just a few years ago.
Seville Classics just kind of came out of nowhere with an excellent standing desk option that goes for around $500 or less. And the surprising thing is that they offer a decent warranty for such an affordable desk, but don't think affordable doesn't mean it can't be a quality desk.
It's one of the tallest electric standing desks you'll find on the market without extenders as it reaches a maximum height of 51.4  inches tall, which is comparable to the UpLift V2 desk listed above. As a matter of fact, it's got it beat by a fraction of an inch. So if you're tall and want to save money, this is a terrific option.
As for weight capacity, it's a little vague as the company doesn't actually list this on the specifications of the desk. However, I found that their S2 version of this desk had a 170-pound weight capacity, and for their S3 version, a representative within the company claimed it holds up to 500 pounds with weight evenly distributed.
Now, if this is true then this desk holds more weight than any of the most elite standing desks on this list. I highly doubt they jumped from nearly 300% from one version to the next though. Either way, I'm sure this desk won't have any issues holding multiple monitors.
The downside with an electric desk in this price range is that you're more likely to notice some wobble at it's highest height range, and of course, consistency from product to product could be an issue.
However, this desk does come with a 7-year warranty on the frame and a 2-year warranty on electrical components.
RATING: 8.2/10

---
7. Ergopose Electric Desk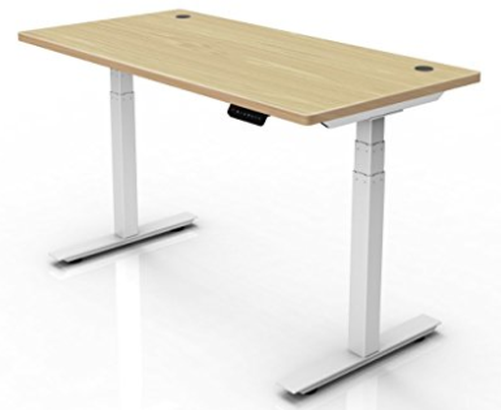 The Ergopose "ePo" standing desk is basically a cross between a cheap affordable desk and what I consider mid-level desks like the Jarvis and Uplift. And according to the creator of this desk, it's just as good as those.
With this desk, it may make sense to buy their frame and choose a desktop elsewhere as their tops tend to up the price quite a bit. Not that they don't offer quality desktops, it's just that you're likely going to choose this electric desk over the higher rated items because it comes at a better price.
But, with a better price comes some drawbacks. And really the main drawback is the warranty. It comes with a 5-year warranty on the frame. Which is actually pretty good, however, the motor only comes with a 1-year limited warranty. Unfortunately, this is next to nothing when you compare it to the mid-level choices I listed.
That being said though, this electric standing desk nearly matches those mid-level options on the weight capacity, speed, height-range, and overall functionality. In fact, if it wasn't for the lesser warranty this desk would probably be rated right up there with those.
So, if you want to save about a hundred bucks or so and just risk it with the warranty then this standing desk may just be worth the investment.
One thing to point out though is even though it doesn't have the best warranty, the company hasn't had many complaints and from what I've seen seems to be trustworthy. A warranty only goes so far and sometimes companies just look for any reason to get out of it.
With the Ergopose everything checks out so far and seems to be a solid investment if you're looking for an electric standing desk.
Oh, and I almost forgot to mention. They claim they have a 352-pound weight capacity which far exceeds the Jarvis desk's measly 350-pound weight capacity ;).
RATING: 8/10

---
8. Flexispot Electric Standing Desk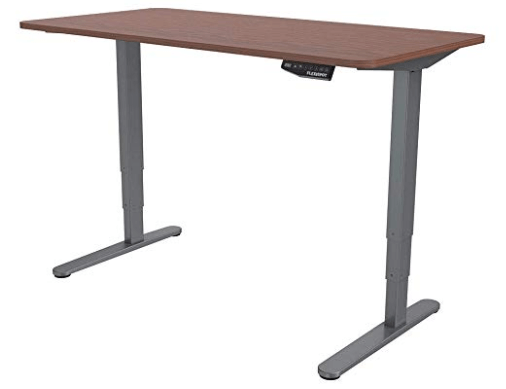 FlexiSpot has been around for a while and offers a really good desk converter, but later on, they decided to up their desk game and make an electric standing desk.
It's not flashy by any means, but it's another excellent affordable option you can choose to go with that will compare to the last couple electric standing desks we went over.
They have a couple of different versions but their most elite option (the E5S-5528N) comes with some pretty excellent specs for the price point it goes at.
For example, it has excellent height range as it ranges from 24.4 inches to 49.2 inches. This is very comparable to the "mid-level" options and will work for about 95% of the population.
It's also just as quiet as the more elite standing desks as it is under 50 decibels when adjusting up and down. It does, however, fall a bit behind with weight capacity at 220 pounds.
But that is a moot point because they offer a 5-year warranty on the frame and 3 years on the motor. So for the price range this falls under, this is an excellent warranty that you receive with this desk and makes it worth considering if you want a quality yet affordable electric standing desk.
RATING: 7.9/10

---
9. Titan Fitness Standing Desk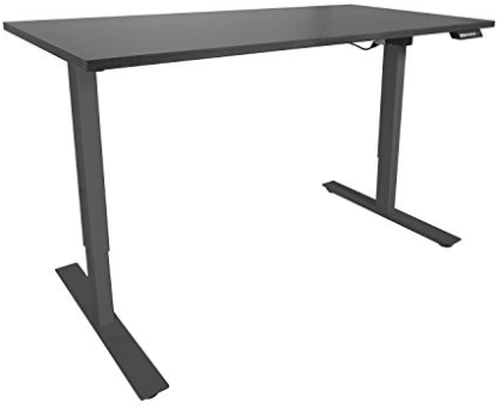 Next up is another affordable option made by Titan Fitness. Normally known for weight lifting equipment, they shifted over a bit and created a great option if you want an affordable electric standing desk.
And when I say affordable, I mean you can potentially get this desk for about 30-40% less than if you were to go one of the mid-level options on this list. Because of the price on this it is definitely a standing desk worth considering.
I would, however, recommend going with their dual motor option. Yes, it will cost more than the single motor option but the difference is specs will be worth it.
The dual motor option does lack behind the higher rated desks on this list, but it lessens the gap quite a bit from the single motor.
For example, the higher rated desks move at about 1.5″ per second and this desk moves at 1″ per second for the single motor and 1.18″ per second for the dual motor option.
Also, the single motor lifts 176 pounds and the dual motor lifts 265 pounds so both are solid enough to hold 3 monitors plus office supplies, but the higher rated options on this list tend to lift above 300 pounds. Again, not that this will actually matter in terms of holding everything on your desk, but it could be a reflection of the overall quality.
Considering all of that, people tend to love this standing desk. There are very few negative reviews and I think people just feel like they got a steal with this desk. After all, you can get a full-size 60-inch electric standing desk for about the same price as a Varidesk desk converter! That's insane.
This desk only comes with a one year warranty, which obviously makes sense based on what you're spending. And it probably won't last nearly as long as higher priced electric standing desks but it's not like this thing is going to fall apart. It should give you at least a good year, probably even more.
RATING: 7.6/10

---
10. ApexDesk Electric Standing Desks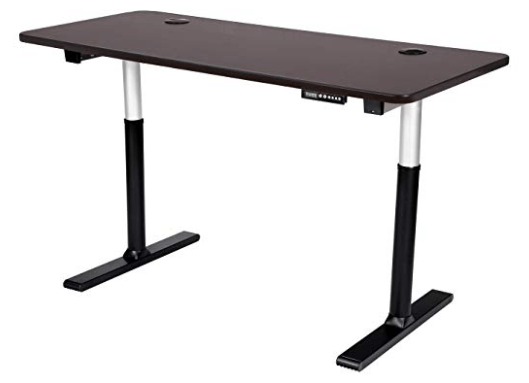 Last but not least, ApexDesk comes through with another line of more affordable electric standing desks. They have a couple of different versions you can go with. The ApexDesk Elite series is going to look a lot like most of the desks listed here. And the good thing about that line is they offer larger sized desktops only for the price of a desktop a foot or two shorter.
Now, if you don't need quite as much power then you can go with their ApexDesk Vortex (shown above), it only holds a measly 170 pounds so you know…you may not want to sit on top of this desk. Other than that you shouldn't have any issues holding all of your computers, monitors, and anything else you would put on top of your desk.
At the end of the day, these desks are a shade behind the mid-level options listed but with the money you're saving this could be an excellent investment as this is another electric standing desk that you can find for a fraction of the price of the "elite" electric standing desks.
The company offers a 2-year warranty on the desk itself, but surprisingly offers a 5-year warranty on the desktop itself, which is pretty good considering what you're spending.
RATING: 7.5/10

---
Desk Breakdown by Price
I used to try to give specific prices for all of these desks but the fact that prices vary so often I now just give a break down based on the price range. In addition to varying prices, there are so many different size options to choose from that even for a specific desk the price can be vastly different based on what desktop size and options you go with.
That being said, here is a breakdown of the best electric standing desks and the price ranges you can likely find them in.
| Standing Desk | Overall Rating | Price Range |
| --- | --- | --- |
| Lander Desk | 9.3 | $$$$$ |
| Energize/Cascade | 9.1 | $$$$ |
| UPDESK PRO | 9 | $$$$ |
| UpLIft V2 | 8.8 | $$$ |
| Jarvis Desk | 8.8 | $$$ |
| Seville Classics | 8.2 | $$ |
| Ergopose "ePo" | 8 | $$ |
| FlexiSpot Desk | 7.9 | $ |
| Titan Fitness Desk | 7.6 | $ |
| ApexDesk | 7.5 | $ |
Now, keep in mind it is always an option to just purchase one of these frames and then add your own desktop to it if you want to save money that way.
This is something you could consider if you want to get a higher quality frame and then go cheap on your desktop. That could be a smart way to save some money, yet still come away with the electric standing desk frame that you want.
Like I mentioned above that is something I recommend on the Ergopose desk as the frame for it is affordable but their desktops place you in a higher range. However, you could also do the same thing with a higher quality frame like the Jarvis desk. Keep in mind you could always upgrade your desktop later on.
Other Things to Consider When Buying an Electric Standing Desk
These aren't the only quality electric standing desks.
I tried to give a nice combination of quality electric standing desks as well as some more affordable options that I think people will like, but there are several quality electric standing desks that I simply didn't include. Why not? Well, I try to give what I think is the best on specific price ranges.
At the upper price range, you can find several other high-quality standing desks but I don't feel like they match the quality of the Lander, Cascade/Energize, and the UPDESK Pro.
I think outside of those few options it may be a good idea to just stick with one of the "mid-level" choices or go with an even more affordable option. It's really all subjective though.
Consider what desktop size you want ahead of time.
With these electric standing desks, the great thing about them is that they are full-sized desks and usually range from about 4 feet wide to around 80 inches (the Lander even has an 83-inch version). This means that you have a wide selection to choose from to get exactly what you want.
I wouldn't just go out and buy the first one you look at! Consider the amount of space you need, in fact, measure the exact amount you need so that you know you're making a quality investment. The last thing you want to do is buy something that is too small to fit your needs, or is too large and doesn't fit the room.
Do you want to invest this much into a standing desk?
Although considering sitting all day is terrible for you, and a lot of us do it for roughly 13 hours a day, you may wonder if you want to invest this much money into a standing desk.
Instead of spending this much on an electric standing desk, you could always go with a cheaper option. Desk converters will likely cost about half of what you'll spend on one of these bad boys, and as I mentioned at the start of this article, if you want to save money on a full size sit/stand desk then you could always choose a crank style adjustable height desk, although I don't recommend it!
Again, when you think about how much you sit for an entire day and how bad it is for you, and then think about how much you've invested in other things like your couch, bed, TV, or dining set, then I think it's easy to justify investing in a quality standing desk. That being said, for a lot of people spending that much at one time may not be an option so choosing something more affordable may be the way to go.
Do you want to use a treadmill with your standing desk?
If you want to work while walking, or if eventually be able to add a treadmill to your standing desk, then these are probably the best way to go.
Using a desk converter on top of a regular desk just doesn't work because the desk gets in the way, so you need a full-sized desk to be able to do that, and as I said, these are the best full-sized desks you can find.
So if this is something you either want to do now or down the line, then choosing an electric standing desk is probably the way to go.
 Summary
If you're looking for an electric standing desk then I think these are the best you can find in 2019. I tried to give a list that included the best electric desks within each price range so I hope you're able to find something that works for you out of everything listed here.
I assure you that if you do end up going with an electric standing desk you're going to love it as it really takes your office to the next level!
What do you think about these desks? Are there any desks you would like to see on this list I didn't include? Let me know in the comments below!