Looking for an affordable sit/stand desk? Instead of completely breaking the bank to add a sit/stand option on your desk, here is a list of some of the cheapest options you can find.
Don't worry, these are still high quality enough to buy without feeling like you just flushed your money down the toilet. However, this list has price weighted towards the top of the scale in determining the best affordable sit/stand desk options. Here they are:
1. UpTrak Dual Level Sit/Stand Desk Riser – by Stand Steady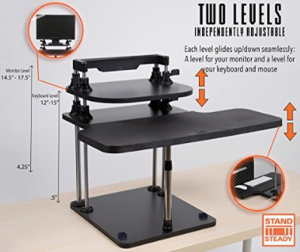 Stand Ready is an impressive company that makes options that tend to be cheaper than most, and also tends to have really good deals on Amazon. The retail price of the UpTrak Dual is $299.99 but you can usually find it on sale close to $200 or less. This is a quality desk that you may want over other sit/stand desk options regardless of the price.
It's light weight, looks cool, and does pretty much all of the things you need a sit/stand desk to do for you. If you are looking for an affordable sit/stand desk that is cheaper than most other quality desks, this is my number 1 choice. The UpTrak's small footprint adds an element to it that makes it more appealing, however, if that's not something that is important to you then going with a traditional 2 tier option may work better.
2. Fancierstudio Riser Desk Standing Desk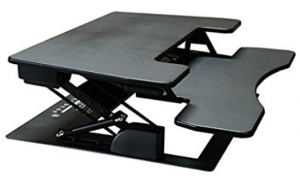 This is basically the Varidesk at half the price. Overall, it isn't quite as good, but for half the price it is simply one of the best sit/stand desks you can find. This retails for $299.99 but is currently on sale for $199.99 on Amazon. Sound pricey? Trust me, when looking at quality sit/stand desks it isn't.
Most quality ones will run about $300 to $400 and can even run close to a thousand bucks. Again, this has the same technology as the most popular Varidesk items (which I consider to be an industry leader). The options are slightly less, but for half the price and just shy of what the best product has to offer you can bet this is a quality purchase. It currently has a 4.9 out of 5-star rating on Amazon out of 19 reviews.
3. Lorell Sit-to-Stand Monitor Riser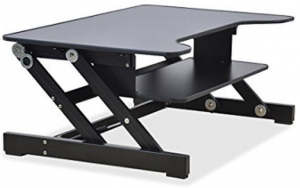 This is towards the top of this list because the base price sits at $169.99 on Amazon. This is listed as "Amazon's Choice", in other words, it's a good product at a terrific price. In terms of quality, it does exactly what you would want a sit/stand desk to do. It isn't far off from some of the best sit/stand desks but yet the price is less than half of what you would normally find for a quality desktop option to move from a sitting to standing position.
It currently has a 4.3 out of 5-star rating on Amazon out of almost 300 reviews. This option is all about price, and leads the way in that category when looking at the 2 tier technology. This almost made it to number 1, however, personally I feel it's worth it to spend an extra $30 to go with the number 1 or 2 option over this one, but you really can't go wrong either way.
4. SMONET
 Dual Level Height Adjustable Desk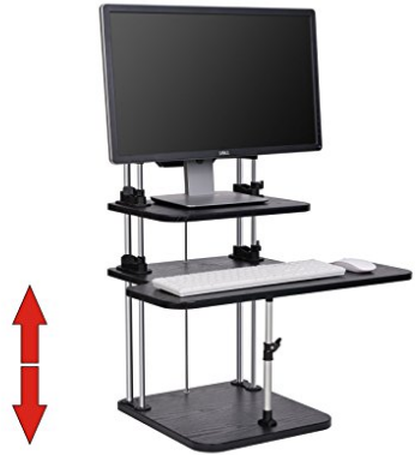 Ok, here's the UpTrak dual ripoff product that goes for even less. It's pretty much just the same only lacking in that it doesn't have the adjustable keyboard tray. However, the base price for this product is $158 and is currently on sale for $99.99 on Amazon.
It's hard to say how well made of a product this is since it is a newer item and has very few reviews. The main issue with this option could be the overall build and how long it will last you, otherwise, it would be at the top of the list considering it is only $100. Seems well worth the risk for that price. As far as I see there is no warranty so buy at your own risk.
5. Ivation Sit/Stand Desk by DBROTH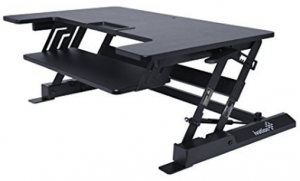 This is a newer item, and currently, has zero reviews on Amazon. However, the base price sits at $199.99 on Amazon. The technology mimics the most popular items made by industry leaders. Again, this item will be sure to get the job done allowing you to go back and forth from sitting to standing.
The main issue with this item, again, is that the company that sells this doesn't specialize in sit/stand desks. This is the first and only desk option they have, so buy with caution. However, this appears to be a quality desk workstation option that will get the job done.
6. Rocelco ADR Height Adjustable Sit/Stand Desk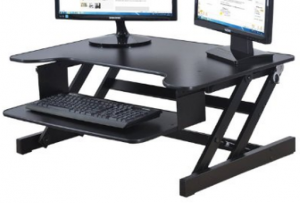 This has a base price of $190.97 and has a 4.2 out of 5 star rating on Amazon. When comparing to some of the best options it has less height increments, has slightly less width, and doesn't raise and lower as fast. All things you would expect when paying about half of what you would for some of the best sit/stand desk workstations.
How much do these things really matter to you? In all honesty these cheaper options get the job done, the best products are marginally better so if you want to save money, then it makes sense to pick one of these. The price is under $200 and will allow you to conveniently sit and stand, but it's lower on the list because its ratings aren't quite as high.
7. 
Vertical Vitality Slider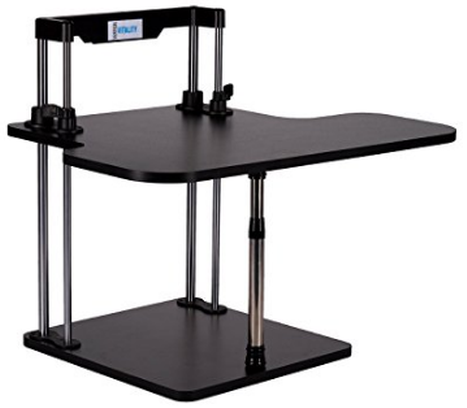 This is basically a rip off the UpTrak's original desk riser that didn't have the dual levels. Which by the way they still have, currently on sale for $152.83. However, the current sale price for this one is $99.97 on Amazon, originally $199.99. Literally for $100 you can get a great sit/stand desktop workstation that will allow you to go from sitting to standing in seconds.
This is a terrific bargain. Ergonomically, however, the dual level option is going to be better than what this has to offer. Having the keyboard on the same level as your monitor means you're in a position where you're hands are too high up and your head is facing downwards. On the plus side, it is one less thing to have to mess with.
8. Spark by ErgoDriven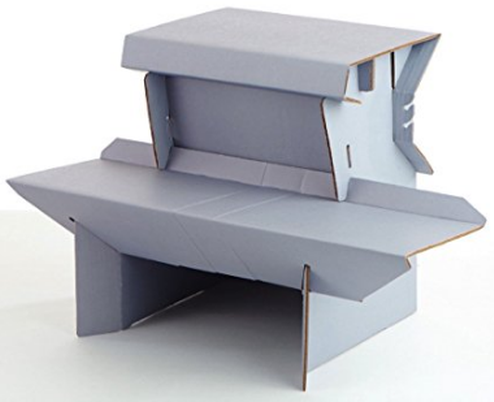 You wanted cheap, right?? This is basically the cheapest sit/stand desk you can get. The base price is $49 but it's currently on sale for $25 on Amazon. You can't really get anything cheaper than this that will work as effectively. Granted, it is made out of cardboard.
So at the end of the day if you're comfortable with having a cardboard sit/stand desk then this is perfect. And why not? It is strong enough to hold up to 60 pounds, which is more than any monitor weighs.
9. Oristand Standing Desk Converter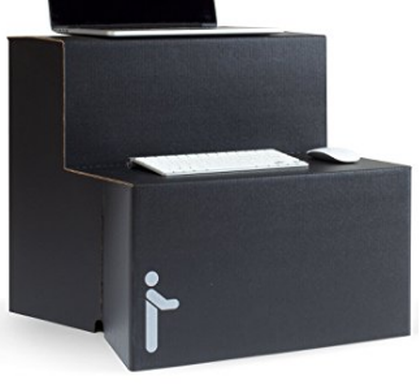 This is basically a different version of the Spark by ErgoDriven. The base price is less at $39 on Amazon, however, isn't currently on sale. It doesn't look quite as cool either. These options will do the job, the main issue with them is that you can't move them down, so you have to move it off your desk to go to a sitting option.
Seriously though, if that's the main issue and you are looking for the cheapest option possible, then it's well worth the price. Just don't get your hopes up at this being a long-term option.
10. AirRise Pro Desk Converter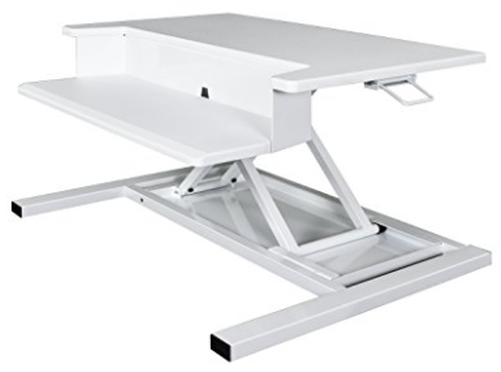 The AirRise Pro's original price is nothing to get too excited about as it is $395, but it never really goes for that much. You can usually find it discounted quite a bit, sometimes as low as $167! So as long as you can find it discounted then it is a really affordable option.
The quality of this converter is really good as well. The main issue would be the specs as it has a limited height range as it is really only tall enough for someone roughly 5'10". Again, you can't expect perfection if you are looking for a terrific price.
 BONUS DESK
VIVO Manual Crank Stand Up Steel Desk Frame System Ergonomic Standing Height Adjustable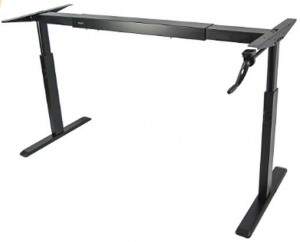 Wait, you were looking for a full-size desk on this list? Well, here it is. For  $219.99 you can get a sit/stand full desk frame. If you can pull it off you may be able to keep the entire price under $300 after adding the desktop. This isn't a bad deal (other than the annoying crank), but there is a reason that this is the only sit/stand full desk placed on this list.
Because if you're going to spend that much it's worth it just spend a little more and get a higher quality desk that will last you for years. For example, this desk frame comes with a 1-year warranty. However, if you decide to go with a better sit/stand desk then you can get a 7-year warranty and a better product. So do that instead.
 Summary
At the end of the day, all of these options listed above are going to provide value for an affordable price. Whether you go for something that will last you awhile like the UpTrak Dual, or whether you literally will be relying on cardboard like the Spark by ErgoDriven, every sit/stand option above is valuable and worth the cost of what they are listed for in my opinion.Finding what fits you best is going to be the question. It all just depends on what your budget can afford.
Finding what fits you best is going to be the question. It all just depends on what your budget can afford.