Ok, it's time that I finally wrote the Lander desk review, which by the way, I think is the best standing desk you can find.
Now, there are a lot of high quality standing desks on the market, but if you're looking for a top of the line product made in America that will likely be with you for the next decade, then the Lander desk is going to be your best option.
Overall Rating
Company: iMovR
Desk: Lander Standing Desk
Style: Electric
Rating: 93/100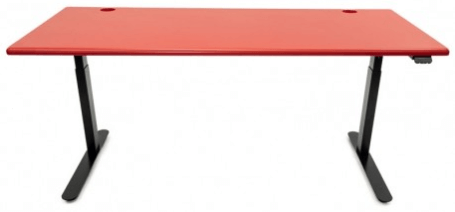 Specs
Height Range: 24.5″-50.5″ (with the tabletop)
Width/Depth: 41″-83″ wide, 30″ deep
Speed: 1.6″ per second
Weight Capacity: 360 pounds
Warranty: Lifetime on frame, 10 years on electrical, 5 years on the tabletop
Handset: LCD, 4 preset height options, up and down arrows, Bluetooth enabled adjustment
Noise: Less than 50 decibels
Assembly: 10 minutes
Pros
Made in America certified
Outstanding warranty
Tallest standing desk on the market (see below)
Easy adjustment
Preset heights
Faster adjusting than other electrics desks
Bluetooth enabled touch panel with a "health coach"
Sturdy steel frame
Excellent selection of sizes
Excellent selection of tabletops
Very little wobble
Comes almost completely pre-assembled
SteadyType ergonomic keyboard tray is optional
Cons
Higher end of the price range for a standing desk
Being an electric desk it won't be as fast as a manually adjusted desk (like most converters)
What makes the Lander Desk worth it?
Look, overall you're going to spend more on this desk than if you went with one of the more popular desks like say the Jarvis desk by Fully or the UpLift desk.
But you're getting a better quality product that is (almost) entirely made in America. Don't get me wrong, both of those desks made in China are popular desks because even though they themselves aren't cheap, they are still quality desks that will save you some money.
And clearly, that is the one hold up with immediately going out and buying this desk. Like I said, this is my favorite standing desk money can buy. But money will be an issue for a lot of people.
But what you need to understand is that you're making an investment that's going to last likely for a solid decade. With other standing desks you may just be getting a flimsy warranty that isn't going to be nearly as extensive as what iMovR offers.
So you'll have a desk that's made in America from the best materials you could imagine built to the highest standards and specifications, and at the end of the day when you think about how much longer it will last, you're probably paying damn near the same price in the long run.
This makes it a desk highly worth investing in. It's also worth noting that iMovR offers a different standing desk that is more affordable which is worth considering as well. This would put your investment closer to what you would spend on a standing desk made in China but yet is still made (primarily) in America.

The Lander Desk in More Detail
Build/Sturdiness
This is the main thing you want to look at if you're considering the Lander desk. You want something that is built better than anything else, and that's exactly what you're getting with the Lander desk as they simply thought of every minor detail when designing this desk.
The legs are built with a higher gauge steel then what you'll find on a cheaper China made standing desk frame. In addition to that, it uses thin metal sheets that separate the telescoping columns instead of plastic, which is what is used on the more common cheaper frames (and what is used on the Jarvis).
Another key factor is the base of the legs on the frame are heavier than cheaper made frames, and even weigh more than other desks made by iMovR (Cascade and Energize).
This is another key factor that reduces wobbliness. However, with any standing desk that doesn't have a support bar you will get a bit of wobble at its tallest height even with it being built to the highest level of perfection as the Lander desk by iMovR is.
With the Lander, they actually have a support bar that comes with any desk you get that is larger than 60 inches to reduce any wobbliness. They don't offer this on their other desks which again shows how this desk is specifically designed to be completely stable while working.
Warranty
iMovR offers a warranty that is pretty much unmatched by any other standing desk in the industry, and this is just another area that makes it worth buying from them.
And actually, it isn't just the Lander desk that is covered by this excellent warranty. It's also their more affordable options (Energize and Cascade) that have the same excellent warranty.
They offer a lifetime warranty on the frame, a 10-year warranty on the motor and electrical units, and a 5-year warranty on their desktops.
To compare this with what the Jarvis offers by Fully. They offer a 7-year warranty on everything. And don't get me wrong, that is a really good warranty, which is also why this is a desk I recommend.
However, iMovR is offering 3 additional years on the motor and electrical, and this is really the main area you want to look at. The frame has a lifetime warranty, which obviously is outstanding, but the motor and electrical would be the one area of concern that you want the warranty for. So for them to back this up for a decade is phenomenal.
Ironically, they only have a 5-year warranty on the desktops which is a bit less, but I don't think this is any concern as these are high-quality desktops that should last years beyond that.
Desktop Sizes and Styles
Ok, so this is another area where iMovR is completely ridiculous. And by ridiculous I mean that as a good thing. But they offer 8 different desktop sizes and 46 different styles of desktops to choose from.
As for the size options, they range from 41 inches to 83 inches wide (1 1/8 inches thick) and you can choose from 6-inch increments. All desks are 30 inches in depth and all of the desks larger than 59 inches have a crossbar to help stabilize (65″, 71″, 77″, 83″).
They also offer their patented SteadyType keyboard as an option for these desks, although if you want dual keyboard trays then you'll have to go with the 83-inch version. All of the others you can choose to go with a center option, or a left and right option on anything larger than 65 inches.
Here is a breakdown of what desk options you can get:
| Size | Keyboard Tray(s) |
| --- | --- |
| 30" x 41" | Center |
| 30" x 47" | Center |
| 30" x 53" | Center |
| 30" x 59" | Center |
| 30" x 65" | Left, right, center |
| 30" x 71" | Left, right, center |
| 30" x 77" | Left, right, center |
| 30" x 83" | Left, right, center, dual |
As for the different styles of desktops outside of the size, as I mentioned they have 46 different kinds to choose from. Now, this is because they have a vast selection of wood top styles you can choose from that fall within four different tiers. Of course, each tier will have a different price range. These come in various styles of maple, oak, walnut, cherry, and hickory. Overall they have 30 different solid wood tops to choose from and 16 3D laminate options to choose from.
And the 3D laminate options aren't your typical laminate table either. They aren't made with the standard process of gluing down laminate to a table that is going to leave sharp corner edges that will likely fray within a couple of years.
They are made with a high vacuum pressure/high temperature process where the laminate is wrapped around the top and the sides of the desk creating an almost no-fail desktop designed with higher durability.
Because they are hermetically sealed, just like the wood tops they won't warp, swell, or dry out for years to come. The main benefit of getting a solid wood top is that it will likely last a decade or longer. The laminate top will be just as efficient for the early years and really the only thing to worry about is if you were to puncture the laminate with a shard of glass or something similar, which is highly unlikely.
The 3D laminate also offers some sleeker designs as you can go with an all black or a designer white which gives it a completely different look than the all wood tops. The thick wood tops are going to be the best long-term choice, however.
Now, because these wood tops are custom made in America by iMovR, the downside is that you'll have to wait a bit longer to receive your desk if you decide to go with the solid wood.
If you go with the 3D laminate you should get your desk within 10-12 business days or less. While if you go with a custom wood top you may have to wait anywhere between 3-7 weeks to get your custom made desk.
Tallest Standing Desk on the Planet
Now, first off with the Lander desk standing at 50.5 inches tall with the desktop included, it's important to note that there are other standing desks that reach that height (a couple even taller).
But, yes, I'm still calling this the tallest standing desk on the planet (for a couple of reasons). First, the Lander desk offers 6-inch height extenders and this would put the total height to 56.5 inches!
If you used the height extenders then it puts this desk at a height ideal someone 7'1″! This is really the only desk that is going to work well if you're 7 feet or taller.
In addition to that, the SteadyType ergonomic keyboard tray option that comes with these desks makes it possible for you to be more comfortable with your desk at a lower height than normal.
In other words, because of the fact that you can tilt your keyboard down, it allows your wrists not to strain as much…so this alone adds another few inches of maximum height in my opinion. I'm telling you, the tallest player in the NBA could use this standing desk.
Now, where this is a benefit to people who are tall (but not that tall) is that if you use a treadmill with your desk and add an additional 5 inches or so then you may need that extra height.
Someone 6'5″ that is using a treadmill that is 5 inches off the ground would need a standing desk designed for someone 6'10", and this is just another reason this standing desk was designed to work as a treadmill desk.
Functionality
The smart technology that comes with this desk is a really cool feature as it comes with a Bluetooth enabled "health coach" that reminds you to sit or stand based on what you program it to tell you. It also saves your preferred heights.
This really helps you get the most out of your standing desk and ensures you're not just getting a desk that you're not going to use the way you should.
This may seem a bit gimmicky but I think it's an added feature that helps set it apart from the competition.
The lander desk also moves at a speed that is a bit faster than most standing desks as it adjusts at 1.6″ per second. This is a fraction of a second better than what you'll get from a China made desk like the Jarvis, so this isn't a huge selling point.
The sound is also less than 50 decibels and this is comparable to other standing desks. The Lander may be a bit better but you're still going to hear it adjust. It isn't completely silent but yet also isn't anything to worry about.
Finally, the Lander desk comes almost fully assembled as all you have to do is place the legs on the desk and snap them into place, so you're looking at roughly 10 minutes or less to assemble the desk.
With most standing desks you have to drill into the desktop itself and will likely take you closer to an hour to put together your standing desk.
Made in America
Unlike a lot of other items that are marketed as Made in America, iMovR's Lander desk is almost entirely made in America. I always thought made in America meant made in America but apparently, all you have to have is 50% of it made in America! Crazy.
But while technically not all of the Lander desk is made in America, roughly over 90% of it is, and this far exceeds the requirements for made in America.
The base, including legs and feet, are made in America, the electrical components inside the legs are, and the desktops are. This is the majority of the desk.
What isn't made in America is the added crossbar that they add to desks wider than 60 inches (not all Lander desks), the handset that has the up and down arrows, and the receiving sockets.
So there ya go, the vast majority of the desk is made in America, except for a small electronic adjuster, a sometimes included crossbar, and receiving sockets inside the legs. If that is too many foreign materials for you then, well, there really isn't a standing desk for you that I know of.
I really do think iMovR takes pride in not outsourcing their desks and will probably eventually end up with everything entirely made in America. As of now, like I said, most of it is made in America, and this is the best you'll find on the market.
Accessories
iMovR offers about every additional standing desk accessory you can imagine. These won't come with your desk so you'd have to buy these separately. Most are going to be completely optional. However, a couple of ones to consider would be a standing desk mat and a monitor arm as both of these may be the two most important accessories to add to a standing desk.
Also, the SteadyType ergonomic patented keyboard tray they offer is unlike no other. This would actually come built-in to the desk.
That being said here is a list of what they offer to go with your Lander desk:
Monitor arms
Anti-fatigue mats
SteadyType keyboard tray
Add on keyboard trays (separate from desktop)
CPU Holders
File cabinets
Cable management
Power management grommets
Treadmills
Under desk cycles
Wheels
Footrests
Height extenders
Laptop mount trays
Hideaway storage trays
Ergonomic chairs
They literally have just about anything you could possibly imagine to pair with your standing desk. If you want it they have it, and they are all high-quality accessories.
Price
I've already spoken quite a bit about the price of this desk being higher than most standing desks and why that is the biggest drawback to actually taking the leap and purchasing this desk.
The base price if you go with the Lander desk is going to be $999 for the 41-inch wide tabletop and just a basic set up. However, at the other extreme if you go with all options available including their highest quality tabletop at 83 inches wide and combine it with the dual option SteadyType keyboard trays you could spend as much as 3 grand.
If you add some of their optional accessories it would cost even more. However, it is important to note that you could simply just purchase the Lander frame with nothing else and it would cost you $799.
Again, to compare, if you went with a Jarvis frame (at the time this was written) then it would cost you roughly $450. So you're paying 44% more to get an American made desk with better quality and a better warranty.
One way to look at it is that you could consider financing it as well, so if you'd rather pay for a desk over 6 or 12 months instead of dropping it all at once then you could choose to take that route if it's an option for you. 6 months of payments for a desk that lasts a decade may be the way to go for a lot of people. iMovR doesn't currently offer financing but this is allegedly something they plan on offering in the near future.
However, if you still think that the Lander desk is still too much to invest in, then they offer a more affordable standing desk that will compare more to the cheaper made desks coming from China in terms of price, only they're still made primarily in America and come with the same excellent warranty.
Check out this full video review to see the Lander desk action.

Final Verdict/Overall Score
| Factor for Total Score | Rating (Out of 5) | Impact on Final Score |
| --- | --- | --- |
| Durability/Quality | 5/5 | 20/20 |
| Stability/Wobbliness | 5/5 | 15/15 |
| Height Range | 5/5 | 15/15 |
| Speed | 4.5/5 | 13.5/15 |
| Price | 2.5/5 | 5/10 |
| Warranty | 5/5 | 10/10 |
| Aesthetics | 5/5 | 10/10 |
| Noise Level | 4.5/5 | 4.5/5 |
| Total | | 93/100 |
So there you have it. If you want a desk that's made in America and built to near absolute perfection then the Lander desk by iMovR is your desk of choice.
At the end of the day, you're getting a standing desk that has unparalleled stability at all height levels, is built to last a decade, and comes with a warranty you won't find anywhere else.
This is my favorite standing desk. The question is, whether or not you're going to make the investment.
More Info and Where You Can Buy Online
Lander Desk at iMovR.com.