When looking for the best sit/stand full desks (as opposed to a desktop workstation) what I look for in rating these is not only quality but the value and what you are getting for your money.
All of these desks are height adjustable so you have the option to either sit or stand. This is what I consider the best overall purchases to be. Here is my list.
Best Height-Adjustable Standing Desks
1. Jarvis Electric Standing Desk, by Fully.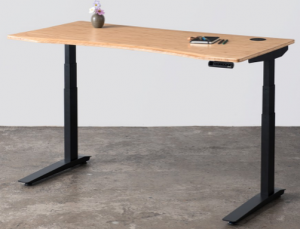 The Jarvis sit/stand desk by Fully is an all-around solid desk. You get just about everything you need without having to pay an exorbitant amount of money like some other desks that provide the same quality.
It comes with a 7-year warranty on all frame, mechanical, and electrical units. With a good warranty you can ensure you are getting a good product and if anything does happen you can get it taken care of.
This is a requirement in making this list, especially when you have to invest several hundred dollars.
It is an electrical adjustable sit/stand desk that ranges from 23.5″ to 49.25″. It has the option of either using a 2 up and down button adjuster or a full on 4 height setting handset that can save the heights that you prefer.
It can hold up to 350 pounds and when compared to other sit/stand desks like it, it is sturdier in all positions including at its highest range. Most reviews stated there is no wobble at all even at its tallest height, so you can work fully focused while standing.
Also, speaking of height. At 49.25″ it is tall enough for most people. It is quoted as being tall enough for someone 6'6″. This height is pretty accurate and you could possibly even get by being 6'7″ or 6'8″, especially with a monitor arm.
The desk can fit desktops that range from 44″ wide to 82″ wide and from 24″ to 36″ deep.
The point is that this is an awesome desk that not only looks cool but also easily moves up and down while still maintaining its sturdiness. It provides a full sit/stand desk that is easily adjustable. Overall it is a great buy and a great investment.
The cost will range anywhere from $445 (just the frame and handset) to in the $1,000 range if you add all the accessories like the higher end table tops, monitor arms, grommets, wire covers, etc. However, you can end up with a full sit/stand desk in the $500 range with everything you need.
OVERALL RATING: 9.4/10
AWARD: BEST ALL-AROUND SIT/STAND DESK
2. Ergopose Electric Desk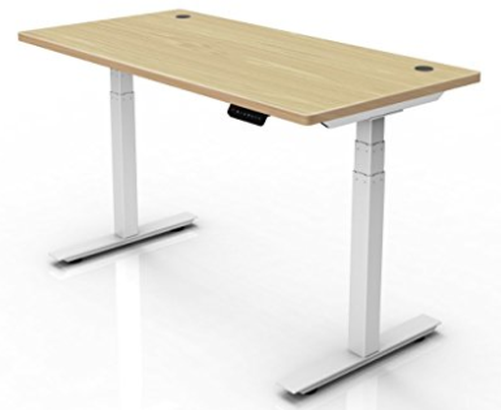 This desk frame that is all about value. In terms of quality, it is in the same ballpark as the Jarvis desk but you can find it in the low $300 range.
The thing is, with this desk, I don't see much of a difference in the quality even though it goes for less. Sure, there are marginal differences but if you are looking to save money this desk may be the way to go.
And on this desk frame, the specs are pretty damn elite. It adjusts at 1.5″ per second, it raises up to 49 inches off the ground, and it can hold up to 350 pounds. All of those specs match the Jarvis desk.
It also comes with a 5-year warranty which isn't too far off of the Jarvis.
The quality differences are marginal, so if you are looking to save money then deciding between this and the Titan desk (number 5) will be your main concern. The issue with this desk is that if you buy their tabletops then you are looking at an extra $250-$350. The Titan has a more affordable desktop.
The specs on this are actually better than the Titan so if you like the faster speed and a longer warranty then this desk is the way to go.
Of course, you can always just get a different desktop to go with this frame if the frame is something you really want, and can keep your cost down.
Ergopose, which is a newer company, seems to be a really solid company and the standing desks they make combine quality with value. If you choose to buy this desk then you should be in good hands.
OVERALL RATING: 9.4
AWARD: BEST VALUE STANDING DESK
3. Omega Everest Standing Desk by iMovR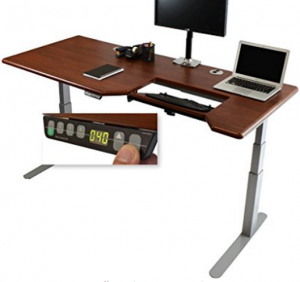 Now we're talking. This is an awesome desk. It's a lot like the other electrical sit/stand desks I recommend but it has a built-in keyboard tray that comes with the desk.
This is excellent for someone that has carpal tunnel syndrome, it allows you to angle the keyboard tray as far as 85 degrees either direction.
The easy adjustment is also great for using as a treadmill desk.
Oh, and did I mention it's an awesome desk. It's solid, it has 11 different desktops colors/styles you can choose from as well as 9 different tabletop size options.
The size options range from a 30″ x 48″ tabletop to as large as a 30″ x 83″ tray.
The 2 smallest options which include the 30″ x 48″ and the 30″ x 60″ options have one keyboard located in the center. For the 30″ x 72″ desktop you can pick whether you want the keyboard on the left, center, or right. Finally, the largest option which is 30″ x 83″ includes all of those options but also includes a dual keyboard option.
The height ranges from 25″ to 50.5″ and also has optional 4-inch extenders making it tallest desk on this list. With the extenders and adjustable keyboard tray, someone over 7 feet tall could use this desk.
With all of these options, why isn't this number 1 on this list? It's pretty simple, the starting price begins at $999. And if you go with the 30″ x 83″  dual keyboard option with a wooden desktop then it will be closer to $2,000.
At the end of the day is having the keyboard tray worth that much of a difference? The cost of the dual tray to the single tray is a $275 difference suggesting that is the value of the tray.
Originally, I thought the ergonomic tray wasn't all that great. But after doing research this is a really great added feature. One of the reasons I like it so much is that it makes the desk effective at even taller heights. You don't have to strain your wrists if your keyboard tray is below elbow height because you can adjust the tray. Just another reason this is the tallest desk you can find.
Overall, this is an excellent desk that would be a terrific investment for someone that not only wants to be able to have a sit/stand desk conversion option, but also that needs the correct ergonomics for their wrists.
If price was no issue. This would be the number one desk on this list. If that isn't something that concerns you, then, in my opinion, this is the best desk you can buy.
OVERALL RATING: 9.4/10
AWARD: MOST BADASS SIT/STAND DESK
4.  Uplift 900 by HumanSolution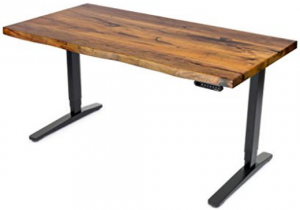 The UpLift desk is right up there with the  Jarvis when it comes to a sit/stand electric desk that gives you everything you need.
Like the Jarvis, it adjusts quickly at 1.5 inches per second, comes with a 7-year warranty, and also has a 4 setting adjustable keypad.
It actually goes just over an inch higher than the Jarvis ranging from 24.5″ to 50.5″ tall. So this may be a better desk if you are pushing 6'7. This is considered the tallest height that would fit the desk, but again if you add a monitor arm or mount then I think it could fit someone up to 6'9″.
It has a 355-pound weight capacity, which is actually 5 pounds more than what the Jarvis has. The width of the desktop can range from 26″ to 96″, but is recommended between 36″ and 80″. The depth can range from 24″ to 36″ deep.
The reason I had this rated below the Jarvis  is that there were more reviews that it wobbles more, especially at the highest setting. Some reviews said it was fully stable and there was no wobble at its highest point, but regardless, I don't think it is as solid as the Jarvis desk. Granted, compared to other sit/stand desks it is still a very stable desk.
This desk has an excellent build to it and is a terrific option if you are looking for a desk that won't break the bank and will still last you close to a decade or more. The price of this desk is very comparable to the Jarvis desk, the frame alone usually goes for around $450 and depending what you add can go up to over $1,000.
OVERALL RATING: 9.3/10
5. Titan Adjustable Height Work Desk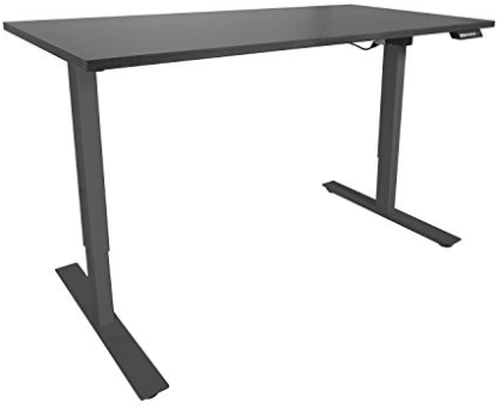 This desk is all about price. This is one of the cheapest options you can find on the market, and the thing is it is still a quality desk. It isn't like this thing is going to fall apart just because it costs less than other options.
However, the price of this is the main reason to buy. You can find the single motor desk frame in the low $200 range and you can find the dual motor frame in the low to mid $300 range!
Also, they offer very affordable table tops to go with the frames and if you buy them together you are looking at about $100 more.
This is a ridiculously low price for a full standing desk.
Some of the main positives of this desk in addition to the price is that it is still very stable. The frame is made of steel plates. There were no negative reviews that this desk was wobbly or unstable and pretty much all of the reviews on this desk is that it is surprisingly sturdy despite its low cost.
It also has a quality height range. If you go with the dual motor option it goes almost 2 feet low and 50 inches high, meaning it is at least tall enough for someone 6'8″.
Granted, this is a newer item so it is hard to tell the long-term quality of the desk. However, I don't see there being any issues for at least a couple years.
Some of the drawbacks (and why it is cheaper) is that it doesn't perform as well in a couple areas.
First, the higher rated desks move at 1.5″ per second and this desk moves at 1″ per second for the single motor and 1.18″ per second for the dual motor option.
Next, although it is a sturdy desk. It weighs more than the Jarvis yet doesn't have as much of a lifting capacity. However, the single motor lifts 176 pounds and the dual motor lifts 265 pounds so both are solid enough to hold 3 monitors plus office supplies.
Another downside is that Titan only offers a 1-year warranty to go with this desk, so although it is really affordable if it breaks down after a year you are out of luck. If this offered a better warranty it would be ranked higher.
Overall, you shouldn't expect the quality level to be what the Jarvis is, but this makes complete sense considering the price. Titan, who specializes in fitness equipment, came through with a terrific standing desk option.
It is really apples and oranges with this and the Ergopose desk, but the main reason it is ranked lower is the 1-year warranty, whereas you get a 5-year on the Ergopose desk.
On the plus side, the tabletops are much cheaper and you can just buy the entire desk straight from them if you are looking for something more affordable, whereas the tabletops for the Ergopose desk cost more.
The fact that you can get a full standing desk for the same price as a top quality desk converter is absurd (a Varidesk costs $395). You can't go wrong making this purchase.
OVERALL RATING: 9.2
AWARD: MOST AFFORDABLE STANDING DESK
6. 
Focal Upright Locus Standing Desk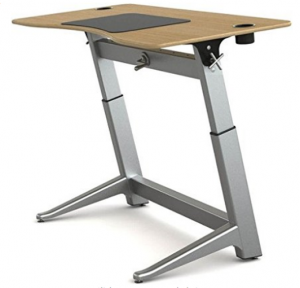 The Focal Upright Locus is different from your typical sit/stand desk in that you don't fully sit, or fully stand.
Instead, it is set up so that you can be somewhere in between so that you aren't putting too much stress on your knees or your lower back.
This really is the ideal setup. It is made to the highest degree of quality as you can tell just by looking at it.
You'll want to add the Focal Upright leaning seat in order to get the full effect. As shown underneath.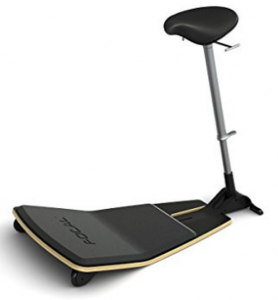 This gives you a world class setup. The chair includes an anti-fatigue mat. You don't have to adjust it as it is going to be set up right where you need it to keep your spine in the correct position. It is set up to give you a 130 to 135-degree range from hip to torso which is ideal and your spine is still able to be at 90 degrees giving you the correct ergonomics while you are working.
The desk accommodates people with height ranges of 4'10" to 6'8″ and the chair holds a max weight of 300 pounds. Which will cover most, but not all people.
It isn't at the top of the list because I give a strong weight to the price of these desks when giving an overall rating.
The desk, depending on the size, ranges between $1,299 and $1,699 and the chair goes for almost $700 leaving you with a total amount just over 2 grand.
So in other words, if you are the average person then you may not be able to make the investment, even though the long-term value may be worth it.
If you are someone that can afford top of the line things then this could be a terrific investment.
The only other downside is that, as advertised, you would never get to fully sit down. Sometimes it is nice to just be lazy. But then again that's what we are trying to avoid by getting a sit/stand desk, so getting used to being in the position the chair allows may just be what you need.
Also, it isn't motorized and requires it to be cranked up and down to adjust the height, but again this isn't an issue because of the fact that you won't have to constantly adjust it.
Overall, this is an excellently made product and even with the price tag is an excellent investment towards making your workday more productive, enjoyable, and healthy.
OVERALL RATING: 9.2/10
AWARD: MOST INTENSE SIT/STAND DESK
7. Ergotron Workfit D
The Ergotron Workfit D is different from the above options in that it isn't motorized and doesn't use a crank, it uses a lever that easily adjusts it up and down.
With this option, while adjusting the desk it is much quicker than any of the other options listed. This is the main advantage of this desk and why it is on the list.
The desktop itself is 47.6″ wide and 23.5″ deep. It adjusts from a height of 30.6″ to 50.6″ high. So this, again, is suited for taller people.
However, only going down to 30.6″ could be an issue for some people as most desks tend to sit at 29″.
This may not seem like much but it is something to consider if you are short, or are someone like myself who tends to lay back more when they sit and would prefer a lower desk to accommodate your sitting position.
The weight capacity is 65 pounds. Which of course isn't anywhere close to the other desks mentioned. This is because of the manual adjustment it has. This wouldn't work effectively or at all if you had too much weight on the desk. However, 65 pounds is enough weight to have 2 monitors with weight to spare.
The main downside to the Ergotron Workfit D is the crossbar that is on the back of it. For taller people, especially someone like myself that will extend their feet out, this could really get in the way. Personally, this is enough for me to not want it. Someone that sits rather upright should be fine, though.
Also, like I mentioned earlier the desk doesn't go as low as most other desks. You may want to check your current desk level and then determine whether or not a 30″ sitting desk level will work for you or not.
OVERALL RATING: 8.8/10
AWARD: FASTEST ADJUSTABLE STANDING DESK
8. Herman Miller Renew Desk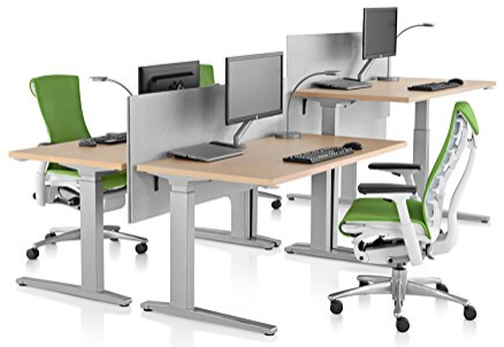 This desk is a top of the line product. As you should expect when going with anything made by Herman Miller. But, like the Omega Everest desk, and the Focal Upright Locus desk, this option won't be for everyone as the price tag will scare most people off.
The desk comes in at the low end of just over $1500 and if you get the veneer finish and edge then it will cost over 2 Gs. A tough investment to make, but rest assured you will end up with a supreme product.
The Renew desk will give you maximum sturdiness with no wobbliness, even at its maximum height.
The main benefit of this desk is that they have an option where the wire management is actually hidden in the leg. It also comes with a cover for all of your wires underneath the desk so that these aren't visible and hanging off of the desk.
Also, the edges of the desk are designed with softly designed angles for increased safety. This makes it great if kids are around.
It also comes with a 12-year warranty on the desk itself, while there is a 2-year warranty on the power leg access option.
Overall, the Herman Miller desk will be a focal point of any office and will undoubtedly be a terrific standing desk if it is something you are able to obtain.
At the end of the day, you know whether or not you are someone that likes Herman Miller products and if you are, their standing desk is no exception of quality.
OVERALL RATING: 8.8/10
9. Stand Steady Tranzendesk Electric Standing Desk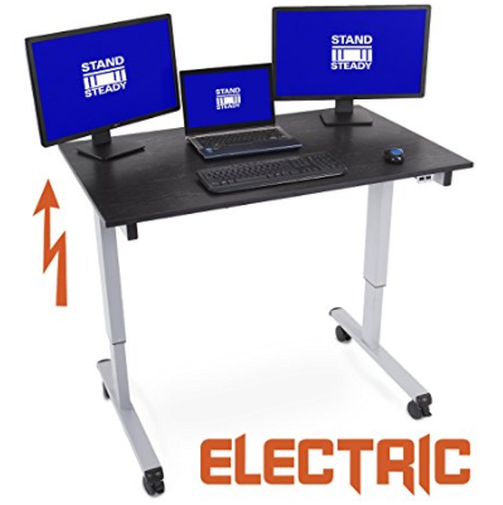 Stand Steady offers several quality standing desks, and you can go with a manually adjustable desk (like the WorkFit D) or you could also go with their crank desk as well.
All of the options they offer come in at very reasonable prices and are quality desks at the same time. The electric option may be the way to go, though, as it comes in at just under $500. This makes it a terrific buy.
I think the sleek looking top it comes with is visually appealing if you don't like the traditional wood top.
Another feature of this desk is that it comes with wheels on it so can be moved around, making it terrific for jobs where you tend to move a lot.
A couple reasons this desk isn't listed higher is that it only has a single motor, doesn't have preset height options, holds less weight than other standing desks, and only goes as tall as 45.25 inches off the ground.
On the plus side, it comes with a 7-year warranty so you know you are getting a desk for years to come.
If you're not taller than 6'3″ the height setting won't be an issue for you, so if you like the design of this desk it could be the right choice for you to go with.
OVERALL RATING: 8.7/10
10. Flexispot Deskcise Pro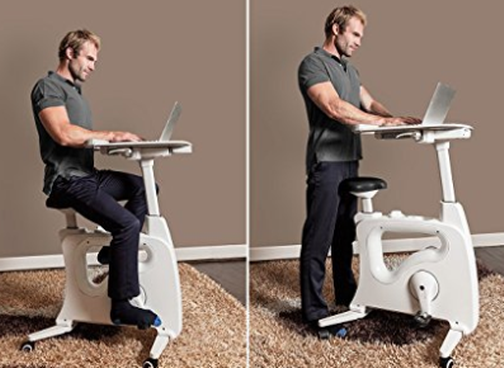 I wanted to provide some different options here, and lets face it, most of these listed here are pretty similar. Not this one. Seriously, a standing bike workstation!? Pretty freaking cool right.
You get to workout and work at the same time. Forget going to the gym after work and taking an hour there and then more time to drive home. You've already got that covered.
This is a pretty radical way to work, but if you're someone that buys this desk, you certainly aren't the average Joe.
The great thing is that with its ingenuity it still comes at a decent price as you can get it for just under $400 (almost the same as a Varidesk).
Here is my thinking. If you work at an office that allows you to bring in your own desk and everyone else already has a standing desk. You should probably just go ahead and one-up them with this thing.
I better mention the downsides though too right? Well, looking at it you can kind of get the picture. When you're standing it is a little further away than you would like.
Also, while sitting you don't have any back support so you wouldn't ever get to fully relax. So on a side note, you may want to add this to your office if you still have another desk option you can use.
At the end of the day, using this while working would completely change your workday.
OVERALL RATING: 8.5
AWARD: MOST FLAMBOYANT STANDING DESK
Desk Breakdown by Price
A lot of people are looking to save money. So here is all of the desks listed in order by price. Remember that the ratings already have price included in them. I include both the single and dual motor price for the Titan Desk. Also, the prices can change at any time and although I try to be as accurate as possible it can be hard to keep up with pricing changes, if you notice an error, please let me know!
| Standing Desk | Overall Rating | Frame Price | Total Price |
| --- | --- | --- | --- |
| Titan Desk | 9.2 | $239 or $349 | $311 or $449 |
| Ergopose Desk | 9.4 | $329 | $579 |
| Flexispot Deskcise Pro | 8.5 | NA | $400 |
| Tranzendesk | 8.7 | NA | $500 |
| Jarvis Desk | 9.4 | $450 | $650 |
| Uplift Desk | 9.3 | $450 | $650 |
| WorkFit D | 8.8 | NA | $698 |
| Omega Everest | 9.4 | NA | $1,600 |
| Herman Miller Renew | 8.8 | NA | $1,750 |
| Focal Upright Locus | 9.2 | NA | $2,000 |
If you want to go with the frame only and then get a desktop seperately to save on costs, then we have you covered there as well, here are a few different cheap tabletop options you can go with to save costs.
It is a good idea to add an articulating monitor arm to them for ideal ergonomics as well, so you may want to consider that in the price also. If these desks are still out of your price range, it may make more sense to go with a desktop workstation that goes on top of your desk instead.
 Summary
All of these sit/stand desks mentioned are high-quality desks that can be the ideal desk for you depending on what you are looking for. Everyone is different and isn't going to want the exact same thing as the next person so I tried to include a variety of different style desks. There are others not on this list that are good as well, but didn't make the cut because I felt they were overpriced, or simply because the quality wasn't as good as those listed here.
What do you think about these desks? Are there any desks you would like to see on this list I didn't include? Let me know in the comments below!