Hello and welcome to my iMovR Standing Desk review. iMovR is an industry leader in standing desks. In fact, they have so many options it can get a little overwhelming trying to figure out everything they have to offer.
So here is a complete review of their standing desks. What I'm going to do is give a full breakdown of my favorite desk they have to offer, which is the Omega Everest Standing Desk and then I'll give a short breakdown of their other options and why you may want to choose one of those instead.
Did I mention they have a lot of desks? This is a lengthy article so to make it easy for you if you want to skip to a certain point in the article, here is a table of contents.
***iMovR has made A LOT of updates since this article, however, to show how they have evolved over the years I am not updating this article but just adding full new articles. The Omega Everest desk has now transitioned to the Lander Desk as they have made improvements on it and changed the name, there is a full article on that here.***
Here is the full review of the desk I have rated as the most versatile standing desk you can buy.

Omega Everest Standing Desk
Company: iMovR
Style: Electric with adjustable keyboard tray
Where to Buy: iMovR.com
Rating: 94.5/100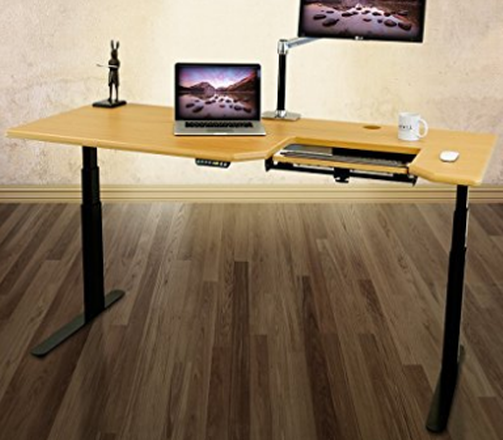 Specs
Height Range: 26.5″-50.5″ (with the 1 1/8″ tabletop), optional 4″ extenders make it 54.5″
Width/Depth: 30″ deep, 48″-83″ wide
Speed: 1.5″ per second
Weight Capacity: 265 pounds
Warranty: 5 years on tabletop, 10 years on electronics and moving parts
Weight: 80 pounds
Handset: Digital with 4 programmable preset options
Noise: 42 decibels on descent, 46 decibels on ascent
Assembly: 30 to 60 minutes
Extras: Ergonomic keyboard tray, optional 4 inch height extenders, slows when stopping
Pros
Ergonomic keyboard tray
Tallest standing desk money can buy
Sturdy
Very little wobbliness
Quiet when adjusting
Multiple tabletop sizes
Excellent warranty
Made in America
Easily Adjustable with 4 preset heights
Slows before stopping so there is no abrupt stop
Looks cool
Cons
Higher price range
Speed of adjusting isn't as fast as a manual lever desk or most desktop workstations
Omega Everest Overview
As mentioned I consider this the most versatile desk you can buy. The only thing keeping this from being the top rated desk is its price. Other than that, I personally think this is the best desk you can get.
The ergonomic keyboard tray gives it an element most desks don't have. It is also the tallest desk you can get as well as one of the quietest electric desks you can find. This combined with its top notch quality makes it the ideal office setup.
Clearly, this desk won't be for everyone because of the price tag. However, you tend to pay for what you get and this is a top notch product that is well worth the investment.
The Omega Everest in More Detail
Price
The price varies depending on what option/size you go with. The lowest price comes in at $1,323 if you get the 30″ x 48″ desktop size with the cheapest tabletop option they have.
The highest price you can spend on this desk is $1,913 if you go with the 30″ x 83″ desktop that has 2 different keyboards.
Depending on what you want it will fall somewhere in between these 2 numbers. A good option to look at is the 30″ x 60″ desktop with the center keyboard tray. This option can cost as low as $1,388.
Now if you added all of the additional extras they have that can go with the desk you could spend almost another thousand dollars on those as well. This would leave your total cost at around $2,800 if you went with the priciest option they have and included pretty much everything that you can add to the desk. None of these are necessary, though.

Desktop Sizes/Options
Like I mentioned above you can go as small as 30″ x 48″ with a keyboard tray in the middle and you can go as large as 30″ x 83″ with 2 separate keyboard trays. And they have just about everything in between.
Here is the largest option you can get with the dual keyboard tray: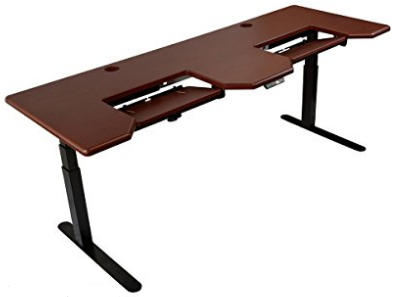 And here is a full list of all sizes/options they have to offer:
| Size | Keyboard Tray(s) |
| --- | --- |
| 30" x 48" | Center |
| 30" x 60" | Center |
| 30" x 72" | Left, Right, Center |
| 30" x 83" | Left, Right, Center, Dual |
As you can see there are 9 total options in terms of size with keyboard placement. Here is a visual: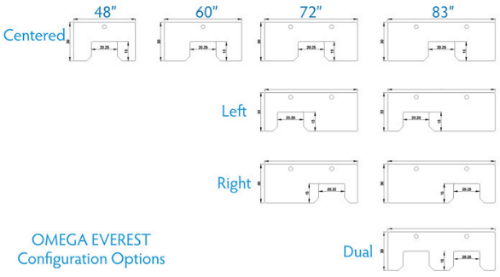 In addition to the different sizes, you can also choose between 11 different colors. These range from a rich mahogany to designer white.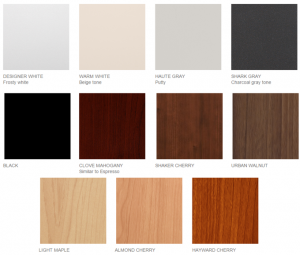 The base either comes in black or silver to match the top of your choice.

The Tallest Desk in the World
The height range goes as low as 26.5 inches and as high as 50.5 inches tall. At face value, it doesn't exactly seem that tall. After all, there are other desks that are as tall as 52 inches. So why is this the tallest standing desk you can buy?
A couple main reasons. First off, they offer 4-inch extenders so right off the bat you can reach 54.5 inches tall.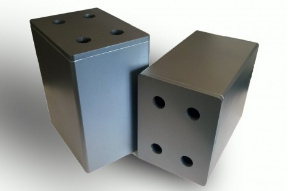 Even without that though the Omega Everest (and certain other iMovR desks) is going to be better for tall people because of the ergonomic keyboard tray that is built in. Being able to tilt your keyboard tray down means you can actually have your elbows above desk level without straining your wrists. Granted you'll want to add a monitor arm to make your monitor height the correct level.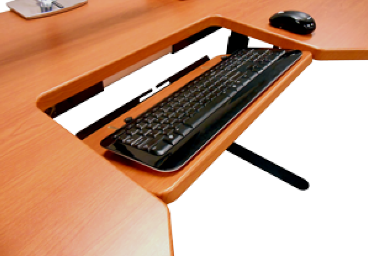 A normal standing desk at 50.5 inches is going to be tall enough for someone as tall as 6'8″. Someone a few inches taller could use a desk at that height but it wouldn't be very ergonomic, especially because of the strain it would put on your wrists.
With the ergonomic keyboard tray someone 6'11" could use the desk comfortably at its tallest height, and if you add the 4-inch extenders then that would equate to being tall enough for someone 7'3″. Possibly, even more, depending on the person and whether or not they feel it would be an issue keeping their arms at an angle.
The combination of these 2 features makes this desk the tallest desk money can buy, living up to its name.

Build/Sturdiness
When it comes to quality the Omega Everest is really one of the best desks you can find. It's hard to find any complaints with what they have to offer.
The Omega Everest is made in America. This gives the company a more direct approach towards their desks. Most other desks tend to be made in Taiwan. The fact that they have their own factory in Michigan where they build their own desks says a lot about the company.
Now just to be clear, they do offer desks made Taiwan as well. These will go for less than their American-made desks. The Omega Olympus is basically the same thing as the Everest only it isn't made in America.
I think that if you are looking for the best quality then go with their American made options. Which is why I recommend the Omega Everest desk.

The Omega Everest is Great as a Treadmill Desk
Treadmill desks are great. For about an hour. Who wants walk 8 hours a day every day while working? Not me. Which is why I don't recommend this as your first option.
However, with the iMovR Omega Everest it is a little different. The dual option they offer gives you the ability to have a treadmill set up on one side and a normal set up on the other side.  This way you could use the treadmill part of the day and switch back when you want. If you're considering getting a treadmill desk then I think this is the ideal way to go.
Here you can see how you can utilize these desks, including for treadmill use: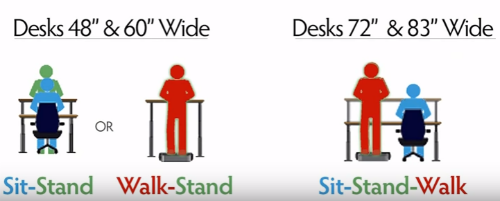 With the smaller options, like most other sit/stand desks, you have to do one or the other. But not if you go with the dual option.
Also, the Omega Everest desk was specifically designed for use as a treadmill desk. The ergonomic keyboard tray was designed as a solution for treadmill desk users and fixed a lot of the complaints people had while trying to type while walking.
Because of the ergonomics, it is advised to use a keyboard tray while walking, and the issue with that is that they aren't very sturdy. You tend to put more pressure on your keyboard tray when you are walking on a treadmill. The Omega Everest gives you the sturdiest ergonomic keyboard trey available to accommodate this.
They also offer treadmills for $1,499 plus $149 in shipping if you want to add that with the desk. Or of course, you could always purchase elsewhere and maybe get a cheaper option.

Accessories
As you can imagine, in addition to the keyboard tray and height extenders, iMovR offers just about every accessory imaginable to go with your desk.
It comes with an auto electric handset that has 4 different preset heights you can set, so with the click of a button, it will go to a pre-programmed height level.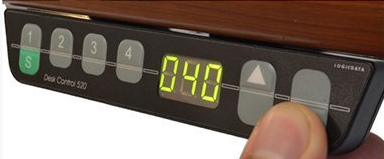 They also offer monitor arms, hybrid standing/chair mats, grommets with power sockets, cable management kits, chairs, and file cabinets.
The main thing I do recommend to go with your desk is a monitor arm. This places your monitor at the correct standing height. iMovR offers their own selection of monitor arms but that will go perfectly with their standing desks. All other accessories are completely optional and in no way necessary.
In addition to that the EcoLast Hybrid Sit/Stand Mat they offer is really cool because unlike most mats it is made so that you can still put your chair on it. With other mats you have to move them back and forth because they aren't made to have a chair sit on them.

Sound
The noise volume of this desk is top notch as it ascends at 46 decibels and descends at 42 decibels. This makes it one of the quietest desks money can buy.

Warranty
A good warranty on a desk is 5 years, maybe even 7. With this desk you get a lifetime warranty on the frame, a 10-year warranty on motors and moving parts, 5 years on the tabletop, and 10 years on electronics. This warranty is unmatched in the industry. You know that you are at least getting a solid desk for an entire decade.

Check out this full video review to see the Omega Everest in action.


Final Verdict/Overall Score
| Factor for Total Score | Rating (Out of 5) | Impact on Final Score |
| --- | --- | --- |
| Durability/Quality | 5/5 | 20/20 |
| Stability/Wobbliness | 5/5 | 15/15 |
| Price | 2.5/5 | 7.5/15 |
| Height Range | 5/5 | 15/15 |
| Speed | 4.5/5 | 13.5/15 |
| Aesthetics | 5/5 | 10/10 |
| Noise Level | 4.5/5 | 4.5/5 |
| Warranty | 5/5 | 5/5 |
| Keyboard Tray | +3 | +3 |
| Height | +1 | +1 |
| Total after nomalizing | | 94.5/100 |
As you can see this desk scores well in every category and the only knock on it is the price. If price were no issue then this is the best desk you can find.
If anything I gave too much emphasis on the price when you consider what you actually pay over time. Instead of a product that may only last a couple years, you get a great desk that should last at least a decade.
Yes, there is quite an investment but you'll be left with one of the best desks money can buy. The warranty they offer backs up their products and really makes this desk the ideal desk.
More Info and Where You Can Buy Online
iMovR Omega Everest Desk at iMovR.com
Other Standing Desks by iMovR
Ok, so like I said the Omega Everest is my favorite desk they have to offer. But iMovR has an absurd amount of desks so let me break those down for you as well and give you some reasons as to why you may want to go with one of those over the Omega Everest. As I mentioned they have both desks made in America and also desks made in China. Here they are.

iMovR Standing Desks Made in America
In addition to the Omega Everest, here are all the desks iMovR has that are made in America. The benefit you will be getting with these desks is that they are more stable, have a longer warranty, and have a better motor. The warranty will be a lifetime warranty on the base, 10 years on all motors and electronics, and 5 years on the tabletop.
**The motors on these desks are made in Germany by Bosch. According to the company, these are the best motors which are why they reach elsewhere for those.

ThermoDesk Elite Standing Desk
First off, the ThermoDesk Elite is the exact same thing as the Omega Everest only without the trademark SteadyType ergonomic built-in keyboard tray. So if you're not sold on the keyboard tray then this option goes for less than the Omega Everest. The price ranges from $1,048 to $1,313 depending on the size.

Cascade Standing Desk
This is much like the Omega Everest only it isn't as tall. You can get the Freedom Standard which ranges from 26.8″ to 44.9″ tall or you can get the Freedom XT which ranges from 21.3″ to 47.4″ tall.
This desk also does not include an 83″ option and the desktops only range from 47″ to 71″. On the plus side, in addition to a 30-inch deep desktop, they also offer a more compact 24-inch deep desktop.
Unlike the Everest, it only has 2 preset height options instead of 4. The speed of the Cascade is 1.3 inches per second compared to 1.5 for the Everest. In other words, this desk is like the Everest only less.
The Freedom Standard goes for $1,083 with shipping for the smallest size and as much as $1,333 for the largest size.
The Freedom XT goes for $1,183 with shipping for the smallest size and as much as $1,433 for the largest size.
They also have a corner desk option that starts at $1,392 after shipping and the highest price range with the XT base is $1,652.

Energize Standing Desk
The Energize Standing Desk is the same thing as the Cascade standing desk only it doesn't have the ergonomic keyboard tray option.
The price for the Freedom Standard ranges from $728 after shipping to as much as $1,058.
The price for the Freedom XT ranges from $828 after shipping to as high as $1,158.
There is also a corner option for this desk as well. This starts at $1,057 and can go as high as $,1377.

Freedom Electric Base
You can purchase a base with no top if you want, the Freedom base is what is on the Cascade and Energize.
The price ranges from $564 after shipping to as much as $684.
You can also get 6-inch height extenders for an additional $79.

Reliant Electric Base
The reliant base is the base that goes on the Omega Everest and the Thermodesk Elite.
The price is $884 after shipping.
You can get the 4 inch height extenders with this for an additional $79.

iMovR Standing Desks Made in China and Taiwan
The main difference between the foreign made desks and the American made desks is the quality. I think that you're looking at a marginal difference, however, with the American made desks you get a better warranty to go with it.
The warranty for foreign made desks will be 2 or 5 years on moving parts, tabletop, and electronics. And a lifetime warranty on the frame (you get 10 years on moving parts and electronics with the American made desks). By the way, the tops for these are the same and are actually made in America.

Omega Olympus
The Omega Olympus is basically just like the Omega Everest only it isn't made in America and it only has 3 preset heights compared to 4. The warranty also isn't as good and it doesn't have the option for the 83-inch desk frame, so no dual keyboard option.
So in other words, the quality isn't what the Omega Everest is, the plus side of the Olympus is that you can get it cheaper than the Everest. The lowest price for will be $1,153 as opposed to $1,323.
It also has a corner desk option that the Everest does not have. Personally, I think that if you are going to hit this price range it makes sense to go with the Everest instead unless you need a corner desk, it is entirely subjective though.

Thermodesk Uptown Select
This is the same desk as the Olympus only without the trademark StandSteady ergonomic built-in keyboard tray. So it's just like the Thermodesk Elite only the foreign-made version.
This also has a corner desk option that the Elite doesn't have.

Thermodesk Upsilon
The Upsilon is going to be the most economical full desk you can get from iMovR. After shipping, you can get the Upsilon for $767. The downside is you only get a 2-year warranty on moving parts and electronics though.
It also the most compact desk they offer. They offer 24 inch deep tabletops with this desk. For width, you can either go with 42″, 47″, or 59″. The height range is still pretty good ranging from 24.25″ to 49.5″ making this good for shorter people yet still tall enough for someone 6'7″.
The reason I don't recommend this desk is because if you're looking for an affordable desk, I think there are better options like the Jarvis desk.

Omega Denali Crank Desk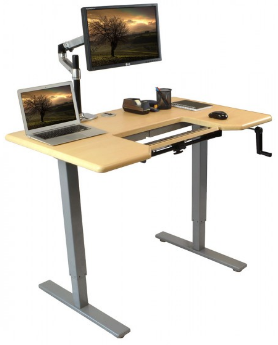 This desk is basically just the Olympus desk only instead of having an electric motor it has a crank. Like the Olympus it is not made in America and but it does come with the SteadyType ergonomic keyboard tray. Also, the desktop sizes are an inch less for the width.
The height range also isn't as good as it only ranges from 29.75 inches to 49 inches tall. Unfortunately, this may not be low enough for shorter people.
The price ranges from $893 to $1,188 after shipping. Personally, I don't think it makes sense to spend this much money on a crank desk. Even if it is one of highest quality ones.

ThermoDesk Ellure Crank Desk
This desk is the same as the Denali only without the keyboard tray. So it's just like the Uptown desk only with a crank instead of a motor.
The price for this desk ranges from $618 to $913. Again, I don't recommend spending this much on a crank desk.

Corner Desks
The UpTown, the Olympus, the Energize, and the Cascade all have corner desk options. The ladder 2 being the only made in America desks that have the corner desk option.

Desk Converters
iMovR offers 3 different desk converters. The ZipLift, the Cadence, and the Cadence Express.
The one I mainly recommend is the ZipLift desk. This is a newer item that outperforms just about every other sit/stand desk converter on the market.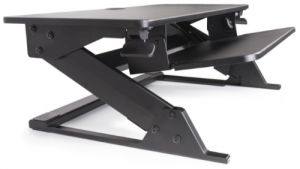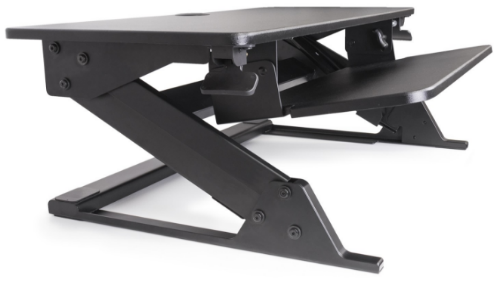 It's one of the tallest Z-type desk converters you can buy and is anall-aroundd solid sit/stand desk conversion. And the price on this is less than a Varidesk, it goes for $349 making it an excellent buy.
I have it listed as one of the top sit/stand desktop workstations because of its quality and affordable price. It also comes with a 2-year warranty.
CHECK OUT THE FULL ZIPLIFT DESK CONVERTER REVIEW
The Cadence, like other iMovR products may just be the best sit/stand desktop workstation you can find, however, because of the price I have a little lower on the list. However, with the 5-year warranty it comes with it this really makes it a quality purchase.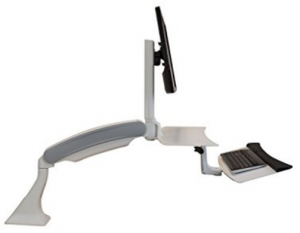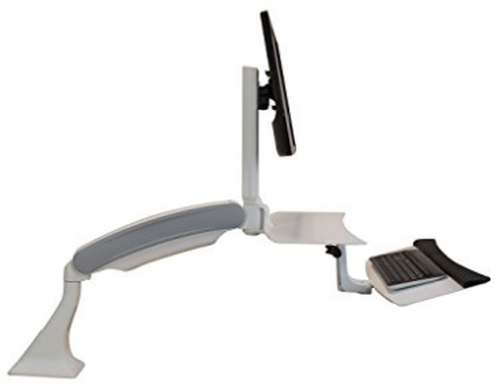 This desk converter is basically the tallest desk converter you can find. Clearly, iMovR is top notch when it comes to making standing desks. This even outperforms the ZipLift with an excellent 18-inch maximum keyboard height. This is higher than any Z-type converter will offer.
The price for this desk converter goes for $549 and free shipping. The Cadence Express, which is also good but not quite as ergonomic, goes for $379 with free shipping.
CHECK OUT THE FULL CADENCE DESK CONVERTER REVIEW

iMovR Standing Desk Summary
iMovR is one of the leading companies when it comes to sit/stand desks. As you can see from this article, they have a ton of options available that you can choose from.
All of them are great but the Omega Everest really is the ideal desk you can go with. It has everything from great height range, to quality speed and sound, to sturdiness, and not to mention the ergonomic keyboard tray that makes it ideal if you want to use it as a treadmill desk.
I hoped you enjoyed this full review of iMovR's standing desks and everything they have to offer.
If you are interested in one of their desks you can check out their website for additional information.
iMovR Standing Desks at iMovR.com