If you're looking to add a treadmill under your standing desk, then here are some of the best options you can find in 2019.
Now if you're not sure whether or not you want to take the leap and go out and get one, that's understandable. However, I think you'll be surprised by how much better they can make your standing desk experience.
When I started out using a standing desk I just wanted to be able to stand instead of sitting all day to help out with my back pain. And doing that alone helps a lot, but you'd be surprised how much more natural it is on your body to walk instead of just standing there. It really takes your health to another level.
Features of Under Desk Treadmills
Now, before we get into the list of treadmills that you can use under your desk. Here are a couple of things you may want to think about or consider before buying one.
Under desk treadmills made for standing desks tend to be a lot slower than your standard treadmill made for working out. Instead of speeds of up to around 12 mph, these treadmills tend to only go up to about 4 mph, so don't plan on using these for a full workout! They are usually only made to walk at a slow pace since that's the only way you'll be able to use it and get any work done.
Under desk treadmills don't have bars or handrails to hold on to. This is kind of obvious, but unlike your traditional treadmills, you're not going to be able to hold on to bars on the side or look at your different speed options right in front of you because that's where your desk will go.
They usually come with an electric console that can sit on top of your desk since you don't have a system that stands with the treadmill. These are used to keep track of your walking stats or turn it off and on.
Under desk treadmills tend to be about 5 inches off the ground, so don't forget to consider that before buying! If you're raised up 5 inches will your standing desk still be tall enough? If it's close then be sure to measure or test it out beforehand with something that mimics the height increase. And if you need a taller standing desk then check this out.
Since you now know some of the main differences between an under desk treadmill and a treadmill designed primarily for working out, let's get into it.
Best Under Desk Treadmills for Standing Desks
iMovR ThermoTread GT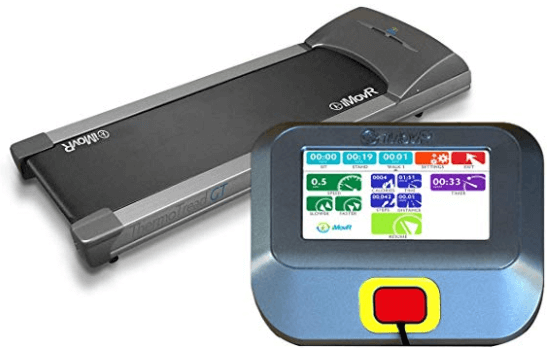 If you're looking for the best treadmill made specifically for a standing desk, then my number one choice is the ThermoTread GT made by iMovR.
There are a couple of main reasons as to why this is the top choice I recommend. The first reason being that iMovR has been around for a long time making standing desk equipment and everything they make is designed specifically with treadmill usage involved.
This is their specialty, and the ThermoTread is what they came out with. Which leads to the remaining reasons for choosing this as the number one treadmill for standing desks, and it's simply its performance.
This is the quietest treadmill you can find, it holds more weight than almost any other option, and it's designed to be energy efficient. iMovR simply doesn't fall short in any area if you're looking for the best quality products.
The one downside (other than it being in the top price range) is that it only goes up to 2.5 miles per hour. At first glance, this may seem like a downside, but when you're using a treadmill and are working at the same time, you're simply never going to exceed this limit as most users tend to walk between 1 and 2 mph.
iMovR purposely designed their treadmill to stop at that speed because of safety concerns above that level and also to increase the longevity of the treadmill. However, if you are someone that wants to go to higher speeds while on a break or something like that, then you may want to consider an option that goes up to 4 mph instead.
Pros
Quietest Treadmill on the market
Holds up to 400 pounds
Energy efficient
Comes with a touchscreen LCD desktop console
3-year motor warranty and 100-day money back guarantee
Cons
Highest Price Point
2.5 mph maximum speed


---
LifeSpan TR1200-DT3 Under Desk Treadmill

If you want a top of the line item but don't want to spend quite as much as what the iMovR ThermoTread GT goes for then this treadmill might be the way to go.
The ratings are going to be better than almost anything else you can find in terms of weight capacity, noise, and overall performance. And as for the price range, it will generally be about 1/3 less than the ThermoTread.
The reason I have this below the iMovR ThermoTread GT is mainly that it is a bit louder. Noise level is one of the most important things to look at when considering a treadmill that you're going to use while working.
It also has a weight capacity of 350 pounds compared to 400 for the ThermoTread, however, they do offer the Lifespan TR5000-DT3 which has a weight capacity of 400 pounds, but that's going to put you in the same price point as the ThermoTread which I consider the better option at that price point.
Now, the primary area where it outperforms the ThermoTread is that it does go up to 4 mph instead of 2.5 mph, so if you are someone that thinks they will need the higher speeds from time to time then this may be the best option to go with.
I've pointed out a few areas this treadmill comes in second place, but don't let that fool you. It is a top of the line product that outperforms almost any other choice on the market and is a terrific buy.
Pros
Made to walk on for up to 6 hours a day
Quality 3-year warranty
Costs less than the ThermoTread
Holds up to 350 pounds
4 mph maximum speed
Cons
Higher price range
Louder than the ThermoTread


---
IPO 
Smart Walk Slim Tread

The IPO Smart Walk Slim Tread is the perfect treadmill if you're looking for something that's a bit more compact. Its sleek size really is the selling point of this treadmill.
It will only raise you up 1.85 inches off the ground so if you don't want to have to worry about finding a taller standing desk, then this is a great way to go.
In addition to its sleek size, it has some really cool features. The IPO is designed with an optional bar you can raise up if you want to increase your speeds. And speaking of speed, it maxes out at 3.73 mph which is more than enough for treadmill use in an office setting, and if you raise the bar then it goes up to speeds of 4.97 mph when the handrail is raised giving it one of the highest speed levels on this type of treadmill.
It also comes with speed control technology designed for an increase in speed based on where you're standing on the treadmill. It has 3 areas with different designed speeds: the back is considered the slow down area, the middle for constant speeds, and the front for speeding up. This eliminates the need for a control panel.
The design is also made to reduce pressure on your joints with it built for shock absorption. The downside to this lightweight minimalist design is that it only holds up to 220 pounds. So if you're over that weight then this one isn't for you. For anyone else, this can be a great option to go with.
Pros
Height off the ground is less than 2 inches
Easy to move away from your desk if needed
Higher speed levels than most standing desk treadmills
Smart speed technology eliminates having a control panel.
Cons
Only has a 220 pound weight limit
Only a 1-year warranty


---
Rebel Treadmill 1000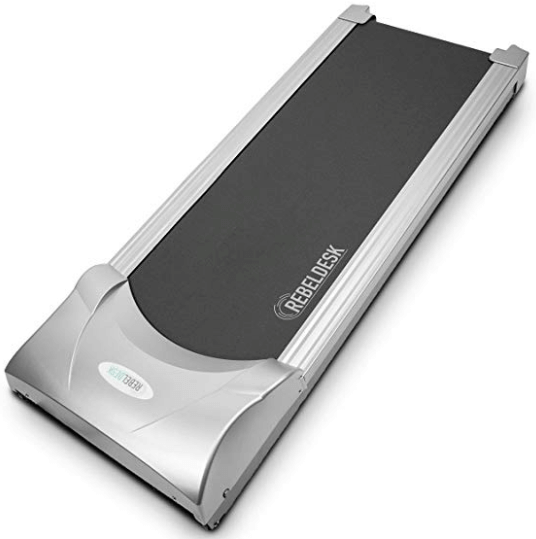 The Rebel Treadmill is a great option and comes in several hundred dollars cheaper than if you go with the ThermoTread or the LifeSpan.
Of course with spending less you won't get as much, but nonetheless, it's still a good option. The weight capacity is quite a bit less at 250 pounds, but this weight capacity will work for most people. The speed ranges from .5 mph to 2 mph, but as I said earlier the low max speed isn't a big deal, but finally, it is going to be noisier than your higher priced options.
Overall, this treadmill is going to work out great and as long as the things mentioned above don't bother you then this will be a terrific purchase.
It comes with a 2-year warranty which isn't bad at all considering the price point is lower. You won't get the near perfection that comes with the higher priced options, but you'll come away with a treadmill that gets the job done.
At the end of the day, I do think the noise level of this option may not be worth it if you're in an environment that needs it to be quiet. So if you're someone that is on the phone all day, or if you're someone that has other workers around you then keep that in mind.
Pros
Roughly half the price of the ThermoTread
Designed for all-day use
2-year warranty on parts and labor and 20 years on the frame
Cons
Louder than the ThermoTread GT or LifeSpan TR1200-DT3
Only a 250-pound maximum weight capacity


---
fitbill f.Walk Smart Under Desk Treadmill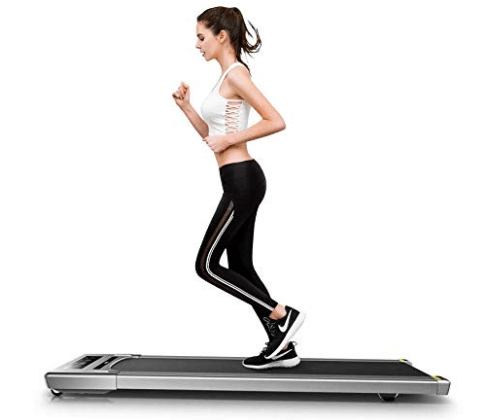 The fitbill f.Walk treadmill is definitely worth mentioning here. If you like the sleeker design then this is one of the best options you can go with.
Above I went over the IPO Smart Walk but this option is going to go for a few hundred less, so if you want to save some money and still come out with a quality treadmill then you can't go wrong here.
Now, as I'm writing this review, it has all 5-star ratings on Amazon except for one review that gave it a 3-star rating because it isn't made for running and only maxes out at 3.7 mph.
So in other words, the only bad rating came from someone that didn't understand what they were buying! This is a treadmill made for standing desks.
This treadmill also has an option handrail you can go with for an additional hundred bucks, but this isn't something you'll be using with your standing desk.
Pros
Height is less than 2 inches off the ground
Better warranty than the IPO Smart Walk
Affordable price range
Lightweight and easy to move
Cons
220-pound maximum user weight


---
Titan Fitness Under Desk Treadmill

People tend to absolutely love this under desk treadmill because unlike the other full-sized treadmills listed here that tend to go for around $1000 or possibly even more, this treadmill goes for a bit over $500.
And don't think it isn't a quality treadmill, as you'll be hard pressed to find many negative reviews. Now, where it lacks behind the other full-size options is that it will be a bit louder, will hold less weight, and the warranty it comes with is less.
For example, the maximum user weight for this treadmill is only 250 pounds, which compares closer to some of the slim built treadmills than full-size treadmills. And as mentioned above the ThermoTread GT has a maximum user weight of 400 pounds. You may not think that matters, especially if you are under 250 pounds, but this is a direct comparison of the quality of the 2 treadmills.
And you shouldn't expect the same quality when you're paying about a third of what you would for the most elite treadmill you can find!
At the end of the day, this treadmill gets the job done. As long as you don't mind adjusting speeds by .5 mph increments then this treadmill is a great option to go with.
Pros
Very affordable
Goes up to 4 mph
Long belt range
Cons
Only 250-pound maximum user weight
Can only adjust speeds .5 mph at a time
Limited warranty
Summary
Hopefully, this article helps you find the best treadmill for your standing desk. We've listed off several options in all price ranges.
If you have the budget, then you'll want to consider the ThermoTread GT or one of the options by Lifespan as those are a couple of the most elite under desk treadmills you can find.
If you're looking to save some money then the Titan Fitness treadmill or the Rebel 1000 are great ways to go as they come in at very affordable prices.
And finally, if you want something lightweight and mobile then the IPO Smart Walk and the fitbill f.Walk are excellent options to consider.
You don't have to just stand in one place all day. Going out and getting a treadmill for your standing desk can make vast improvements to your health and your workday!