I personally use the Ergotron LX monitor arm and I wanted to give a review on it since it is such a good product. In a nutshell, it does exactly what you would want it to do and works exactly how you would want it to work.
There may be other options you can find for a bit less money, but here is why you should consider going with the Ergotron LX monitor arm over other options.
Ergotron LX Monitor Arm
Company: Ergotron
Price Range: $140-$200
Best Place to Buy: Amazon
Overall Rating: 9.7/10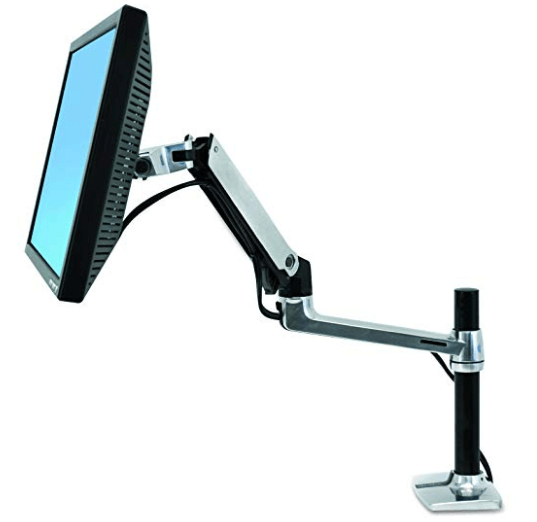 Specs
Adjustable Height Range: Up to 25 inches above desktop (tall pole), 13 inch up and down range
Extension Range: Extends as far as 25.6 inches outward, with the extension over 34 inches outward
Monitor Capacity: 7-20 pounds, up to 34 inches
Assembly: 30 minutes
Warranty: 10 years
Extras: Tilts upward 75 degrees, 360-degree monitor pan, 360-degree monitor rotation, optional extension (3rd arm)
Pros
Smooth adjustment
Excellent warranty
Wide range of movement
Extends further than most monitors
Can rotate your monitor
Moderate price
Extra extension is optional
Dual Arm Optional
Cons
Monitor doesn't adjust downwards
It's hard to tilt your monitor
Ergotron LX Monitor Arm Overview
The Ergotron LX monitor arm is one of/if not the best monitor arm you can find on the market as it is extremely versatile, has a wider range of movement than most other monitor arms, and it also comes with a ridiculous 10-year warranty so you know you're coming away with a quality product.
As a comparison, the Amazon Basics monitor arm is almost identical to this one only doesn't have the polished chrome finish like this monitor arm and it also comes with a 1-year warranty instead of the 10-year warranty that comes with this model. Because of those details, I think this is a better option to go with even though it costs a bit more.
The Ergotron LX Monitor Arm in More Detail
Extension
As I listed above, this monitor arm extends out 25.6 inches from the edge of the desk. Now, if you're confused on exactly where the number is coming from (considering you may have seen other numbers listed), here is where I'm getting that:
The middle of the pole sits 1.6 inches away from the edge of the desk and if the monitor arm is straightened out then it reaches 22.2 inches out. Plus the part that connects to your monitor is 3.4 inches which gives you this the total extension of 25.6 inches plus however thick your monitor is.
A lot of other adjustable monitor arms only extend out to about 18 to 20 inches from the edge of your desk. This extra 5+ inches could make all of the difference to whether or not your monitor arm may even work with your desk.
This is one of the main things to consider when getting a monitor arm as unless you have a thin desktop, other options may not work for your desk. As some desktops are 36 inches in depth (most are 24-30 inches) the Ergotron LX monitor arm plus a 2-inch monitor would still leave you 8.4 inches away from the edge of your desk.
If you want even more extension than they have the option to buy an additional extension. All this is, is an exact replica of the first monitor arm that sits on the pole. This will give you an addition 9 inches of extension making the total extension with your monitor about 3 total feet.
This gives it excellent range and will accommodate just about any desk.
Height Range
The total height range is 13 inches up and down that you can adjust the monitor arm. The first extension sits on the pole and can't be adjusted while the 2nd arm is the one that can be adjusted.
The tall pole option obviously allows higher overall ranges as it is 13 inches above the desktop while the cheaper version is 8 inches tall.
For most people, the tall pole option probably won't be necessary.
Build/Sturdiness
The quality of the monitor seems like it is built to last for years. It is made of aluminum which although isn't as sturdy as some other materials, it really gives it the perfect combination of sturdiness while still maintaining a lightweight feel.
If it was any heavier than it is then it wouldn't be as easy to adjust as it is. The shipping weight is just over 11 pounds so the monitor arm itself is just under that. This is about the perfect weight to be able to hold your monitor and not be overly heavy.
Arm Adjustment
The adjustment back and forth is about as smooth as you can imagine as it adjusts exactly how you see in videos (see below). Moving the monitor arms forward and side to side is effortless.
I can't say exactly how smooth the adjustment would be if you have a heavier monitor but with a standard 2o -inch/8-pound monitor it isn't any problem at all.
Up and down adjustment is also fairly easy however, this part is a bit harder if you're using the extra extension. Obviously being extended out further you don't have quite the sturdiness you would with only two arms.
Overall, as long as you get the tension correct (which isn't hard to do) then this monitor arm is extremely easy to adjust.
Monitor Adjustment
The monitor can spin 360 degrees with is nice if you like to switch to an upright monitor. The monitor is also able to be tilted 75 degrees upward, however, is unable to be tilted downwards.
I'm not exactly sure why they didn't make it downward adjustable, but honestly, it is something that someone would rarely ever need to do.
The upward tilt is great though if you want to stand up and be able to view your monitor. Although this would be hard to use as a standing desk consider your keyboard doesn't come with it.
Price
The price as I'm currently writing this has the monitor arm going for just over $140 for the regular version and for the tall pole version it's going for just over $190.
This may sound like a lot but with everything you're getting, and with a product made to last a decade it is an excellent investment.
Warranty
Again, the Ergotron LX monitor arm comes with a 10-year warranty which is unheard on just about any product, let alone something like this which you could see breaking down over time.
In comparison, the Amazon Basics monitor arm (which is almost exactly like this monitor arm) only comes with a 1-year warranty.
Even though the cost for the Amazon Basics monitor arm is a bit cheaper, I personally think it is worth it to spend more for the better warranty.
However, that's another good product to consider if you just want to spend less and don't care about having an extended warranty.
Check out this video to see the Ergotron LX monitor arm in action:

Final Verdict/Overall Score
| Factor for Total Score | Rating (Out of 5) | Impact on Final Score |
| --- | --- | --- |
| Durability/Quality | 5/5 | 25/25 |
| Adjustment | 5/5 | 15/15 |
| Extension Range | 5/5 | 15/15 |
| Height Range | 4.5/5 | 13.5/15 |
| Aesthetics | 4.5/5 | 13.5/15 |
| Warranty | 5/5 | 15/15 |
| Total Score | | 97/100 |
More Info and Where to Buy Online
Ergotron LX Monitor Arm Tall Pole at Amazon.com
Ergotron LX Monitor Arm Standard Size at Amazon.com