Having a $500 budget for a standing desk gives you a lot of different options to go with.  A lot of the top desk converters on the market are under this amount, and this is that budget point where you now have multiple options for full standing desks as these cost more than converters. Fortunately, there are some awesome choices under $500 here in 2019.
$500 for a Standing Desk? Or Spend Less and Add Options?
For $500 you have so many different choices to go with. I highly recommend a monitor arm to go with your standing desk, this gives you the perfect adjustable set up as you will probably want different monitor heights off of your desk when you switch from sitting to standing.
Another great addition to a standing desk is an anti-fatigue standing mat. These lessen the burden put on your knees, feet, and hips while standing.
The great thing is, that if you want, you can have all of these under $500 and still have a quality standing desk. With any other budget point, you'll have to lower your expectations on quality.
Not with a $500 budget. You can get an awesome standing desk plus quality accessories if you want. How much do these things matter to you?
Is it Worth Investing in a Standing Desk?
This is a decent amount of money to invest in a standing desk. The question is, is it worth it?
Check out this video:

Investing $500 for a standing desk is nothing when thinking about how much sitting we really do. For a lot of people, we're talking 8 hours a day, 5 days a week, 345 days a year. Oh and not to mention all of the time sitting on your ass watching TV or staring at your phone…you don't do that though, right? Yeah…me neither.
Anyways, $500 is a great budget to have to put towards getting a standing desk. Here are some of my favorite options you can go with.
Best Standing Desk Options Under $500
Jarvis Desk Frame+IKEA Linnmon 78 Table Top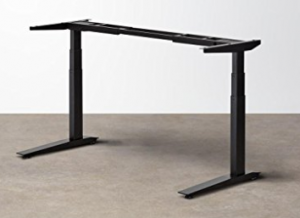 At this budget point, you are finally able to get the infamous Jarvis Desk. I have it rated as the top standing desk you can find because it is an excellent desk but yet it doesn't cost you over a G to get it.
Now if you go out and buy the full desk and buy the desktop that they offer you will probably spend over $600 to get it. But with some ingenuity, you can get this desk for under $500 total.
The IKEA Linnmon 78 tabletop is probably the cheapest tabletop you can find. So of course with this option, it may not last you as long as a solid bamboo top, but it gets the job done, and more importantly, allows you to get the Jarvis desk for under $500.
As for tabletops, I have a full list of cheap options you can consider, and if you don't mind going about $10 over budget then you could go with the Lorell Quadro instead of the Linnmon 78, which I think is a better quality desktop.
UpLift 900+IKEA Linnmon 78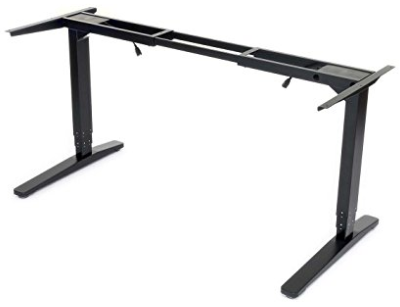 This desk frame is so comparable to the Jarvis it's tough to decide which to go with. I mean it's really apples and oranges with these two.
I have the Jarvis rated slightly higher but you really can't go wrong with either option. The Uplift is about an inch taller so if you're over 6'6″ then go with the Uplift.
The frames pretty much go for the same amount, in the mid $400 range. Trust your gut, go with whichever one feels right. You'll be set either way.
Ergopose Epo Frame+Random Desktop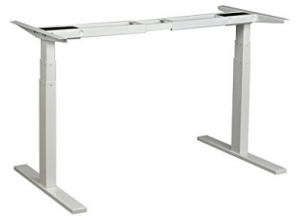 The Ergopose is a great value pick if you want a full standing desk, and as it costs about $100 less than the Jarvis you will be able to get a better tabletop to go with this desk frame.
So would you prefer the better frame or the better desktop? The great thing is the "ePo" desk frame is hardly lacking as I would say the Jarvis isn't all the much better, so the price difference may make sense for a lot of people to go with this option.
The frame for this desk goes for about $330. Now there really aren't a whole lot of desktops that would put you right at $500. If you go with their bamboo top you'll be at about $579 total.
The Boonliving Natural Bamboo top is great at $160 but it is currently out of stock. So you could go cheaper and save some money, or you could get a solid maple top for just over $200 but this would put you a little over budget. It's up to you.
Either way, this is a solid frame and with whatever you choose you can have an awesome standing desk.
ZipLift Desk Converter+Ergotron LX Monitor Arm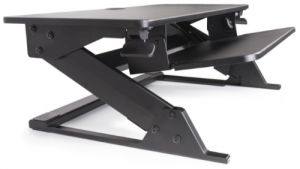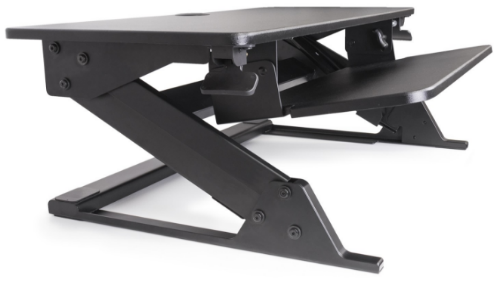 The ZipLift is one of the top desk converters you can buy, and for $299 you can get the desk converter plus a standing mat to go with it. Lately, this has been included with the converter. So that means you can get a standing desk plus the 2 main standing desk accessories to go with it.
The Ergotron LX Mount Arm can be mounted to the back of the ZipLift converter. You now have the perfect set up when adjusting up and down as your monitor can move separately as well.
This would probably be something you would eventually want to add to a full standing desk, but that would put you over budget. So by adding this desk converter to your desk you are already good to go.
Ergotron WorkFit S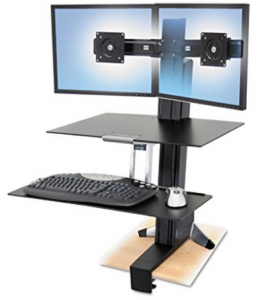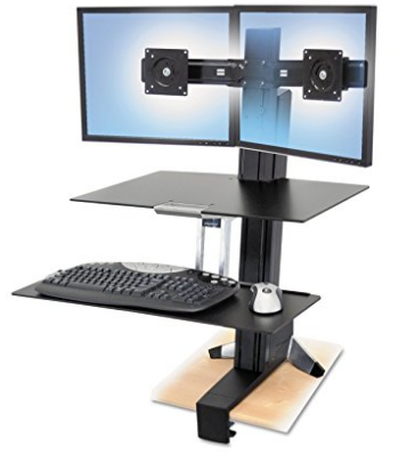 Ergotron is one of the biggest names in the standing desk industry, and this may be their best standing desk converter. It usually goes just under $500 for the single monitor version. If you up your budget $15 or so then you can get the dual monitor option.
This is an excellent option, especially if you want something that transitions a little smoother than the Z-type manual adjustment converters.
This just slides up and down. Also, with it attaching to the front of your desktop it puts your monitor in a quality viewing position.
This is simply an excellent buy, although you can still find a lot of quality options around the $400 mark as well.
Conclusion
With a $500 budget, you are now able to get a couple of the best all-around standing desks: the Jarvis and the Uplift. This is really what makes this a terrific budget point. You are able to get these options and even add a desktop and still be under $500.
You also can go with some of the top desk converters on the market and then add a monitor arm to it. If you are considering that option then you may want to see what is available on a $300 or $400 budget and then add some accessories to whatever you choose.
What did you decide to go with? Let me know in the comments below!