One great way to purchase a standing desk but keep your costs down is by adding your own desktop to it. Yeah, you can always go with what the company offers with it but they tend to add a couple hundred or even more to your total.
So purchasing a desktop separately may make sense for you. Here is a list of some of my favorite cheap desktops.
 1. Lorell Quadro Desktop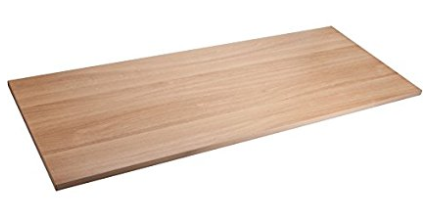 AVERAGE PRICE: $66
The Lorell is a great way to keep your costs down by adding this on a standing desk frame. The IKEA Linnmon is one of the most popular desktops you can use, but I think this item is worth the extra 20 bucks or so you will spend to get it.
The 30″ x 60″ size I think is going to work well for most people as it isn't too wide and looks better than a 6-foot wide desktop.
It comes in a basic wood color, and although it isn't going to blow you away aesthetically, it gets the job done. Outside of the Linnmon, this is probably the most affordable desktop you can find.
[maxbutton id="3″ url="http://amzn.to/2GSiQ6M" ]
2. IKEA Linnmon 78

AVERAGE PRICE: $45.99
For less than $50 you can get a 78 3/4″ x 23 5/8″ table top to use with your standing desk frame. Usually, it makes sense to buy on Amazon, but not with this product. You can only find it buying directly from IKEA.
This tabletop isn't going to be the best quality in the world, as you would imagine spending less than $50 compared to hundreds on most standing desk table tops.
If you are familiar with IKEA's products then you know that this will still be aesthetically pleasing, it just may not last as long as a more expensive option. Either way, that isn't why you're here. You're here to find an affordable way to get a standing desk, and this is the best option if that is what you are looking for.
Check out the video at the bottom of the page, on the assembly example video he uses the IKEA Linnmon 78. That will give you a good idea what your desk will look like with this table top on it.
[maxbutton id="3″ url="http://www.ikea.com/us/en/catalog/products/80251358/" ]
3. Titan Fitness Universal Desk Top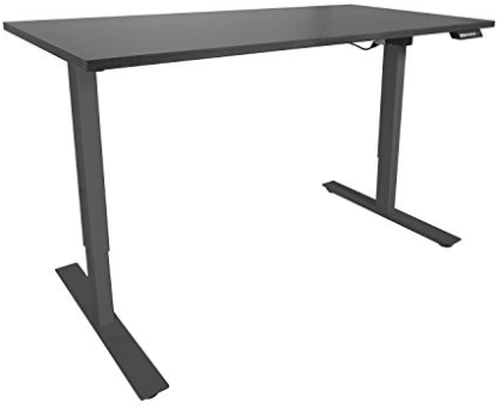 AVERAGE PRICE: $75
This is specifically made for their standing desk, and like the desk, it is really affordable. You can either go with the 30″ x 48″ for $72 or you can go with the 30″ x 60″ for $77.
Both are terrific prices. Unfortunately, their table tops are hard to come by and tend to be out of stock. If you can find one, then this is an excellent way to get a cheap tabletop for your desk.
Another option to get this, if their desktop is out of stock you can buy the frame and desktop together and get it that way. The standing desk frame is one of the most affordable standing desks you will find, so if saving money is your concern. Then this is a terrific way to go.
[maxbutton id="3″ url="http://amzn.to/2BXM28L" ]
4. Boonliving Natural Bamboo 30 x 60 Tabletop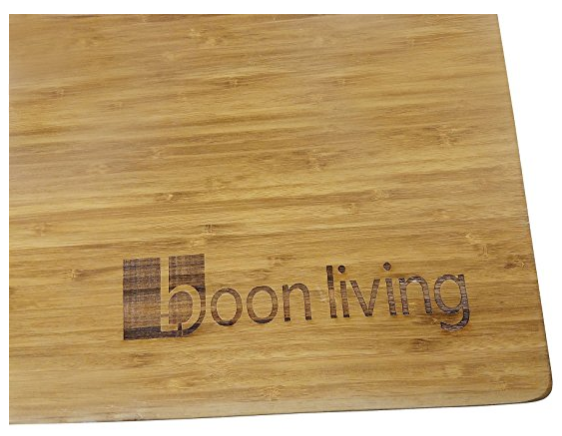 AVERAGE PRICE: $159.90
Ok, I know you want affordable. But here is one that may actually last a decade. It costs more than the above listed but it is a more affordable bamboo top that is of higher quality.
The company is also very eco-friendly and ensures the top is made without any chemical dyes, stains, etc. So if that is important to you then that is another reason to look at this option.
For most other bamboo tabletops this size, you will be paying at least $200 or even more depending on where you look. So at just under $160, this is still a really affordable price.
[maxbutton id="3″ url="http://amzn.to/2kh1l9v" ]
5. Autonomous SmartDesk Wood Top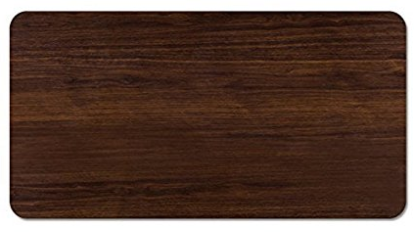 AVERAGE PRICE: $144-196
These are made specifically for their own standing desk, which, is also an affordable desk on its own that you can go with.
But if you want to go with a different frame then you can do that as well, and just add this deskop to that frame instead. They have different color options you can go with as well. Black, white, walnut, or bamboo top that will be a little more expensive.
Either way, these are some affordable desktops that will go nicely with a standing desk frame.
[maxbutton id="3″ url="http://amzn.to/2D1BUkV" ]
6. Bally Block Maple Bench Top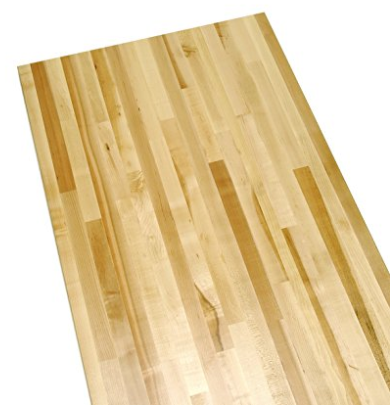 AVERAGE PRICE: $219.99 plus shipping
Spending over $200 isn't cheap at all, or is it? When you look at what you're getting it is very affordable. A solid maple desktop will last you years to come.
Yes, this is the highest listed desktop on the list, but it is still affordable when you see other solid wood desktops going for $500.
The 24″ x 60″ top is a great purchase and is a really good size for a standing desk, they also have a 30″ x 60″ option that goes for a little more if you prefer that size.
The clear satin seal over the wood makes this perfect for working on while maintaining its natural wood appearance.
[maxbutton id="3″ url="http://amzn.to/2nQtour" ]
7. An Old Closet Door or Slab of Wood
PRICE: FREE??
You can get creative with this and really save some money. By thinking outside of the box you may be able to find something that will work that you can get for free.
Anything that can be drilled into will work so keep your eyes peeled for anything that may work well, and at the same time may even be a conversation piece.
How to Install Your Desktop to Your Desk Frame
This is a video that shows the Jarvis Desk with the IKEA Linnmon 78 desktop. This gives you an idea of what your standing desk could look like, and also how to assemble it.

Summary
One of the best ways to buy a standing desk is to get a quality frame and pick out your own desktop to go with it. If you haven't already pick out a quality standing desk frame. Then check out a list of some of the top standing desks you can get here.
There are plenty of quality standing desks on the market, and getting a quality affordable frame plus an affordable desktop to go with it means you're getting a quality purchase.
Hopefully, these suggestions help you find what you are looking for. Are there any other options you have personally used that may be better than what I suggested here? Let me know in the comments below!