Are you considering buying the Autonomous SmartDesk? Its low price sure looks appealing for someone looking at getting a sit/stand desk for the first time. The question is, though, is it worth it? Or is the low cost a direct reflection of its low quality. Here is a full review of the desk.
Overall Rating
Company: Autonomous
Desk: SmartDesk 2 (Home and Business Edition)
Style: Electric
Price: $348-893
Home Edition Rating: 63.5/100
Business Edition Rating: 80/100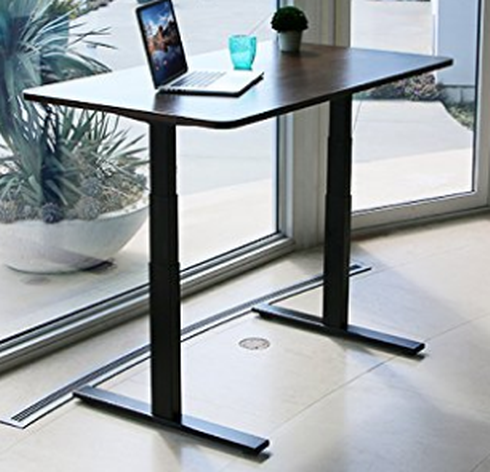 Specs
"Home Edition"
Height Range: 29″-47″
Width/Depth: 45″-72″ wide, 23″-46″ deep
Speed: 1″ per second
Weight Capacity: 220 pounds
Warranty: 1 year
Weight:  67 pounds (frame without top)
Noise: They claim 39 decibels
Assembly: They claim 15 to 30 minutes
"Business Edition"
Height Range: 24″-51″
Width/Depth: 45″-72″ wide, 23″-46″ deep
Speed: They claim 2.3″ per second
Weight Capacity: 300 pounds
Warranty: 5 years
Weight: 67 pounds (frame without top)
Noise: They claim 39 decibels
Assembly: They claim 15 to 30 minutes
SmartDesk Overview
First off, I personally feel that choosing this desk is a huge risk, it is cheaper than most options, but you may or may not be getting what is advertised. The company has only been around since 2015 and there have been massive amounts of complaints, mainly including poor customer service, the desk not working properly, the desk only works for a few months and then no longer adjusts like it should, the desk takes forever to ship even if they give a deadline you may not get it by then, and that all of the accessories are overpriced and unnecessary.
I really wish I could recommend this desk more because of the low price, but unfortunately, you're going to be better off spending a little more to get a lot more. The business edition may be worth considering if you don't mind waiting several weeks to receive your desk and think saving roughly $100 is worth taking the risk.
Comparing the Home Edition to the Business Edition
The "home edition" sounds great, you can get a full sit/stand desk for $348 or just the frame for around $300. Which is an amazing price, if there weren't all of the issues I mentioned above. First off, with the home edition, you only get a 1-year warranty. This is highly alarming considering some of the best desks come with up to 10-year warranties. Also, the specifications of the home edition desk are simply not up to standard.
The height will be too tall while sitting for many shorter people, and not tall enough for taller people while standing. It also moves very slow at only 1″ per second. Because of the height issues, speed, and questionable quality, buying the home edition desk would be a huge risk.
The business edition, just looking at the specifications appears to be a top of the line desk. The height range goes as low as it should and is tall enough for someone roughly 6'9″. Also, if their speed listed at 2.3″ per second is true then it would be the fastest electric sit/stand desk currently on the planet. So the business edition starting at $448 doesn't sound like quite as risky of a purchase, especially since it has a 5-year warranty instead of a 1-year warranty.
The Autonomous SmartDesk in More Detail
Price
The base price for the home edition is $299 and the base price for the business edition is $399, but they charge for shipping so you might as well call it $348 for the home edition and $448 for the business edition. This is a tricky way of making the desk appear cheaper than it really is as most companies don't charge for shipping.
Also, if you go with an ergonomic desktop you can add $50 to that right off the top. And the business edition with the XL height is $598 after shipping, making it expensive enough that it is comparable to other better desks.
Also, they offer accessory kits and also an AI box (kind of like the Amazon Echo) and if you added both of these things you can add an addition $225 to the price. At this point, it is no longer the value product it is marketed as. If you choose this desk I would recommend not adding these options.
Warranty
For the home edition, the one year warranty is laughable for a standing desk, but again with the price being so low, you can decide if you want to take that risk.
The 5-year warranty on the business edition shows promise that the company is improving their quality to compete with other companies.
Desktop Size
The basic size is 53″ x 30″ and the largest desktop size is 70″x30″ and of course you can always add your own desktop with the maximum size recommended at 72″ x 46. Other desks can go a little wider but for the most part, nobody really needs a desk wider than 6 feet. You could also go with a desktop as small as 45″ x 23″ giving it a large range for desktop sizes.
Height Range
The home edition's height range of 29″ to 47″ simply isn't up to par with the best sit/stand desks. The main issue being that it only goes down to 29″ while sitting and many shorter people would probably prefer a desk that goes lower than that.
The furthest height of 47″ would only be recommended for people as tall as 6'4″, with a monitor arm someone as tall as 6'6″ could use this desk. The business edition's height range is actually quite excellent and would suit shorter people as well as someone up to 6'9″.
Build/Sturdiness
There have been a lot of reviews on this product that say it broke after a short amount of time. As in less than a year. This, I'm sure, isn't the norm, though. However, if you are looking into this desk then realize there is a risk there which means going with the business edition that offers a 5-year warranty may make more sense.
As for how sturdy this product is in terms of wobbliness. Most reviews stated that there is very little wobbliness when typing. When leaning on the desk there may be a bit of wobbliness, though.
Accessories
The desk comes with a 4 preset option handset that can raise and lower the desk with a push of a button. As mentioned they also offer an AI personal assistant with this desk for an additional $150. This is a huge selling point of the product. In addition to the AI assistant, you can get an accessory kit that has a wireless charger, USB charger, bag organizer, and a speaker for an additional $75. All of these options are unnecessary, though.
Sound
The company claims 39 decibels which would be quieter than some top of the line desks. Whether or not it is exactly that decibel level, it is a rather quiet desk which is one of the best features of the desk comparative to other sit/stand desks.
Check out this full video review to see it in action.

Final Verdict/Overall Score
"Home Edition"
| Factor for Total Score | Rating (Out of 5) | Impact on Final Score |
| --- | --- | --- |
| Durability/Quality | 2.5/5 | 10/20 |
| Stability/Wobbliness | 4/5 | 12/15 |
| Price | 5/5 | 15/15 |
| Height Range | 3/5 | 9/15 |
| Speed | 2.5/5 | 7.5/15 |
| Aesthetics | 4.5/5 | 9/10 |
| Noise Level | 5/5 | 5/5 |
| Warranty | 1/5 | 1/5 |
| Customer Service | | -5 |
| Total after normalizing | | 63.5/100 |
"Business Edition"
| Factor for Total Score | Rating (Out of 5) | Impact on Final Score |
| --- | --- | --- |
| Durability/Quality | 2.5/5 | 10/20 |
| Stability/Wobbliness | 4/5 | 12/15 |
| Price | 5/5 | 15/15 |
| Height Range | 5/5 | 15/15 |
| Speed | 5/5 | 15/15 |
| Aesthetics | 4.5/5 | 9/10 |
| Noise Level | 5/5 | 5/5 |
| Warranty | 4/5 | 4/5 |
| Customer Service | | -5 |
| Total after normalizing | | 80/100 |
As you can see I don't recommend going cheap and buying the home edition, however, the business edition actually scores rather well. I took off 5 points for the companies history of poor customer support.
The fact that you may have to wait 2 months just to get your desk is enough of a reason to look elsewhere in my opinion. If that isn't an issue for you and you want to save yourself a little bit of money, then going with the Business Edition desk may make sense for you.
I take the price of these desks into high consideration and even with the low price I think it makes more sense to go with a higher quality option. Since I don't at all recommend getting the home edition desk, getting the business edition desk for $448 would be the way to go.
However, you could go with a Jarvis desk frame for around $450-$470 instead and with some ingenuity on picking out a desktop; come away with a far better desk for only about a hundred bucks more.
More Info and Where You Can Buy Online
If after this review you still feel you want to buy this desk, then you can check out these links:
Autonomous desk at Amazon.com
Autonomous desk at Aautonomous.ai