You really want to get the most of your standing desk, and getting a break from sitting all day is going to help in a number of ways. But, of course, standing more will put more pressure on your feet and knees.
A great way to make your standing experience more enjoyable is to get an anti-fatigue standing mat. This will help alleviate the pressure put on your body while standing.
Before we get into the list, a couple important things to note as sometimes people don't think about this when getting a standing mat.
Make Sure You Have the Correct Size Mat for Your Chair
First, most kitchen/standing mats come 20 inches wide, usually 20″ x 36″ or so. The problem with this is that if you are placing your chair on top of the mat, 20 inches probably won't be wide enough to do that and you'll end up having one wheel on top of the standing mat and the other wheel on the ground.
So in other words, you have to pick up and move the standing mat every time you go from sitting to standing. Not very ideal. So what I mainly recommend here are only mats that are at least 2 feet wide (instead of  20 inches) so that you don't have that issue.
Now, a lot of chairs will be even wider than that and may even be about 28 inches wide. In this case, even a 2-foot mat won't be wide enough for your chair.
So in that case, I would suggest either going with a 3′ x 3′ anti-fatigue mat or going with a smaller portable mat that is easier to move out of the way.
Before picking a mat, make sure to measure the bottom of your chair first.
How Long Will Your Standing Mat Last?
The next thing to consider is how your chair will sit on top of the standing mat. It isn't just about how it feels while you're standing. If you have a mat that is really cushiony then it will probably be really hard to roll your chair at all if you have wheels on it.
Also, if you get a really cheap standing mat then standing on it and having your chair on top of it will leave impressions in it. So the lifespan of a cheap standing mat could be only 6 months or a year.
Realize that if you are using this at your full-time job then you are using it 8 hours a day, 5 days a week, possibly for several years. You definitely want to get something that will last.
After searching through dozens of different options, here are my favorite options.
Best Anti-Fatigue Standing Mats
1. iMovR Anti-Fatigue Standing Mats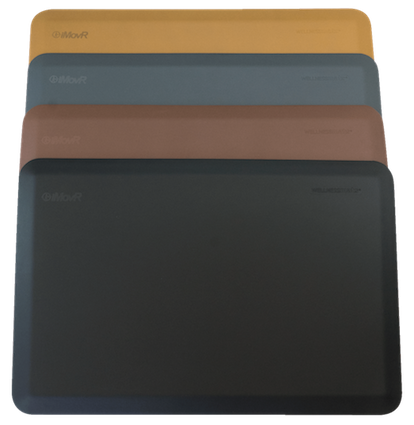 When I originally started researching for the best standing mats, I planned on only having cheap options listed. I mean, it's a mat, and you stand on it. What's the big deal?
Well, turns out there is a quality difference, and I think it can make sense to spend a little more to get a quality mat (don't worry I'll give you cheap options too). The reason being, iMovR makes standing mats specifically designed for standing desks and there are a couple reasons why I like theirs are better than the others listed here.
They offer several different options: a portable mat, an economy mat, a premium mat, a hybrid mat, and even treadmill mats.
All of their options are quality options. My favorite is the EcoLast Premium Mat, which is one of their higher-end products. I know, more money. Just hear me out though.
The premium mats they offer tend to go for about $110 for the 2′ x 3′ mat. This may sound like you are shoveling out a lot of money for a mat, but in this case, I think it makes sense.
iMovR offer 10-year warranties on all of their standing mats. A traditional standing mat will probably only last just over a year, and this is one of the main reasons why I placed theirs at the top of the list.
Considering they have a 10-year warranty that says a lot about the quality of the product, and here are some of the ways that their standing mat stands out (no pun intended).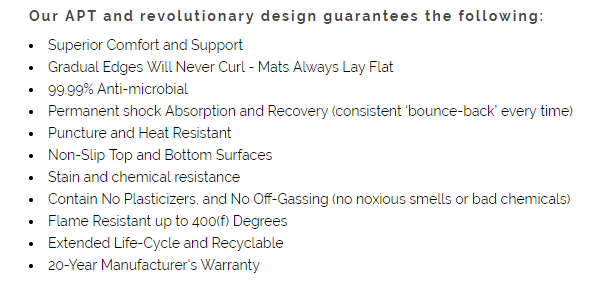 So after looking at this, I realized that they have a 20-year warranty and wanted to find more information about that. Here is what one of their customer service representatives told me: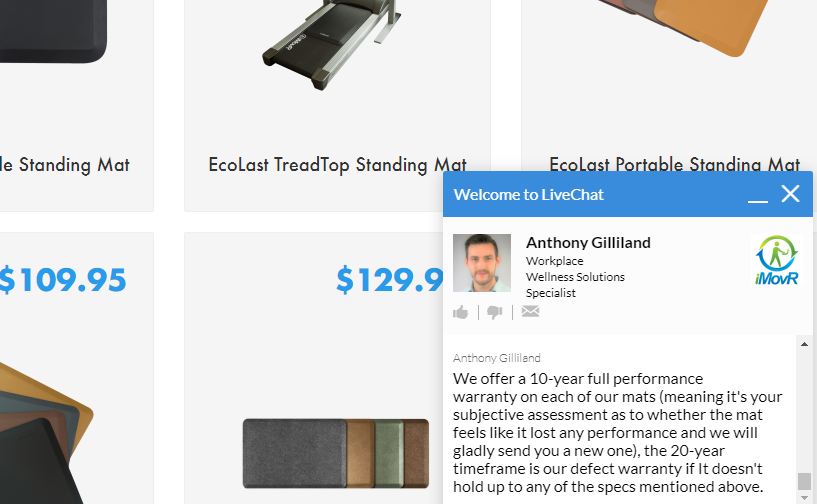 So basically they have a 20-year warranty on their standing mats, but for 10 years they will give you a new one with virtually no questions asked.
This is why their warranty stands out, you may find lifetime warranties on other products but they tend to have to fall within certain reasons as to why you can get a new one. With iMovR you can get a new one if anything happens.
Also, 10 years is long enough. You don't need a lifetime warranty on a standing mat. In a decade you may just want to go with something else anyways lol.
iMovR's Standing Mat Options
As mentioned they have several options you can go with. So if you want a cheaper option they have an economy option that goes for $49.95. However, if you want to go cheaper with what iMovR offers then I think their best option is the EverMat Portable Mat as it can be easily moved out of the way (also goes for $49.95).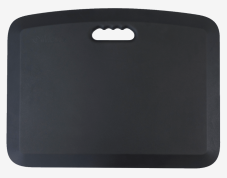 On the high-end they have a Hybrid Standing Mat that only comes in larger sizes. If you need a standing mat that is 3 feet wide to hold your chair, then this is what I would go with. The Hybrid mats are designed specifically for chairs with wheels to sit on top of them.
Although you can do this with the premium mats, the hybrid is going to be even smoother. They aren't quite as cushiony as the premium mats so it makes it easier to roll your chair back and forth on top of them.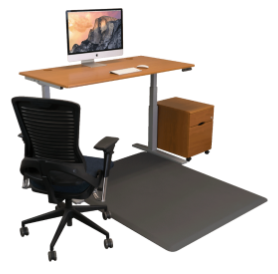 They come in either 3′ x 5′, 3′ x 6′, or 4′ x 6′. So these standing mats are can work well for factory jobs where you stand all day as well as they cover more space.
Getting a larger mat will come at a higher price, but again, these hybrid mats are the ideal setup for your standing desk and will last about 20 years.
iMovR markets their standing mats as "The last standing mat you'll ever need to buy!". That is exactly why this is my top choice.
AWARD: BEST OVERALL STANDING MATS
2. Amcomfy Anti-Fatigue Standing Mat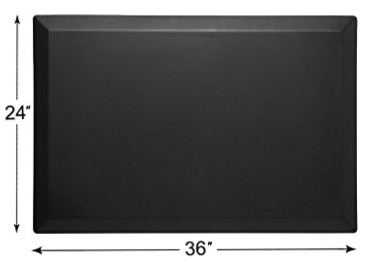 Amcomfy is a terrific option and will be a little bit easier on your wallet. You can get the 2′ x 3′ option for less than $50.
This makes it the perfect value pick. The good thing is that this standing mat is still a quality standing mat. It isn't going to break down in less than a year.
On top of all that, they offer a lifetime warranty to go with their product. So if it doesn't hold up on then you can get a new one.
Granted, I doubt this warranty is a no questions asked-get a new one, like iMovR offers. Still, the fact that if there is a product defect, you have a warranty to back it up.
The other great thing is that the mat is actually slightly thicker than most at 7/8″ thick. So there is plenty of cushion for your feet.
Amcomfy also offers a portable option that you can get for less than $25! Again, if you are looking for a value choice and want a portable mat, this is the way to go.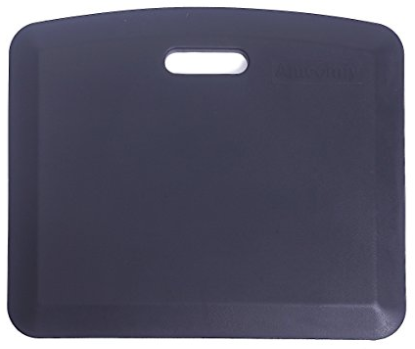 This is an excellent portable option and goes for basically half of what you would pay if you get the EcoMat Portable Mat that iMovR makes.
The primary difference is that these mats are made of foam while iMovR's mats are made of 100% polyurethane which is a higher quality material, as you should expect when paying less.
Overall, both of the mats made by Amcomfy are excellent options. Granted, I don't think they will make it quite the distance that you would get from iMovR's mats, but if you want to save money this is my number one choice.
AWARD: BEST VALUE STANDING MATS
3. Terramat Standing Desk Mat
If you want an option that not only relieves pressure while standing but also gives you some added features to be able to massage your feet as well as stretch easier, then the Terramat Standing Desk Mat is one of the best options you can go with.
The downside to a standing mat like this is that of course, you would always have to move it out of the way to be able to sit down as your chair cannot sit on top of it.
If that doesn't bother you, then this may just be the perfect standing mat for you.
This option is also reasonably priced and you can find it just under $100 making it a quality purchase.
They also offer a more affordable option, the TerraMat Lite Standing Mat. It isn't quite as ergonomic but will shave off about $40 from your overall purchase.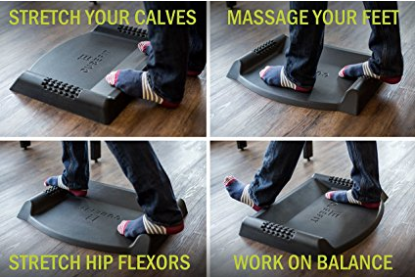 It is just about the same thing only it doesn't have the two built-in massage balls like the original TerraMat has.
Both of these options give you a completely different aspect than a traditional standing mat, and as you can see you can use them to stretch, massage, and balance your body.
This gives standing a whole new perspective.
AWARD: BEST ERGONOMIC STANDING MATS
Other Standing Mats Worth Mentioning
There are a lot of good options you can go with. I chose what I think is the best overall, best value, and the best ergonomic standing mats but there are several others worth mentioning as alternatives.
Topo Mini by Ergodriven: This is a lot like the TerraMat and it was really a close call on which one I chose. You can't go wrong with either. If you like this design more it may be a better choice for you.
ComfortElite Anti Fatigue Mat: This is another good value choice, they have the 2′ x 3′ option that goes around the $50 range. Overall though, I think the Amcomfy is a better value.
Ergohead Standing Desk Mat: This is another ergonomic mat that allows you to massage your feet as well as stretch or balance yourself. Again, this may be preferable over the TerraMat if you like the style more.
Imprint CumulusPRO: This is another quality purchase. You can find their 2′ x 3′ standing mat for just under $80. Although it is a quality mat that comes with a lifetime warranty, I think it makes sense to either spend less and go with the Amcomfy anti fatigue mat, or spend a little more and go with one by iMovR.
Genuine Joe Anti-Fatigue Mat: This is simply the cheapest 2′ x 3′ standing mat you can find. You can get it for less than $25. If you simply want a standing mat for the cheapest price possible, then go with this. I think it makes sense to spend a little more and go with the Amcomfy, but again, if money is an issue. Try this out.
Cushable Ergonomic Standing Mat: This is another good value choice as the 2′ x 3′ mat goes for just under $40. Unlike the traditional black, it comes in a wood color, if that is something you prefer.
MAXMAT Roundball Anti-Fatigue Mat: This is another value choice coming in at around $30. Also, it has a peg-like rubber bottom if you want more of a massage type feel.
Benefits of an Anti-Fatigue Standing Mat
Anti-fatigue standing mats are designed to…well…prevent fatigue. They allow you to stand for longer durations without feeling the stress you normally feel on your joints while standing.
Depending on what you read they can reduce spinal compression by up to 40%. So not only does it take the load off of your feet and knees, but it reduces pressure on your spine as well.
Conclusion
Standing mats are just another thing you can add to your arsenal to make your workday more comfortable. Once you have gone from sitting all day, to standing at least part of your day, you may tend to see some issues in other areas of your body since even though sitting all day is bad for you; so is standing.
It is all about finding the correct balance for your entire day, and this is something I highly suggest in addition to a standing desk.
What about you? Have you seen improvements from using an anti-fatigue standing mat? Or are you looking to get one? Let me know in the comments below!