If you're looking for a quality standing desk then iMovR's ZipLift standing desk converter is one the best you can find. If you're wondering how it stands against some of its top competitor's then here is a full review.
This should give you a complete idea of whether or not this is the desk you want to buy.
ZipLift Standing Desk Converter
Company: iMovR
Style: 2 Tier Z-type
Best Place to Buy: iMovR.com
Price: $299 (includes standing mat)
Overall Rating: 93/100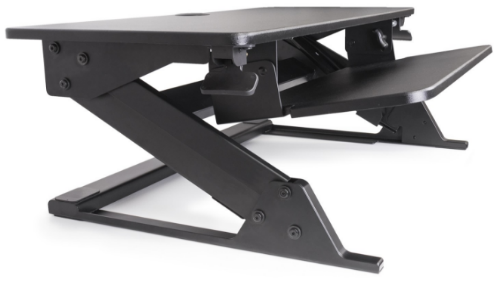 Specs
Height Range: Top Level is 6.2″ to 20″ adjustable. Bottom level is .6″ to 14.6″ adjustable.
Width/Depth: 35.4″ wide, 23.2″ deep sitting and 32.9″ deep while standing
Speed: 3 seconds
Weight: 40 pounds
Weight Capacity: 35 pounds
Assembly: Comes fully assembled
Extras: Unlimited number of stopping points while adjusting, also the keyboard tray can be angled.
Warranty: 2 years
Pros
Quicky adjusts up and down
Not overly priced even though it is top quality
Sturdy, very little wobbliness
2 tiers gives you the correct ergonomics while standing
No noise
Comes fully assembled
Unlimited stopping points
Height range is tall enough for someone roughly 6'3″ (see below)
Can hold multiple monitors
Monitor arm accessible
Keyboard tray can be adjusted to tilt up or down
You can possibly get a free standing mat with it
Cons
Top level only goes as low as 6.2″ off your desk while sitting
Only lifts 35 pounds
2-year warranty is decent but there are 5-year warranties on other top desk converters
ZipLift Overview
This is simply one of the best desk converters you can find. It has quality height range and is one of, if not the most stable Z-type desk converters you can buy. iMovR who makes this desk only puts out the highest quality equipment when it comes to sit/stand desks and this is no exception.
I currently have it as the best overall desk converter you can find right now (comparing quality and price).
The only downside to some of iMovR's products is the price as they only sell top of the line items. The fact that this desk converter comes in at $299 makes it a quality buy as some other "top of the line" desk converters can run close to a thousand bucks.
At the time of this review, they are also throwing in a standing mat with it for free, which is a $50 value. This is just another factor in making it one of the best buys you can find on sit/stand desk converters.
ZipLift vs. Varidesk
If you're wondering which is the better buy between the ZipLift and the leading innovating desk converter made by Varidesk then here are some reasons you should choose each, starting with the positives of the ZipLift.
The ZipLift has better overall standing height. It is ideal for someone as tall as about 6'3″ while the Varidesk is ideal for someone roughly 6'1″.
The ZipLift has a 2-year warranty and the Varidesk only has a 1-year warranty.
The ZipLift weighs less yet can hold the same amount of weight.
The ZipLift has an adjustable keyboard tray and the Varidesk doesn't.
The ZipLift is slightly sturdier while standing and has less wobble.
The ZipLift can hold any monitor arm while the Varidesk can only use monitor arms made specifically by them which may not be as sturdy.
The ZipLift goes for $299 while including a standing mat and the Varidesk goes for $395 and doesn't include a standing mat.
Now here are some ways the Varidesk outperforms the ZipLift.
The Varidesk's top tray while sitting goes as low as 4.5″ off of your desk while the ZipLift only goes as low as 6.2″ off of your desk. This may not seem like much, but for someone that tends to lay back while sitting this can leave your monitor too high off of your desk while you are sitting.
The Varidesk has more space on the bottom tray. This gives you more room to either move a monitor down to that level or to put your computer even lower with a monitor arm whereas the ZipLift you won't be able to move it as low.
The Varidesk looks cooler (in my opinion of course).
So really, the ZipLift outperforms the Varidesk in almost every category except it doesn't go as low while sitting.
If you are someone that sits upright while sitting then you won't have to worry about this and iMovR's ZipLift desk is probably the best standing desk converter on the market for you.
The Desk in More Detail
Price
The price at $299 I think is completely fair considering for the quality I would expect it to go closer to $400. And just to give some perspective on this, it actually used to go for $399, then they dropped the price to $349 and included a free standing desk mat with it ($50 value). Now, it goes for $299 with a standing desk mat. This makes it a terrific purchase.
It may not be the cheapest desk by any means as you can find some desk converters for less than $200. However, for what you're getting in return this is one of the best values you can find.
The fact that they are including a $50 mat with it makes this an even more valuable purchase.
iMovR also offers a higher quality, made in America 3D laminate version of this which goes for $449. This is going to be built with even better materials and has a different look to it.
Warranty
The 2-year warranty on this product is average. As I mentioned the Varidesk only comes with a 1-year warranty, however, a lot of the top Z-type desks come with 3-year or even 5-year warranties.
Desktop Space/Versatility
The ZipLift has plenty of room and at the same time doesn't take up too much desktop space. While sitting it only goes 23.2 inches deep which means it will fit on just about any desk.Its near
Its near 3-foot width means that it will take up most of the desktop space but this isn't an issue because you can use the desk as your desk platform for other things as well.
Here is a visual: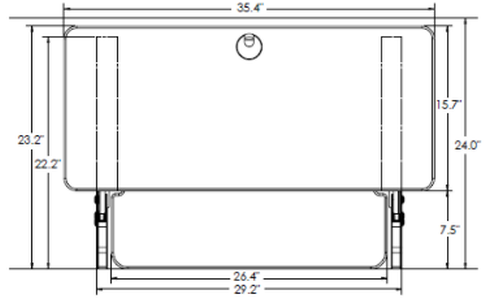 Height Range
Although, the ZipLift isn't the tallest desk converter you can find. It is definitely on the higher end of the spectrum.
The maximum height for the keyboard is 14.6 inches and the maximum height for the top level is 20 inches. In comparison, most converters don't exceed 17 total inches off your desk. (The Varidesk is 17.5″).
This means that at the top height if could be tall enough for someone about 6'2″. BUT with its ergonomic tray that tilts this means it would reduce bending of your wrists so it would make it more comfortable even above the "standard" height ranges.
Also, the top level being 5.4 inches above the bottom level means the monitor will be higher while standing making it ideal for taller people in a standing position.
Because of these 2 factors, I think someone 6'3″ or possibly even 6'4″ can use this desk converter without issues. Here is a visual of the standing height: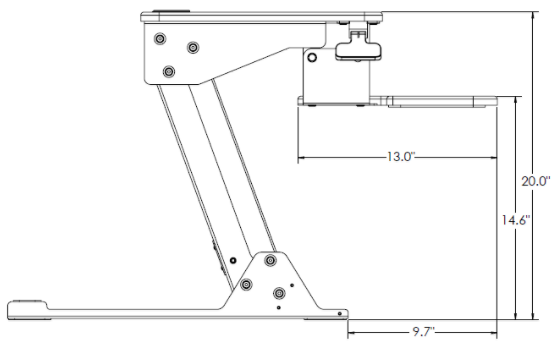 The main issue with the height, as I mentioned above, is that while sitting the top level doesn't go quite as low as you would like.
In a sitting position, the lower the top level goes the better. For most people who sit upright, this won't be a problem though. However, you may want to consider this if you tend to lay back when you sit.
Here is the ZipLift in its lowered position:
Build/Sturdiness
The ZipLift is simply one of the sturdiest desks you can get and doesn't wobble hardly at all, even while in a standing position with dual monitors.
It weighs 40 pounds and can hold up to 35 pounds. This means it is lighter than most converters but holds the same weight as most of the Z-type converters hold 35 pounds but usually weigh about 50 pounds.
The build of the ZipLift is one of the best just like everything else iMovR puts out, this desk is no exception.
Adjustment
The adjustment with this desk, and other Z-type desks as well, is very quick and only takes a few seconds to adjust up and down.
You simply squeeze the levers on the side and lift up or adjust down. Of course the more weight on it the more difficult it is to lift up. But even with the maximum weight, it lifts rather easy.
Extras
The keyboard tray can be tilted upwards 15 degrees or down 10 degrees. This is great to have this feature if you ever need it, and like I said is great for someone that may be an inch or two above the ideal height of the desk.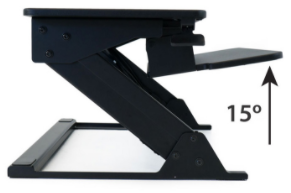 Also, currently if you buy this standing desk you get a standing mat included! This is a $50 value that you get for free.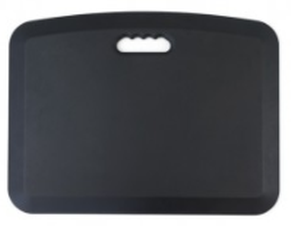 Check out this video to see the ZipLift in action:

Final Verdict/Overall Score
| Factor for Total Score | Rating (Out of 5) | Impact on Final Score |
| --- | --- | --- |
| Durability/Quality | 5/5 | 20/20 |
| Stability/Wobbliness | 5/5 | 15/15 |
| Price | 4/5 | 12/15 |
| Height Range | 4.5/5 | 13.5/15 |
| Desktop Space/Versatility | 4.5/5 | 13.5/15 |
| Aesthetics | 4.5/5 | 9/10 |
| Speed | 5/5 | 10/10 |
| Total after normalizing | | 93/100 |
At the end of the day, the ZipLift standing desk converter is one the best sit/stand desk options you can find on the market.
Surprisingly for the quality, it now goes for under $300 and comes with a mat included. This is an excellent buy if you are looking for top-notch quality.
More Info and Where to Buy Online
ZipLift Desk at iMovr.com