Focal Upright makes some of the top standing desks you can find. There is no question that the quality you will find from what they make is top notch. Here is the full review of their desk as well as the Focal Upright leaning seat which is one of the best standing desk chairs you can find.
If you're reading this review then you are probably aware of the Focal Upright Locus collection, as I usually do I'm going to review their most popular (and in my opinion best desk) you can buy, which is the Locus set up and then let you know what other options they have available, and why you may want to go with those instead.
Focal Upright Standing Desk and Chair
Overall Rating
Company: Focal Upright
Desk: Locus Standing Desk
Style: Leaning Seat Adjustable Crank Desk
Best Place to Buy: Amazon
Average Price: $2,000
Overall Rating: 9.2/10
Specs
Height Range: Desk is 36″ to 48″, chair is 31″ to 41″
Width/Depth: Width can be 48″, 60″, or 72″. Depth is 30″ for every option
Speed: 4 cranks equal an inch (rarely needs adjusted)
Weight Capacity: 300 pounds
Warranty: Limited lifetime warranty on the desk. Tabletop has a 10-year warranty
Weight: 74 pounds
Materials: Legs are aluminum with a powder coat finish. The top is American made hardwood plywood
Noise: Silent
Assembly: 1 to 2 hours
Pros
Aesthetically pleasing
Perfect for drafting in addition to typing on a computer
The top can be flat or angled 15 degrees down
Improves core strength
Great Warranty
Don't have to constantly adjust
Stable, virtually no wobbliness
Several different options/styles
Top quality build
Cons
Can't ever fully sit, can't be lazy
Higher price range for a standing desk
Angles down but not up (front of desk)
Locus Desk Overview
The company Fully Upright is co-founded by Martin Keen, who is also the design director. You may have heard of him. You know KEEN footwear, right? Yeah, that's him. Keen was a leading innovator in the footwear industry and is now designing furniture. Turns out that he's pretty good at creating desks as well as this product is one of the best standing desks you can find.
Buuut…let's face it, this desk isn't for everyone. The price tag on this excellent piece of equipment will scare off most people. However, this is an investment, and if it lasts a decade (which it should) then you're looking at $200 a year. Not a bad investment if this is something you really want.
This is the ideal desk for someone that only wants top of the line quality, wants to improve their posture and fitness, and wants to potentially mitigate lower back pain.
The thing about this standing desk is that it is more intense than any other standing desk you can get, because it utilizes a leaning seat.
Because of this factor, it makes it the perfect desk for anyone who is really serious about fitness, as it gives you a subtle all day core engagement.
It is also ideal for an architect, engineer, or anyone that tends to use their desk to draft or write in additon to using a computer because of the downward angle you can tilt the desk to.
The Focal Desk in More Detail
Before I go into the desk itself. How about we talk about the chair that comes with it. This makes the desk and is going to be the reason you either buy this desk or go with something else.
Focal Upright Chair
The chair that comes with the desk is the Locus leaning seat, and this really is a magnificent piece of equipment. Attached is a footstool/standing mat.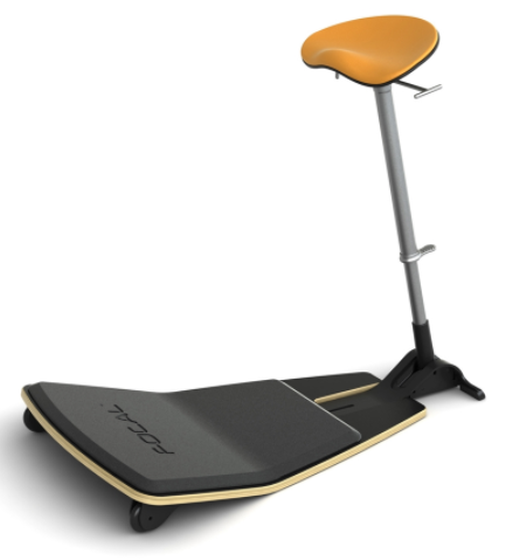 So because of the fact that it comes with a standing mat attached to with the footrest angled up, you have an ideal set up.
With the Locus leaning seat you never actually sit, and you never actually stand. Instead, it is hybrid of both positions that kind of gives you the best of both worlds.
You aren't bent over all day like you are while sitting, but you are supported enough that you don't have the pressure on your knees and feet that you would if you were standing all day.
One of the great aspects of this is that it actually works your core quite a bit to "lean" like this. This is what this desk is all about.
You improve your posture, and at the same time improve core strength.
And though this is great, not everyone will like this. This desk doesn't allow you to be lazy at all. You don't have the option to just sit.
And for that alone, this could turn off even more people. Like anything else in life, there isn't a free ride. If you want to really reap the benefits of a standing desk then this chair is a great way to do it.
I highly suggest trying out a leaning seat before fully investing in the Locus chair, as some people absolutely love it, and some people just flat out don't like.
Build/Sturdiness of the Focal Upright Chair
The chair with its brass and high-carbon steel leg pivot joint can hold up to 300 pounds. So this is going to cover most of the population.
The seat itself is made of nylon and EVA foam. Most reviews are that the seat is rather comfortable (as you would hope investing this much in a chair).
Also, it is designed with an area on each side for your legs to rest on comfortably that place your legs in the correct position to fit the chair and land your feet right on the footstool.
The design of the leaning seat was well thought out and really is the ideal ergonomics for a leaning seat.
Styles/Color Options
The Focal Upright chair comes in 4 different colors. You have the option of black matte, citrus, chili pepper, or black nubuck. The black matte option comes in at a slightly lower price than the other 3 options.
Focal Upright Desk
The Focal Upright Desk itself is quite the masterpiece in terms of aesthetics and functionality. It is the perfect compliment to the Locus leaning seat.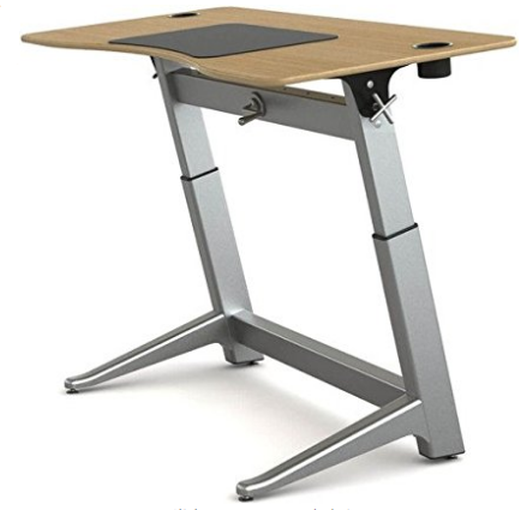 The desktop itself can sit completely flat or be tilted 15 degrees downward. Once tilted like this, you then have the perfect set up for using the desk to draw, draft, or design as opposed to typing on your keyboard.
Another great thing about the desk is that once you pick your preferred height, you no longer have to adjust it. So even though it is a crank desk, it isn't like you have to adjust it up and down because you are constantly in a leaning position.
Build/Sturdiness of the Focal Upright Desk
The desk itself holds up to 180 pounds, which is more than you will ever need to put on top of it. Just don't try to have sex on it and you'll be good.
The desk comes in 3 different sizes, all of them are 30 inches deep, but you can go with the Locus 4, 5, or 6 that have different widths at 48″, 60″, or 72″.
Styles/Color Options
This standing desk comes in 4 different color options: You can go with 2 different laminates; glacier white or matte black. The higher end options come in white oak veneer or black walnut veneer.
You really can't go wrong with any of those options as they are all aesthetically pleasing.
Tall Enough for Most People
The Locus leaning seat ranges from a height of 31″ to 41″, and although may not seem that high, is tall enough for someone 6'8″ making it great for taller people.
The Locus desk ranges from 36″ to 48″, and although this doesn't seem very tall for a standing desk, again, because you are not fully standing it is actually really tall which is why it is able to accommodate someone 6'8″.
The shortest height available to use this chair/desk is 4'11", so if you're shorter than 4'11" and taller than 6'8″ then this desk isn't for you.
Accessories
Focal Upright offers a few different accessories that you can get with the desk and chair.
They offer the Locus shelf which you can attach to the back. This will give you the correct ergonomics for your computer monitor raising it higher off the desk and putting it directly in front of your eyes as opposed to potentially being a little too low. I don't see this as a necessary option, though, especially with the ability to tilt the desk you can already place your monitor at a decent level.
They offer an LED light, which is made to fit right into the desk. Just like the shelf, this looks really cool but it is quite an investment at roughly $180 (something tells me that this isn't an issue for you though).
They offer a cable management tray. Again, this is something that isn't necessary but takes your desk to another level.
They also sell each of the seat cushions separately in case you ever want to change or have a backup.
They offer an iMac bracket specifically made for holding Apple devices in place on top of the desk.
Also, they have accessories which will accommodate the other chairs Fully Upright offers, including a kick balance board, an anti-fatigue mat, and a stabilizing footrest.
Want to Try the Focal Upright Before Buying?
I understand it can be hard to invest this kind of money in something you aren't sure you will actually like. Makes complete sense.
Now, Fully Upright isn't going to just let you try out a $2,000 desk and send it back if you don't like it. That would be crazy.
So here is what you can do.
If you don't want to spend any money then you need to try out something that resembles a leaning seat. So this could be a barstool or anything that would be at a height you can lean on.
Realize that, of course, this isn't going to be close to the real thing in terms of comfort, but you can get the idea what it feels like engage your core at a leaning angle. You can also use something as a footrest to get more of an idea how your feet will rest.
If this, understandably, isn't good enough for you. Then what you can do is try out the cheapest leaning seat they have to offer: the Mogo Seat. It goes for less than $100 and is really a terrific option in itself.
You could also add the footrest option they have for another $59 to get the full effect, but this isn't really necessary as you could just utilize something else.
This will give you the best idea what the leaning seat is all about. Granted the cushion is completely different but it will still mimic the chair rather well.
This is what I personally used to write this review (as I already have a standing desk).
Check out this full video review to see Locus Desk in action.

Final Verdict/Overall Score
| Factor for Total Score | Rating (Out of 5) | Impact on Final Score |
| --- | --- | --- |
| Durability/Quality | 5/5 | 20/20 |
| Stability/Wobbliness | 5/5 | 15/15 |
| Price | 2/5 | 6/15 |
| Height Range | 5/5 | 15/15 |
| Ergonomics | 4.5/5 | 9/10 |
| Aesthetics | 5/5 | 10/10 |
| Speed | 5/5 | 5/5 |
| Noise Level | 5/5 | 5/5 |
| Warranty | 5/5 | 5/5 |
| Ingenuity | | +1 |
| Core Strengthening | | +1 |
| Total | | 92/100 |
As you can see I have it rated pretty high, and what took the rating down was primarily the price of this desk. This desk is top notch and you pretty much know whether or not you can invest in something like this.
So if it is in your budget, and you want to improve core strength then this desk may be the best standing desk you can find.
[maxbutton id="5″ url="http://amzn.to/2zhzPiD" ]
Other Chairs Focal Upright Offers
In addition to the Locus Leaning Seat Focal Upright offers a few other more affordable options.
Mogo Portable Leaning Seat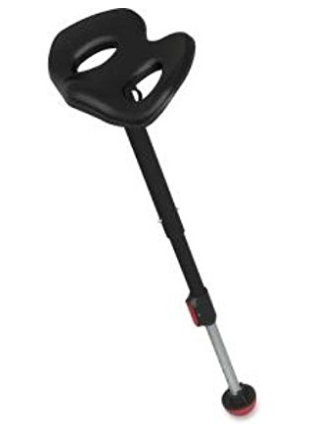 The Mogo, as mentioned above is the most affordable option they offer and like the Locus is a leaning seat as well. The difference with this seat is that you can get it for less than $100.
It is also portable so you can take it anywhere. It disassembles into a compact setup that you can fit into a small bag that comes with it. When you want to use it you simply extend it back out and place the cushion on top and you are good to go.
The seat cushion isn't quite as ergonomic as the Locus, but its versatility makes this a great buy.
You could take this with you anywhere you want to go, or you could use it at a standing desk. It doesn't necessarily have to be the Locus desk.
The Mogo has a rubber foot so that it is non-slip or you can turn it over and use a cleated hard plastic, so you can virtually use it anywhere: outdoors, carpet, or even a laminate flooring.
It also weighs less than 3 pounds which is another reason this works so well as a portable chair option. The main downside to this chair is that it only accommodates people up to 6'2″, whereas most of their other chairs will work for someone as tall as 6'8″.
Mobis I and Mobis II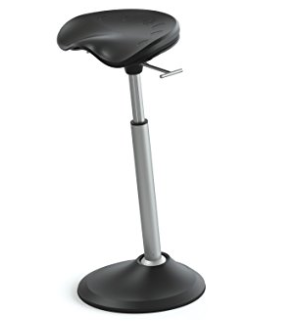 The Mobis Leaning Seat is basically in between the Locus chair and the Mogo chair it terms of price and quality. You can find both of these options in the $300 range.
There are two different versions and the Mobis II is the same leaning chair, only the cushion that it comes with is more ergonomic. You may be able to save a little bit of money going with the Mobis I, but the ergonomic difference is worth spending just a little more to go with the Mobis II.
This chair also comes with a limited lifetime warranty like the Locus chair does. This is an excellent warranty for the price range this chair goes for.
Also, like the Locus it is tall enough for someone 6'8″. If you don't think having a footrest will really benefit you, then this chair could be a great alternative to the Locus chair.
The downside to the footrest is that your legs are not completely stretched out, so you may want to consider this option instead. Some people may actually prefer the leaning seat without a footrest. Also, you can always purchase their footrest for $59 and make your overall purchase around $400 instead of pushing $700 with the Locus chair.
Pivot Active Leaning Seat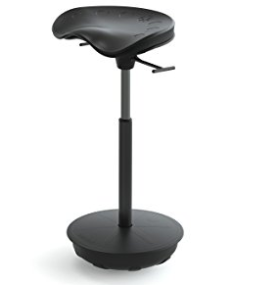 The Pivot Active Leaning Seat is primarily designed to be more active, as the name suggests. It leans like the other chairs but the base that comes with it encourages movement in all directions.
The base, as you can see is different than the other chairs mentioned. Its weighted base is designed to leverage your center of gravity.
It is basically in between the Mogo and the Mobis in terms of quality and price. You can usually find this chair for less than $300.
The Pivot chair also falls between the Mogo and Mobis in terms of height as well, as the tallest height for this chair is for someone 6'4″, whereas the Mogo is tall enough for someone 6'2″ and the Mobis and Focal are tall enough for someone 6'8″.
If your budget for a leaning seat maxes out at $300 then this is your best option to go with.
Other Desks Focal Upright Offers
Focal Upright offers a few other options outside of the Locus desk, here they are.
Sphere Standing Desk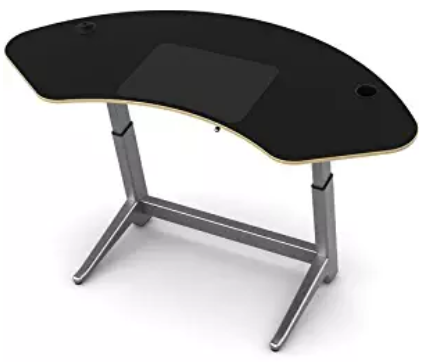 This desk is essentially the same thing as the Locus desk only it is in the shape of a sphere. If you are considering the Locus 6 (the 72″ desktop), then be aware you can get this desk for the same price at $1,699.
It is an excellent piece of equipment as well only gives you more room and a lot of people may like the ergonomic set up of this more than the traditional Locus desk.
Confluence Table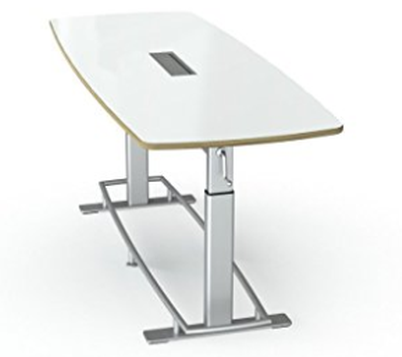 This is a conference table that can be adjusted up and down by crank.
They offer the Confluence 6 and the Confluence 8 which are just two different sizes. The Confluence 6 is 78″ x 34″ while the Confluence 8 is 94″ x 36″.
Although this desk is able to be adjusted up and down I think it is primarily made for standing. The bar at foot of the desk may get in the way while people are sitting down.
The price of this desk comes in at just under $2,400 for the Confluence 6 and just under $2,600 for the Confluence 8.
Which, for a top of the line conference table isn't too bad. Personally, when looking at top tier conference tables, you may prefer what iMovR offers.
Bottom Line
Well, that about breaks everything down there is to know about everything Focal Upright offers with their desks and chairs.
Focal Upright offers some of the best standing desks you can find as well as leaning seats. These desks won't be for everyone as the price range makes it a little unattainable to some.
However, if you can fit it in your budget then the Focal Upright standing desk may be the way to go. It comes down to whether or not you are looking for something as intense as this desk is.
Again, you never get to fully sit. But like anything else, eating healthy, exercising, etc. you don't get a free ride, and the Locus desk and chair really can change your lifestyle by providing a way to improve core strength all day long while working.
More Info and Where You Can Buy Online
Focal Upright Desk at Amazon.com
Focal Upright Desk at Focalupright.com