Varidesk is one of the leading manufacturers in sit/stand desk technology. They are one of the most well-known companies in this niche. Here we will look at every standing option they have so that you have a full idea what they have to offer and can make an informed decision on whether or not a Varidesk adjustable height stand up desk is for you or not.
Varidesk offers 4 different styles of desks including: The Varidesk Pro Plus, Cube Corner, Cube Plus, and the Pro Desk. All of these are good options but for the most part, I mainly recommend the Varidesk Pro Plus 36.
This is their best all around desk option in my opinion so I'm going to give a full review of that desk. Don't worry, I'll then give a brief review of all the other desks and list specifically why you would want to choose those over the Pro Plus 36. However, all of the Varidesk options are quite similar.
Varidesk Pro Plus 36
It is important to note before we get into the Pro Plus 36 that Varidesk also offers a Pro Plus 30, a Pro Plus 48, and the original was just the Pro 30.
The main difference between each is the width of the desk options. The Pro 30 is pretty much outdated because of its poor ergonomics compared to the newer options.
The Pro Plus 36 really is the best of both world's when looking at price, size, and versatility. Which is why I have it rated as one of the best sit/stand desktop workstations money can buy. Here is the full review.
Style: 2 Tier Spring Mechanism
Price: $395
Best Place to Buy: Amazon
Overall Rating: 88/100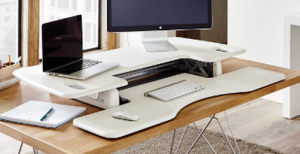 Specs
Height Range: Top level is 4.5″-17.5″ adjustable. Keyboard tray is .5″ to 14″ adjustable.
Width/Depth: 36″ wide, 29.75″ deep
Speed: 3 seconds
Weight: 52.15 pounds
Weight Capacity: 35 pounds
Assembly: Comes fully assembled
Extras: 11 different height settings
Warranty: 1 year
Pros
Quickly adjusts up and down
Can hold multiple monitors
2 tiers for correct ergonomics
Wide range of space on the lower and upper level
Comes fully assembled
Fair price
No noise
Stable, very little wobbliness
Comes forward while standing
Looks cool
Cons
May not be tall enough for some people (more info below)
Only lifts 35 pounds
Doesn't tend to be on sale for discounted prices
Only a 1-year warranty
Who Does this Desk Option Suit?
Really, this is for anyone that has a sitting job and doesn't want to sit all day every day. Specifically, though, it is for anyone looking to add a desktop workstation to their already existing desk, instead of getting a full sit/stand desk.
This is a much easier option for somebody that already has a desk they like, or that works at a job where you can't get an entire brand new desk. It is also able to be moved somewhat easy, although, there are better options if you are looking for something you have to move around quite a bit. Either way, it isn't something that would necessarily be confined to one area.
The Varidesk Pro Plus 36 in More Detail
Price
The price at $395, in my opinion, is worth the cost. This may seem high, but it's because this is a very high-quality piece of equipment. Yes, you can get some sit/stand desktop workstations for half the price, but you won't get the same quality you are getting with the Varidesk Pro Plus 36.
Also, there are much higher priced desk options that aren't as good as the Varidesk. Instead of getting convinced to spend close to a thousand dollars on something that doesn't work as well or is at the very least equal to, spending less than $400 on one of the best-made sit/stand desk workstations makes complete sense. Although the price isn't the lowest you can find, it is actually pretty fair for what you are getting.
Height Range
First off, it's important to note that all of the Varidesk desktop workstations have the same height range of .5 to 14 inches for the keyboard level and 4.5 to 17.5 inches for the top monitor level. Overall, it has 11 different height settings.
You can see here what it looks like fully raised: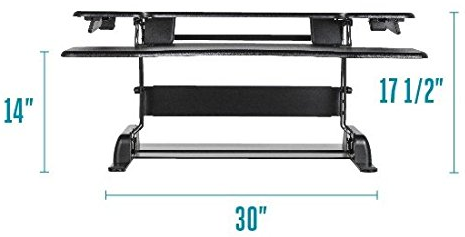 Here is the Varidesk at it's lowest setting:

I mentioned above that it may not be tall enough for some people. It's important to realize that there isn't a specific tallest height this desktop option will be designed for because it depends on how tall the desk you are sitting it on top of is.
Normal desk heights can range anywhere from 24 to 30 inches, however, the standard desk height is 29 inches. This is what most desks will be. And assuming your desk is the industry standard then the Varidesk at it's tallest height would be 46.5 inches for the monitor and 43 inches for the keyboard level.
This means that comfortably someone 6'1″ could use this desk and if you don't mind your keyboard a little lower then it could stretch to someone 6'3″. So, if you had a taller 30-inch tall desk then it is ideal for someone as tall as 6'2″ and again could possibly work for someone as tall as 6'4″. If you're unsure if this is tall enough for you, check this out.
Build/Sturdiness
The one year warranty may make you think the build isn't that good, but really even though a lot of it is made up of a plastic composite, it is very sturdy. There are very few reviews of the Varidesk breaking down. Personally, the Varidesk I used and the ones I've seen others using have lasted multiple years.
Looking at pictures of it don't exactly do it justice. Once you actually use it, you realize how high-quality of a build the desk is. Compared to most other options it is simply better in this area. One of the key aspects of the desk is that while in a standing position there is very little wobbliness.
The fact that it only has a 35-pound weight capacity is also a little deceiving. Although I listed this as one of the cons of the desk, 35 pounds is enough to hold multiple monitors with no issues.
Desktop Size/Versatility
At 3 feet wide and 29.75 inches deep, this desktop workstation will fit most desks. It isn't too small, and it isn't too large. I don't see much of a reason to go larger than 36 inches. You can always just use the extra space on your desk if you need to. The Pro Plus 36 is large enough to hold multiple large computer monitors.
Another great feature is the keyboard tray size. The bottom level has enough space that if you want to you could move your monitor to the lowest level. This comes in handy for people that tend to lay back more when they sit, as being so far back could leave your monitor too far away. Personally, I utilize this and it's one of my favorite features of the Varidesk!
Here is what I'm talking about: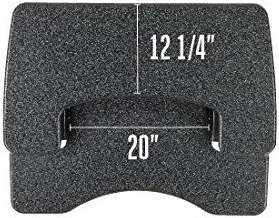 There are over 14 inches of space on the bottom keyboard level, which is actually more than the Pro Plus 48 has. This is an excellent feature.
Adjustment
All of the Varidesk models adjust with a spring-loaded lifting mechanism that allows you to adjust the desk in roughly 3 seconds from bottom to top. That's pretty good. All you have to do is squeeze the 2 clamps on the side and lift or lower, which is really easy to do.
If it was electric it wouldn't be nearly as fast. This is one of the main advantages to using the Varidesk over an electric option like most full sit/stand desks tend to be. This is much faster.
Another awesome feature is when the desk is raised it moves forward at the same time. This makes it so that you don't have to lean over at all while standing, unlike with some other desk options.
Here is what I'm talking about: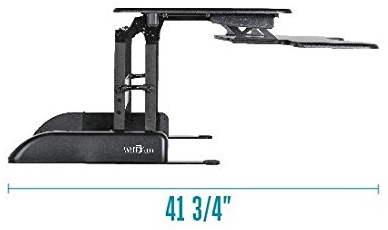 As you can see it protrudes forward so that you don't have to worry about leaning over your desk while in a standing position. At first, I wasn't sure I would like this, but after awhile I realized how beneficial it is compared to other desks, especially if they angle further away while standing. This is another awesome feature.
Colors/Styles
There are 4 different colors you can go with. Black is the most common, but they also have white, butcher block, and zebrawood. All look great, it just depends on your personal preference!
Warranty
The one year warranty is one of the biggest cons to the Varidesk. Granted, when it comes to sit/stand workstations they don't tend to be longer than this. However, full desks will come with warranties up to 10 years and other desktop options may come with more than a year. Either way, the Varidesk tends to last well beyond the one year warranty.
Final Verdict/Overall Score
| Factor for Total Score | Rating (Out of 5) | Impact on Final Score |
| --- | --- | --- |
| Durability/Quality | 5/5 | 20/20 |
| Stability/Wobbliness | 4/5 | 12/15 |
| Price | 3/5 | 9/15 |
| Height Range | 4/5 | 12/15 |
| Desktop Space/Versatility | 5/5 | 15/15 |
| Aesthetics | 5/5 | 10/10 |
| Speed | 5/5 | 10/10 |
| Total after normalizing | | 88/100 |
The Varidesk is one of the leading innovators in this industry and the Pro Plus 36 sets the bar for all other sit/stand desktop workstations in my opinion. If you 6'2″ or shorter then this is one of my top choices when looking to add a standing option to your desk.
It is the most versatile option out of all of the different types/styles of Varidesks there is to choose from. This is more than likely going to work with just about any situation you're in. However, depending on your circumstance you may need to look at what else they have to offer.
All Other Varidesk Desk Options
Varidesk Pro Plus 30 and 48
The Varidesk Pro Plus 30 is just about the same as the 36 except, yes you guessed it, instead of 36 inches wide it is only 30 inches wide. So unless you have a really small desk there is no need to get this. It's only $20 less so you're not saving that much money. Also, not only is the desk not as wide but so is the ergonomic cutout so there isn't very much room on the bottom level to move a monitor down. This takes away one of the best features.
The Varidesk Pro Plus 48 is obviously a foot wider. Here's why it doesn't make sense: It costs a hundred dollars more and has less versatility. Yes, it's a foot wider, but doesn't have quite as much depth on the bottom tray, again this is personally one of the things I love about the Pro Plus 36. Also, the Pro Plus 36 is capable of holding 2 large monitors. So really the only reason you would need the Pro Plus 48 is if you wanted to use 2 gigantic monitors on the top level. As in if you wanted multiple 32-inch monitors or one 50-inch monitor. Other than that, I see no reason to spend the extra $100.
Varidesk Cube Corner
The Varidesk Cube Corner is made for desks that fit a corner. This is a nice feature if you need to fit it into a corner, or if you're in time out…that was a joke. Anyways, both the Cube 36 and the Cube 48 go for $495. I would only choose this option if the Pro Plus 36 doesn't fit your desk. Again with this, you lose space on the bottom level. Both options are built the same so it just depends if you want the extra desk space on the side or more space with your workstation when looking to go with the 36 or 48.
Varidesk Cube Plus
This option is designed for cubicle desks that don't have enough room in terms of depth. Instead of the 29.75 inches depth of the regular Pro Plus options, it is only 23.75 inches deep. So if your desk is less than say, 28 inches (you can go over slightly) or less you may want to consider this desk option.
Another reason some people may like this option is that although there is less depth on the bottom level, you could move your monitor closer to you on the top level. The top level on this option sits closer towards the front of the desk than any other Varidesk option. This could be valuable for someone that tends to lay back when they sit but doesn't want to move the monitor down from the top level to the bottom level.
If you like this option. They have two sizes, the Cube 40 and the Cube 48. The Cube 40 goes for $450 and the Cube 48 goes for $495. Personally, I don't see much added benefit in spending the extra money for 8 extra inches. Again, this is personal preference though.
Varidesk Pro Desk
Finally, Varidesk offers a full sit/stand desk, simply called the Pro Desk. Unlike the other options that you can sit on top of a regular desk, this has the legs built into it. Which sounds cool, but here's the thing, you're going to spend either $595 on the 48-inch desk or $795 on the 60-inch desk.
I don't recommend these options. If you are going to spend that much on a full desk then there are much better options out there for around the same price. This desk won't rise as high or hold as much weight as other full sit/stand desks.
Conclusion
If you read this entire article then you officially know more than 99% of the population when it comes to the Varidesk adjustable height stand up desks. I highly recommend the Pro Plus 36 and consider it one of the best all-around sit/stand desktop workstations.
More Info and Where You Can Buy Online
Varidesk at Amazon.com
Varidesk at Varidesk.com