Are you looking into buying a sit/stand desk converter? Well the Ergotech Freedom Desk is one of the best you can find, and it comes at a really affordable price.
Here is the full review of a desk conversion that combines a quality build with an affordable price.
Overall Rating
Company: Ergotech
Desk: Freedom Desk
Style: 2 Tier Z-Type Manual Adjustment
Where to Buy: Amazon
Rating: 88.5/100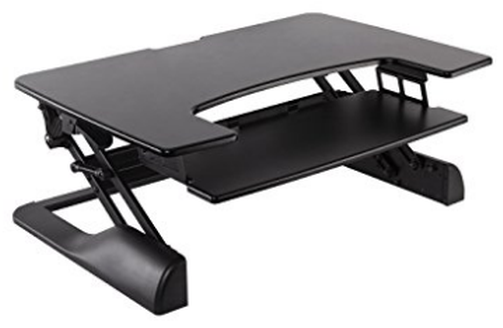 Specs
Height Range: Desktop level goes from .5 to 14.5 inches, monitor level ranges from 5.1 to 19.6 inches
Width/Depth: 3 options: 30, 35.4, or 41.3 inches wide, all models are 25.1 inches in depth
Speed: 3 seconds
Weight: 50 pounds
Weight Capacity: Up to 35 pounds
Adjustment: 2 squeeze levers on the side, spring mechanism
Assembly: Comes fully assembled
Extras: 10 mm grommet hole in the back to add a monitor arm
Warranty: 5 years
Pros
Affordable for a Z-Type desk converter
Quickly Adjusts
Great Warranty
Good maximum height range
When lowered isn't too high
Monitor arm accessible
2 tiers for correct ergonomics
Very little wobbliness
Virtually silent when adjusting
Comes fully assembled
Cons
Somewhat basic looking
Only lifts 35 pounds
Only tall enough for someone roughly 6'3″ (see below)
Freedom Desk Overview
Under my list of best sit/stand desk conversions, I gave this desk the award of elite yet affordable. This is what the Ergotech Freedom is. It has top notch specs but yet comes at a price roughly 25% better than other desks that have virtually the same quality. It also comes with a warranty that is better than most of the desk converters that cost more.
This desk is ideal for someone that doesn't want to go with a cheap foreign made Z type desk. Yes, there are some cheaper options but they don't match up to the Ergotech in terms of quality and specs.
This desk is also perfect for someone that wants to go with the ideal ergonomics and add an articulating computer monitor arm. With other desk converters it may not make sense to add one because, for one, the price range you would end up at is enough to just buy a full sit/stand desk instead. And two, may not be strong enough or even have the option to add one to it.
With the Ergotech Freedom Desk, you could add a monitor arm to it and still spend less than you would buying a Varidesk. Of course, it isn't necessary to add a monitor arm but again would improve ergonomics and you wouldn't have to feel guilty spending the extra money since this desk is so affordable.
The Desk in More Detail
Price
I've been raving about the price. Here is the thing, it is going to vary depending on where you buy. Looking at the 36-inch model which is my main recommendation, it can range from $291.25 to as much as $370 total after shipping. I recommend buying on Amazon as you may be able to find it cheaper and more affordable there, even buying it new.
UPDATE: This converter has rarely been on sale lately and has even been going for higher than the orignal retail price lowering it's overall rating.
As a comparison, the Varidesk Pro Plus 36 goes for $395. Also, another desk that is almost exactly the same in terms of specs is the Ergotron WorkFit T and it goes for about $370 and yet has a smaller keyboard tray.
So this desk going for around $300 is a really affordable purchase. If you want to go with the 30-inch option then it would be even less at around $240, and the Ergotech Freedom 42 option goes for around $309. All terrific prices for their size.
Warranty
I was actually really surprised to see that this desk converter comes with a 5-year warranty. This tends to be the warranty you would get on a desk conversion that would go for around $600. So to see such an excellent warranty on a desk that goes for this price really is surprising.
In fact, many of the desktop workstations on the market only come with a 1-year warranty. Again, a 5-year warranty on this product is outstanding.
Desktop Space/Versatility
In terms of desktop space, this desk is pretty basic. It's a solid surface without many distractions or anything really getting in the way.
The main positive for this desk is that the keyboard tray is 27.5 inches on the Freedom Desk 36. This is going to be large enough for a regular sized keyboard plus your mouse. Again when compared to the highly similar Ergotron WorkFit T it actually outperforms it at a better price.
The Ergotron only has a 25-inch keyboard tray on its 36-inch desk. The extra 2 inches that comes with the Ergotech Freedom is very important and really is the difference between using a full-size keyboard or having to use a small keyboard.
Height Range
The height range of this desk is pretty good, although not great. This is the main issue with just about every one of the Z-type desks is that they have a limited height range.
First of all, while lowered this is a pretty solid height range. Your keyboard is only a half inch off of your desk which is great, and the monitor level is at 5 inches which is still pretty low.
While standing the top height of the keyboard tray is going to be equal to a lot of the other top notch sit/stand desktop workstations. It goes as high as 14.5 inches. The monitor height level is one of the best you can find reaching up to 19.6 inches tall. This is going to put your monitor nearly at the perfect height while standing.
Here is the issue, the main thing that is going to matter is your keyboard height. 14.5 inches tall is generally only going to be good enough for someone about 6'3″ but it will also depend on how high your desk is that you are sitting it on. If you're wondering if this desk will be tall enough for you I recommend you checking out my article which explains the correct height for a standing desk.
Build/Sturdiness
You can't find many negative reviews on this desk and the fact that it comes with a 5-year warranty tells me that it is a quality build. I think there are other desktop workstations that may be a little sturdier, but the difference is marginal.
The great thing is that if there is an issue you have the warranty to fall back on. However, I don't see there being any issues for several years of use with this desk.
Adjustment
The adjustment pretty much the same as most Z type desks as it comes with a spring assisted lifting mechanism, it is able to be easily adjusted with the 2 squeeze levers on the side. You simply squeeze and lift.
This feature allows a fast adjustment with being able to go from a sitting position to a standing position in just a few seconds. If you wanted to switch back and forth every few minutes it wouldn't be an issue. This is another great feature of the Z type manual adjustment desk.
Extras
As mentioned above, this desk has a 10mm grommet hole in the back made for adding a monitor arm. Not every sit/stand workstation will allow you to add a monitor arm, or on some, you can add them but they aren't exactly made for it.
Not with the Ergotech Freedom Desk. This was designed to have a monitor arm added to it and this really gives you the ideal desk set up if you have this added to it.
When you move from sitting to standing you are usually going to have to move your monitor. Sometimes just forward, sometimes forward and down further. Basically, unless you sit completely upright you will have to move your monitor.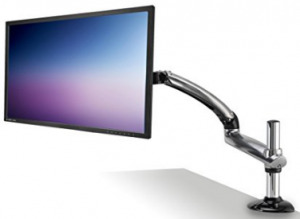 If you added their own monitor arm (the Ergotech Freedom Arm), then that adds about $80 to your total price. So even after adding this your total purchase would be roughly $370.
So this gives you the ideal set up and you're still $25 less than a Varidesk. Pretty awesome.
Final Verdict/Overall Score
| Factor for Total Score | Rating (Out of 5) | Impact on Final Score |
| --- | --- | --- |
| Durability/Quality | 4.5/5 | 18/20 |
| Stability/Wobbliness | 5/5 | 15/15 |
| Price | 3.5/5 | 10.5/15 |
| Height Range | 4.5/5 | 13.5/15 |
| Desktop Space/Versatility | 4.5/5 | 13.5/15 |
| Aesthetics | 4/5 | 8/10 |
| Speed | 5/5 | 10/10 |
| Total | | 88.5/100 |
After this detailed review, it ends up being one of the best sit/stand workstations you can buy. It is elite yet affordable.
As you can see I added an additional point for its value. This desk is top notch and if anything would only be lacking marginally to some desk converters that cost 25% plus more than this.
This is why I have it rated as one of the top 5 desk conversions money can buy! You can't go wrong with this option.
More Info and Where to Buy Online
Ergotech Freedom Desk at Amazon.com
Ergotech Freedom Desk at Ergotechgroup.com