The VersaDesk Power Pro, also know as the Versa Power Desktop is one of the best sit/stand desk converters you can find right now. There are not many like it, as you can just press a button and easily adjust it up and down. Here is the full review.
VersaDesk Power Pro Standing Desk
Company: VersaTables
Style: Electric Z-Type
Best Place to Buy: Amazon
Average Price: $350
Overall Rating: 91/100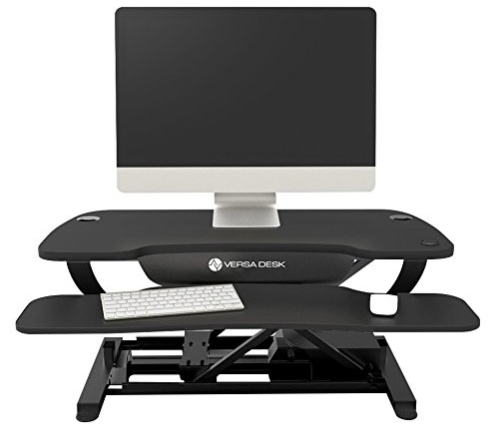 Specs
Height Range: Top level is 4.5″ to 20″ adjustable. Bottom level is 1″ to 16.5″ adjustable.
Width/Depth: Width comes in 30″, 36″, 40″, or 48″. Depth is 24″ for all models.
Speed: Starts at 2.5″ per seconds then slows to less than 1″ per second.
Weight: 40 pounds
Weight Capacity: 80 pounds
Assembly: Comes fully assembled
Extras: Single and dual monitor arms at an additional cost
Warranty: Lifetime warranty
Pros
Very easy to adjust up and down with the simple push of a button
Stable, very little wobbliness
Holds 80 pounds (double what most converters can hold)
Excellent height range
3 grommet holes for multiple monitor arms
Sleek looking
Lifetime warranty which is virtually unheard of with desk converters
Multiple color options
Reinforced steel frame
Adjusts quietly
Cons
Limited space (depth) on the keyboard level where you place your mouse and mousepad
Adjusts slower than a manually adjustable converter
This converter is ideal with a monitor arm, which raises the price
No safety stop
VersaDesk Power Pro Overview
This is one of the best desk converters you can find on the market right now, and hopefully, this review helps you decide whether or not the VersaDesk is for you or not.
It really is top notch in specs as it has a quality height range that can accommodate someone at least 6'4″. It also holds up to 80 pounds which is double what most other desk converters hold.
The easy press of a button makes this desk simple to adjust up and down. For someone that uses multiple monitors, the ease of adjusting with a button instead of having to lift up the weight your desk carries could be enough of a reason to go with the VersaDesk.
It also has a sleek look to it that is appealing. Overall, this is an excellent sit/stand workstation to add on top of your desk.
The VersaDesk in More Detail
Price
Although prices can vary, this converter typically goes for $390 on the 36-inch model. This is the most popular item but they also have 3 other size options. Occasionally you can find this converter on sale for closer to $300, which is why I put the average price down for the 36-inch model at $350.
They have a 30-inch which typically goes for $370, ad 40-inch that goes for $420, or a 48-inch model that goes for $499.
For what you are getting this is a fair price. For example, the popular Varidesk Pro Plus goes for $395 and a lot of people are simply going to like this workstation more.
Warranty
VersaTables offers a lifetime warranty on this product. This speaks a lot in terms of backing up their product. The average on a desk converter is usually around 2 years, and some of the better warranties are 5 years.
Rarely, if ever do you see a lifetime warranty on a sit/stand desk, even on full adjustable standing desks that cost upwards of a thousand dollars, they generally stop at 10 years.
So the fact is, this speaks volumes about the guarantee that you should be getting a quality product or they will take care of it.
In addition to the lifetime warranty, they offer a 30-day money back guarantee. So if you receive the desk converter and realize that you really don't like it, you can send it back for a full refund.
Desktop Space/Versatility
The desktop has plenty of space for a monitor and also has the option to add a monitor arm to your desk. In fact, you can add 3 if you really want as there are 3 different grommet holes that made for adding monitor arms that are specifically made by VersaTables.
The top level has plenty of room for multiple monitors and if you add a monitor arm or two then that creates even more space on the top level.
As for the bottom level that holds your keyboard, this is one of the biggest complaints of the VersaDesk. The middle of the desk is 10 inches, so that isn't the issue. But where you place your mousepad there isn't a whole lot of room. As you can see here: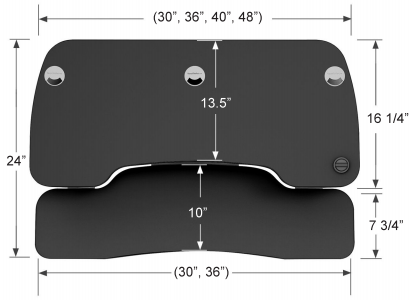 So before buying this desk, you may want to make sure that 7 3/4″ will be enough room for you to use your mousepad as this is the biggest concern with this desk converter.
Height Range
The height range on this desktop workstation is quite excellent. The maximum height range while standing is 16.5 inches off of your desktop for the keyboard tray, and 20 inches off of your desktop for the top level.
This is ideal for someone as tall as 6'4″, and if you don't mind bending your wrists a little then someone as tall as 6'6″ or even 6'7″ could use this. Although the ergonomics would be a little off for someone that tall, you could still get by standing in spurts at that height level.
Here is what I'm talking about: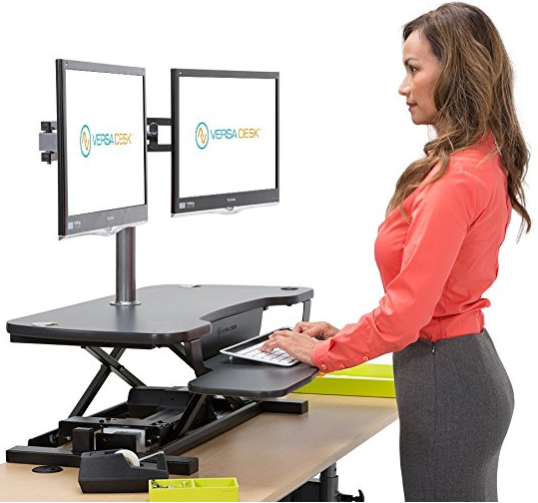 I'm sure this lady isn't 6'5″, but for some reason, she is using some poor ergonomics. Ideally, you want the keyboard tray to be right at elbow level or maybe an inch below, but you can still get by with it a few inches lower than that; exactly how this lady is standing and using the VersaDesk.
If you're taller than 6'4″ and are considering this desk then you may want to check this article on the correct height for using a standing desk.
Another positive of the height range is not just the maximum height, but the sitting height as well. The fact that the top level goes down to only 4.5 inches off of your desktop, ensures that your monitor won't be too high off of your desk while sitting.
Build/Sturdiness
The sturdiness of the VersaDesk is one of the more solid desks you can find. At face value, the VersaDesk being able to hold 80 pounds as a desk converter surely sounds like it is as solid as you can get. After all, most other Z-type converters usually can only hold around 35 pounds.
And overall, the VersaDesk is rather stable, however, some complaints about this desk are that it isn't as solid unless it is at it is either at its maximum height or all the way lowered. So at the in-between height ranges it isn't as sturdy. This is more of a minor complaint than anything though, as it isn't enough to noticeably affect your work.
The fact that it can hold up to 3 monitors shows how solid of a desk converter this is.
Adjustment
The electric push-button adjustment on this option is going to be really intriguing for some people. There isn't a simpler way to adjust a desk.
The only issue with this is that it isn't going to be adjusted up and down as fast as a manual converter. If you are someone that plans on switching from sitting to standing quite often then you may want to consider this.
Also, the VersaDesk doesn't adjust at a consistent speed as it starts off fast and then slows down.
Extras
As I mentioned, this converter works great with monitor arms as it has grommet holes specifically designed for this. They don't come with the desk and will cost extra.
With the grommet holes, it is ideal to use the monitor arms that VersaTables sells as they fit with the grommet holes. The concern with the monitor arms is that they are upright, and they are not adjustable or bendable.
I prefer articulating monitor arms because as you sit and stand you may want to adjust the distance as well as the height of your monitors and these are perfect for that.
This can be an issue, though. Do you go with the less ergonomic monitor arm because it fits the grommet holes, or do you go with an articulating monitor arm and just clamp it on the back?
Safety Concerns
One of the biggest downsides to the VersaDesk, in addition to keyboard space, is the fact that it doesn't have a safety stop mechanism. In other words, you could pinch your hands under the desk as it won't stop if something is in the way.
Now, this isn't a major issue because I don't see why you would ever have your hand under the desk where it touches as it goes down, but it is worth mentioning because of the fact that it is rather easy to accidentally hit the button. So you may want to consider this if you have kids that will be around the desk converter.
Check out this video to see the VersaDesk in action:

Final Verdict/Overall Score
| Factor for Total Score | Rating (Out of 5) | Impact on Final Score |
| --- | --- | --- |
| Durability/Quality | 5/5 | 20/20 |
| Stability/Wobbliness | 4.5/5 | 13.5/15 |
| Price | 3.5/5 | 10.5/15 |
| Height Range | 5/5 | 15/15 |
| Desktop Space/Versatility | 4/5 | 12/15 |
| Aesthetics | 5/5 | 10/10 |
| Speed | 3/5 | 6/10 |
| Ease of Adjustment | +3 | +3 |
| 3 Grommet Holes | +1 | +1 |
| Total | | 91/100 |
As you can see it scores really well. Overall, it actually lost points being an electric desk. I gave 3 positive points for the ease of adjustment but took off 4 points for the speed of the desk. If speed is something you are looking for then a manual desktop workstation would work better.
But if the ease of adjustment is something that you really like, this is an ideal desktop workstation to add to your desk and allow you to go from sitting to standing.
Some other issues you may want to consider is the space for your mouse, and also whether or not you think it could be a safety concern if you have kids around since there is no safety stop mechanism.
If those concerns don't bother you then the VersaDesk may very well be the best desk converter you can find.
More Info and Where to Buy Online
VersaDesk at Amazon.com
VersaDesk at Versatables.com