The Fully Cooper standing desk converter is one of the top desk converters I recommend getting. It combines a quality built desk with excellent height range and a really affordable cost.
Just like Fully's Jarvis Desk, which is a full standing desk, their desk converter is one of the top choices you can make as it finds that sweet spot between quality and price range. Here is my review.
Cooper Standing Desk Converter
Company: Fully
Style: 2 Tier Scissor Style
Best Place to Buy: Amazon
Average Price: $325
Overall Rating: 91.5/100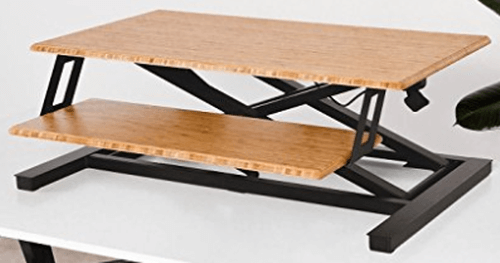 Specs
Height Range: Top level is 6.25″-22″ adjustable. Bottom level is .9″-17.3″ adjustable.
Width/Depth: 36.6″ wide, 27.7″ deep
Speed: Roughly 3 seconds to adjust
Weight: 43.5 pounds for the bamboo option, 49 pounds for the black option.
Weight Capacity: 35 pounds
Assembly: Comes fully assembled
Warranty: 2 years
Pros
Highly affordable for the specs that come with this
One of the tallest desk converters you can find (see below for specifics)
Sturdy, very little wobbliness
Monitor arm accessible
Can hold 2 monitors
2 tiers for correct ergonomics
Unlimited stopping points
No noise when adjusting
Comes fully assembled
Lifts straight up saving space
Great ergonomics while standing
Eco-friendly
Cons
Average warranty at best
High monitor position while sitting (see below)
Only lifts 35 pounds
Not for laptop use
Fully Cooper Overview
The Fully Cooper desk is simply one of the best standing desks you can buy based on the quality and its price point. It is highly functional and yet you can find it for around $300.
There aren't too many reviews currently on Amazon since this isn't the most popular desk converter, but on a small number of reviews, it currently has a 4.9/5 star rating.
And that pretty much goes with how I rated this desk converter. In addition to being sturdy and easy to adjust, this is a great converter for tall people as it towers over most other options you can find.
It is also eco-friendly as it is made with a bamboo top. Most other converters come in some type of plastic so this gives it a unique look to it as well.
The Cooper Standing Desk in More Detail
Price
As mentioned, this converter goes for $325. The great thing is this is the original price of the converter, most tend to start at about $400 and then you may be able to find them on sale for close to $300 if you're lucky.
Now, even though this a good price point for the Cooper desk converter, it actually used to go for $290. They updated their price in 2018, probably because $325 really is what it's worth.
Overall, this is a terrific price for everything you are getting. There are a few standing desks that hover around the $300 range that are worth considering, and this may just be the best one to choose.
Yes, you can find standing desks closer to $200 but the specs probably won't compare to this desk.
Desktop Space/Versatility
Here is where the desk is just pretty basic. It is two flat pieces of bamboo. Having an ergonomic cutout can give you more room on the bottom level if you want to move your monitor down there or are working on a laptop.
So mainly, as long as you are using a desktop computer, then this won't be a huge issue. Just realize if you mainly work from a laptop then this won't be the ideal standing desk for you.
One of the Tallest Standing Desks
This is one of the best standing desk converters you will find for tall people. In fact, it is my most recommended if you want a Z-type (or scissor style) standing desk.
These desks have more stability, but unfortunately, they tend to max out at 15 inches of keyboard height and about 20 inches for monitor height. Not the Fully Cooper.
The Cooper desk has a maximum keyboard height of 17.3 inches and a maximum overall height of 22 inches!
So what that means is that this desk converter will be tall enough for someone 6'5″ with ideal ergonomics. Of course, this will depend on your desk height as well.
Here is the thing though, even someone 6'7″ or 6'8″ could use this desk converter. It won't be completely ideal as you would have to bend your wrists some to make it work, but it will get the job done.
If you're over 6'5″ and not sure if this desk is for you then you can check out more information about correct height on this article, or you can just take a look at all of the best standing desks for tall people here.
Height Range Can Be Limited While Sitting
This desk is absolutely great in terms of maximum height, but one thing to consider with this desk is whether or not it will work for you while sitting.
Mainly what I mean by that is your monitor will sit off of your desk 6.25 inches. Now, won't be a huge deal for most people, but think about, we are used to having our computer at desk level.
Now if you tend to sit completely upright, then this probably won't be a big issue for you. But if you are someone that tends to lay back 45 degrees or so then this might bother you.
I always recommend utilizing an articulating monitor arm with a standing desk to help out with this issue, but the fact that there isn't an ergo cutout on the top shelf means you can't really move your monitor down at all, you can move it closer though and that may be enough to solve the problem.
Again, this height difference doesn't bother most people and the fact that it puts your monitor in the perfect position while standing makes this a moot point for a lot of people.
Build/Sturdiness
With the scissor style desk you would think while adjusting this to its maximum height there would be some stability issues, but really it is just as sturdy as other desk converters that don't travel as far up.
Even at its maximum height there isn't much wobbliness.
The solid bamboo top is made to last for years and will go beyond the 2 year warranty. Like most desk converters it holds a maximum of 35 pounds (30 on the top level and 5 on the keyboard level).
This means that although it isn't as sturdy as some, it is still strong enough to hold dual monitors as they don't tend to weigh much more than 10 pounds each.
Adjustment
Most converters tend to have 2 squeeze levers to adjust, this only has one squeeze lever. You adjust it kind of "up and over" as the X scissor adjustment slides thinner.
This is an easy adjustment and can be raised and lowered in just a matter of a few seconds, which is another perk of this style of converter.
Warranty
The Fully Cooper comes with a 2-year warranty. To put this in comparison, the Varidesk Pro Plus standing desk (possibly the most popular desk converter) only comes with a 1-year warranty.
So 2 years isn't too bad. It could be better though as there are a few desk converters that actually come with 5-year warranties. And one even comes with a lifetime warranty.
But, here's the thing. Sometimes warranties are just put out as a selling point and have all kinds of restrictions as to whether or not they will actually qualify so take that with a grain of salt.
Check out this quck video to see it in action:

Final Verdict/Overall Score
| Factor for Total Score | Rating (Out of 5) | Impact on Final Score |
| --- | --- | --- |
| Durability/Quality | 5/5 | 20/20 |
| Stability/Wobbliness | 4.5/5 | 13.5/15 |
| Price | 4/5 | 12/15 |
| Height Range | 5/5 | 15/15 |
| Desktop Space/Versatility | 4/5 | 12/15 |
| Aesthetics | 4.5/5 | 9/10 |
| Speed | 5/5 | 10/10 |
| Total after normalizing | | 91.5/100 |
More Info and Where to Buy Online
Fully Cooper at Amazon.com
Fully Cooper at Fully.com