Hello and welcome to my UpTrak-dual level adjustable standing desk review.
Stand Steady makes some of the best adjustable standing desks and the UpTrak is one of my personal favorites. Which is why I rated it number 1 for most affordable sit/stand desks!
If you're looking to buy the UpTrak dual then this will give you a good idea whether or not it is for you.
Overall Rating
Company: Stand Steady
Desk: UpTrak-Dual Level Adjustable Standing Desk
Style: Manual Adjustment
Average Price: $189.99
Where to Buy: Standsteady.com
Rating: 90/100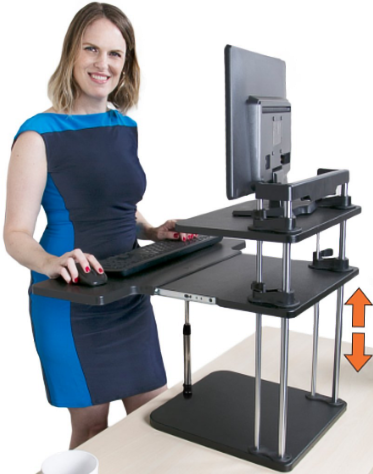 Specs
Height Range: Top level: 4.25″ to 14.5″-17.5″ standing. Keyboard tray is .5″ to 12″-15″ standing.
Width/Depth:  25″ wide, 18.5″-25″ deep
Speed: Less than 15 seconds
Weight: 21 pounds
Weight Capacity: 25 pounds for each level
Assembly: Roughly 15 minutes
Extras: Adjustable keyboard tray that extends out
Warranty: 1 year
Pros
Highly affordable
Small footprint
Lightweight
2 tiers for correct ergonomics
Extendable keyboard tray
Tall height range for a desktop workstation
Easily Adjustable
Low noise when adjusting
Looks cool
Cons
Only holds one monitor
25-pound weight limit making it less durable
Limited height range while standing (see below)
Keyboard tray doesn't go all the way down to desk level while sitting
UpTrak Dual Overview
As mentioned above, the UpTrak is very affordable, costing roughly half as much as other quality sit/stand desktop workstations. This is why it made the top of my list for the most affordable sit/stand desks.
Fortunately, it is still a high-quality product. It has a small footprint and is perfect for anyone that may have to periodically move cubicles at work.
Its low cost combined with quality makes it attractive for anyone looking to get a sit/stand desk for the first time. Not everyone wants to spend close to $400, especially if they don't know how much they will utilize the desk.
The UpTrak Dual in More Detail
Price
The original cost of the UpTrak dual was $299.99. You can now get it for less than $200. Right now, you can find it on sale in the $150 range, which is a terrific price!
Purchasing a Varidesk will cost close to $400 to give you some perspective about what a sit/stand desk option can cost.
The UpTrak Dual is Good for Taller People
As mentioned above this is a great desktop option for taller people as someone as tall as 6'3″ could use this desk option quite comfortably (although this also depends on desk height).
The keyboard tray raises as high as 15 inches off of your desk and the top level for your monitor can reach as high as 17.5 inches.
The 15-inch height range for your keyboard, which may not sound that tall, is higher than most sit/stand desktop options.
The 17.5-inch monitor stand level isn't quite as high as some other options, because of this if you're taller, you will want to use a taller monitor or a monitor stand.
Here is what I'm referring to: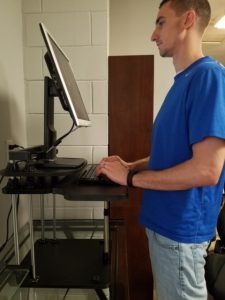 As you can see, I'm 6'2″ and it works because I have a monitor that is able to be raised up higher and also tilts up. So you can see for yourself how this may work for you.
The Adjustable Height Range is Limited, However
Even though the UpTrak is able to reach taller heights than a lot of desktop workstations, the height range is also one of its flaws.
Because of the front support rod, the keyboard height has to range between 12 and 15 inches, and the monitor has to range between 14.5 and 17.5 inches.
As you can see here: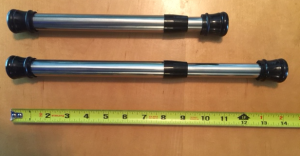 Those are the highest and lowest levels you can adjust the support rod.
This means if you are shorter, you may not be able to put it low enough while standing. This means that someone under 5'10" may have issues with the height when raised up.
The simple solution is to use your own front support, as some people explained this is what they had to do while reviewing the product. However, it would be nice if there was another optional size for shorter people.
The Lowest Height is Near Desk Level
While lowered down your actual keyboard tray won't be a half inch off of the desk because the keyboard tray sits on top of the bottom level.
Because of that, the keyboard tray sits about 1.75 inches off of the desk. The monitor height can go as low as about 3.75 inches off of the desk.
Here it is while lowered down:

Build/Sturdiness
The build of this desk is smaller than other sit/stand desk options so naturally, it doesn't hold as much weight. Each level has a maximum weight capacity of 25 pounds.
Although some other desktop workstations can hold up to about 80 pounds, most hold about 35 pounds. So this desk isn't far off from the average sit/stand desktop workstation.
Pound for pound, this is one of the sturdiest desktop options. It only weighs 21 pounds and is able to hold more than it's weight.
While standing, there isn't any wobbliness from the keyboard tray alone, but you can feel the entire desk move a little if you put too much pressure on it. This really isn't noticeable while working, though.
When it comes to sturdiness, the UpTrak really does what you would think it would do. It supports a good amount of weight but isn't going to be as sturdy as a larger option that weighs twice as much.
Desktop Size/Versatility
This is one of my favorite features of the UpTrak Dual. It utilizes a small amount of space. This could be a positive or negative depending on how you look at it.
For people that need to move cubicles at work periodically, this is the perfect desk. Because it is so lightweight and small, one person can easily pick it up and move it.
Also, with it taking up very little space. It gives you more space on your actual desktop. So even though there is less space, there isn't any wasted space being used by the UpTrak and you can utilize your desktop whereas other options tend to take up the entire space.
Another great feature is that you can adjust the keyboard tray further way from your monitor if you need to. This is something that can be utilized mainly while standing up.
Most people tend to lay back some when they sit, so they won't keep the same distance from their monitor when standing upright. This makes the adjustable keyboard tray is a great feature for improving ergonomics.
Adjustment
The adjustment of the desk will probably take about 15 seconds moving it up and down, initially maybe a bit more, and after you get used to it you can probably do it in about 10 seconds. Moving it down will take even less time since you don't have to worry about matching the height with the front support pole.
You simply adjust the clamps on the side and slide up each level. Once you've got it at the correct height you just add in the front support rod.
This may seem obvious, but both levels are adjustable and don't have to stay the same distance apart.
The noise level while adjusting isn't going to be completely silent. It isn't loud though and only takes about a second to move each level up, so the noise isn't a concern.
Colors/Styles/Extras
The UpTrak Dual Level Adjustable Desk Riser only comes in black, which I think fits this desk well.
Also, at a price even less than the UpTrak Dual you can get the original UpTrak (it comes in cherry or black), basically it is the same thing only it doesn't have the extra level or the adjustable keyboard tray. However, some people may like this because it is even simpler than the UpTrak Dual. It is also ideal for laptops.
Personally, I think the UpTrak Dual is worth spending the extra money because it basically fixed the flaws that the original UpTrak had. However, the original UpTrak is currently on sale on Amazon for $99.99.
Warranty
The UpTrak comes with a 1-year warranty. Although I would prefer to see a 2-year warranty, this tends to be what most sit/stand desktop workstations come with, even the more expensive ones.
Check out this full video review to see it in action.

Final Verdict/Overall Score
| Factor for Total Score | Rating (Out of 5) | Impact on Final Score |
| --- | --- | --- |
| Durability/Quality | 4/5 | 16/20 |
| Stability/Wobbliness | 4/5 | 12/15 |
| Price | 5/5 | 15/15 |
| Height Range | 4.5/5 | 13.5/15 |
| Desktop Space/Versatility | 4.5/5 | 13.5/15 |
| Aesthetics | 4.5/5 | 9/10 |
| Speed | 4/5 | 8/10 |
| Small Footprint | +3 | +3 |
| Total after normalizing | | 90/100 |
As you can see the UpTrak scores really well, I added 3 points to the score for its small footprint. Some of the things that it lost points for can actually be positives.
For example, less space gives you more actual desktop space. Less sturdiness is because it only weighs 21 pounds. Etc.
Its small footprint is what makes this such a great desk. At the end of the day, it comes down to whether or not that is what you are looking for. But when it comes to saving space but still maintaining a high-quality standard, the UpTrak by Stand Steady is at the top of my list.
More Info and Where You Can Buy Online
If you would like to purchase the UpTrak Dual or want to further research it then check out the links below.