Stand Steady's Hero desk is one of their latest desk converters to come out. It was designed specifically for taller people and is one of the taller standing desk converters you can find.
In addition to that, it comes at a ridiculously low price (if you find it on sale). Stand Steady really came through on this one with a desk converter that simply blows away most of the competition. Here is my review.
Hero 37 Flexpro Desk Converter
Company: Stand Steady
Style: 2 Tier Scissor
Average Price: $250
Overall Rating: 90.5/100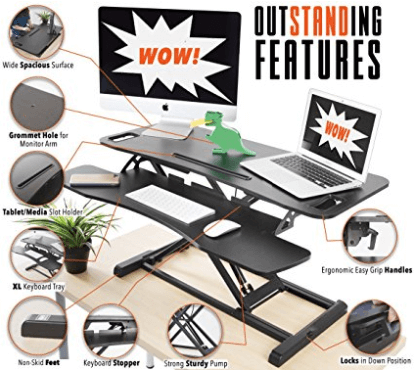 Specs
Height Range: Top level is 4.25″-20.5″ adjustable. Bottom level is 1″-17″ adjustable.
Width/Depth: Base is 30″ x 16″. Overall top is 37.5″ x 23″.
Speed: 3 seconds
Weight: 45 pounds
Weight Capacity: 35 pounds
Assembly: 5 minutes
Extras: Phone/tablet slot
Warranty: 1-year
Pros
Highly affordable
Very tall height range
Easily adjustable
Capable of holding 2 monitors
Great ergonomics while sitting
Monitor arm accessible
Easy assembly
Very quiet
Tends to be on sale
Lifts straight up
Very little wobbliness
90-day risk-free guarantee
Cons
Average sturdiness
Cell phone/tablet holder is a little unnecessary
Not ideal monitor position while standing (see below)
Only a 1-year warranty
Overview
This review is specifically for the FlexPro Hero 37 as I think it is the best purchase you can make from Stand Steady's FlexPro series. They have other options that are great buys as well. They have a Winston converter which is the tradition Z type desk that is a little sturdier but will cost a bit more. They also have a 32″ Hero option you can go with, or you can choose an electric option.
The Hero 37 is the perfect combination of quality, price, and functionality in my opinion. If you want a desk that has quality height range but don't want to break the bank doing it, this may be your best option to go with.
The fact that you can tend to find this on sale close to $200 is insane. In fact, this converter basically made me change my entire ranking system for pricing.
It is more than likely usually going to hover around $300, though, and even at that price it is still a good value.
The Hero 37 Desk in More Detail
Price
I want to start with price on this desk because, again, it is important to point out the value of this desk. It originally hit the market (I believe) for $499.99. It now shows the base price as $399.99.
This price point goes in line with a lot of the top desk converters on the market as they tend to push $400. Here is the thing, if you find this converter on sale for around $300 you are making a quality purchase.
However, it occasionally has even dropped to $199.99 and if you see this desk going for anything close to that then I wouldn't hesitate and would snag it up as soon as you can. Even the $299.99 sale price is a quality purchase for what you are getting with this desk converter.
Like I said, because of this desk and a couple others like it I recently updated my price ranking system. It used to be that you would be lucky to find something like this in the mid three hundred range and in about a year's time prices have been going down quite a bit.
Height Range
Stand Steady specifically made this desk to accommodate taller users. This is one of the tallest standing desks you can find, and it will be a lot more affordable than most other tall options.
Stand Steady states that this desk converter is tall enough for anyone up to 6'3″. This number is actually on the conservative side and they are being completely modest in using that as the overall height.
Of course, it is going to depend on how tall your desk is, and desks tend to range from 28 to 30 inches. I can tell you that 6'3″ may be the tallest ideal height if your desk is on the shorter end, but if your desk is a 30-inch desk then this could easily accommodate someone 6'5″ comfortably.
And if you don't mind bending your wrists a bit, someone as tall as 6'6″ or 6'7″ could even use this desk. That is extremely tall for a desk converter as most tend to be tall enough for someone 6'0″ or so.
Here are the dimensions: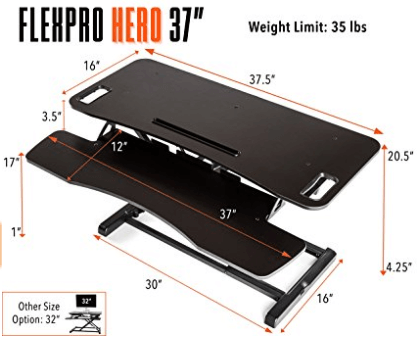 Minimal Distance Between Levels
Some converters will have a distance of about 6 inches between the bottom and top level. This can be good for when you are standing, but while sitting this can be a real negative.
The thing is, we are used to having our monitors at desk level so if it is raised up too high then you may have to really strain to see your monitor, especially if you tend to lay back at all while sitting.
The fact that the top level only sits 4.25″ off of your desk means that this will put you in a really good ergonomic position while sitting.
And the thing is, even though while standing you may prefer your monitor to be a little bit higher, most monitors can tilt up.
So I really think that the limited distance between levels is a positive in terms of overall experience.
Warranty
Stand Steady offers a 1-year warranty on this desk. I put this as one of the cons to this desk, but I actually wouldn't let that stand in the way of getting this desk.
They offer a 90-day money back guarantee on this desk that really overshadows the warranty.
Most companies offer 30 days, and that really isn't that much time to get that much use out of your standing desk. So 90 days to be able to send it back for a full refund is exceptional.
Now, as far as the warranty goes, some companies tend to offer 3 or even 5-year warranties on converters that are similar in quality, but these also tend to be limited warranties that will only cover it under strict conditions.
So, again, I think the 90-day guarantee cancels out the shorter warranty.
Desktop Space/Versatility
The great thing about this desk is that the bottom that sits on top of your desk is only 30 inches wide, so it doesn't take up a lot of space but yet the total width is over 37 inches.
This gives you plenty of working space and is spacious enough to hold 2 monitors.
The keyboard tray is also large enough that there shouldn't be any issues with having enough space. However, without an ergonomic cutout on the top level you wouldn't really want to use this desk for laptop use as there isn't enough room on the bottom level.
In addition to that, a lot of people's main complaint about this desk is the phone/tablet insert that it has. Most people tend to use a case on these items and it won't fit in with most cases. It also gets in the way if you wanted to write or anything like that on the top level.
Build/Sturdiness
The overall sturdiness of the desk is pretty good, and it has very little wobbliness even at its maximum height.
It isn't made of a high-quality steel or wood and I believe is mainly a plastic composite, however, the build of it is top notch so this isn't much a concern.
Considering the engineering of the product allows 35 pounds and has got mostly positive reviews in terms of overall sturdiness, the build quality is good. Overall I gave it a 4/5 in the area.
Adjustment
The adjustment of this converter is really smooth as you just squeeze the handles on the side and raise/lower it. It should only take a few seconds either way.
The sliding "scissor type" adjustment may actually be easier than the Z type desks because the desk almost seems to do half the work for you, so the ease of adjustment on this converter is top notch.
Check out this video to see it in action:

Final Verdict/Overall Score
| Factor for Total Score | Rating (Out of 5) | Impact on Final Score |
| --- | --- | --- |
| Durability/Quality | 4/5 | 16/20 |
| Stability/Wobbliness | 4/5 | 12/15 |
| Price | 5/5 | 15/15 |
| Height Range | 5/5 | 15/15 |
| Desktop Space/Versatility | 4.5/5 | 13.5/15 |
| Aesthetics | 4.5/5 | 9/10 |
| Speed | 5/5 | 10/10 |
| Total | | 90.5/100 |
The Hero 37 FlexPro desk by Stand Steady is one the best purchases you can make. It is a great combination of easy adjustment, quality height range, and excellent value.
This desk is highly similar to the Fully Cooper desk converter that I recently reviewed. However, if you find this for less than the Cooper ($290), then this is highly worth considering.
I think it has better ergonomics than the Cooper in terms of the top shelf's position, so that could be the overall reason to go with this option over that, especially if it goes for less.
I do recommend getting this desk on sale, and the great thing is that it tends to be on sale quite a bit. If this comes anywhere close to $200 I wouldn't pass up on it.
More Info and Where to Buy Online
Hero 37 FlexPro at Amazon.com
Hero 37 FlexPro at Standsteady.com