If you use a standing desk then one of the most important things is to get a comfortable pair of shoes to make standing less annoying. Yeah sitting all day sucks, but standing can put pressure on your body as well; mainly on your feet.
Now we, of course, want to be comfortable, but man, some of those "comfort walking shoes" are just plain ugly. So here are some of the best shoes for standing all day at work that don't look like they are made just for geriatrics.
Man, woman, plantar fasciitis? Got ya covered. Here they are. (Ladies first)
Best Women's Shoes for Standing All Day
Casual Shoes
ASICS Gel-Cumulus 17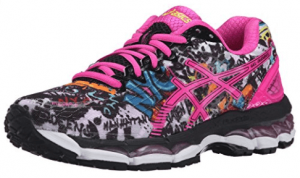 ASICS is known for specializing in running shoes. The great thing is that the comfort designed for running translates over to standing all day as well.
These have excellent arch support and are a great choice if you deal with plantar fasciitis. These shoes simply have more cushion than any of their other options.
Now they have newer versions you can also go with (goes up to #20) but the 17s got excellent reviews and of course will cost you less. So it's really a win-win.
They also have a ton of different color options you can go with. This one is the NYC version, but they have pretty much any color option.
Brooks Launch 4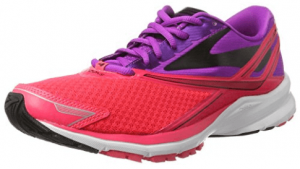 These running shoes are great because they just look cool. Typically when you think of shoes designed for standing all day you think of an all black or white shoe with a buckle…made for the elderly. They don't have to be.
These shoes are a great choice if you want something comfortable. Now you can always go with the Brooks 5 or 6 as well, which also get excellent reviews, but these also got great reviews and they have a lot more color options.
Brooks has an excellent track record for making comfortable shoes and these may be the best option they have.
Mephisto Laser Walking Shoe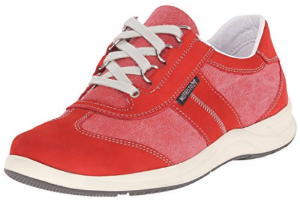 The Mephisto Laser walking shoes tend to be highly recommended by podiatrists. They are a higher end option you can go with that will last a good amount of time.
They combine comfort with terrific arch support. Designed for walking means they are designed primarily for comfort which directly translates to standing all day.
These shoes are made from a quality leather combined with rubber soles. The common complaint about these is that they may run a little small so you may want to go to a half size larger.
They also come in 14 different colors so you have plenty of options to go with. If you don't mind a more basic or plain color then you could also try their Yelda Flat shoe. This is a slip-on option that could also be appealing because of its terrific comfort. Mephisto simply makes excellent shoes designed for top-notch comfort.
Clarks Women's Wave Trek Shoes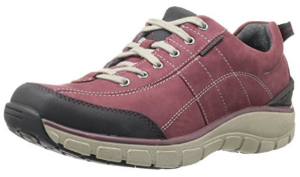 Clarks make shoes designed for maximum comfort, and these are no exception. The great thing is they have several different color choices you can go with to match your purse.
The reviews were pretty consistent that these shoes do tend to be rather narrow, so keep that in mind if you are considering getting them.
But if you have a narrow foot and are looking for a quality shoe with excellent arch support, then the Clark Wave Trek may be the way to go.
Pikolinos Modena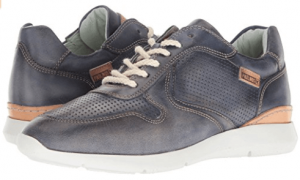 Pikolinos has a really unique look to their shoes, and the quality of what they offer is top notch. The Modena shoe has a really stylish look to it and if you go with this opion you'll probably be the only one wearing these shoes.
In addition to their unique style, the comfort they come with is top notch. The arch support is just right for most people and the density of the sole combined with the padded shoe insert makes these a terrific option for standing all day.
Casual yet elegant enough to work in most office settings, this is one of the best shoes you can go with to help your feet feel good throughout the day.
Nike Women's Tanjun Racer Running Shoe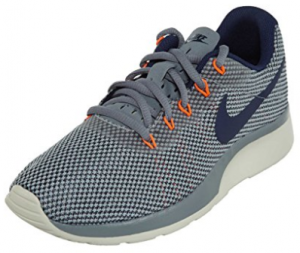 There are plenty of great options that the Tanjun offers, but the Racer running shoe has a really cool look to it. These shoes are excellent in quality and surprisingly aren't overly expensive.
Usually, when you think about Nike you expect to spend well over $100 to get some of their best shoes, but you should be able to find these under $100 on Amazon and depending on your size close to $50.
That makes these shoes a very attractive choice and perfect for standing all day as the reviews on comfort and support are very positive.
This style has very few reviews but currently has a 4.8/5 rating on Amazon and the Tanjun running shoe which is basically the same thing only a little more basic in style currently has a 4.6/5 rating with over 400 reviews.
Orthofeet Verve Orthotic Sneakers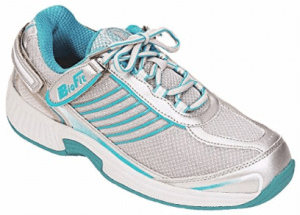 These are probably the most basic looking shoe on the list. Wait, did I just break my rule here? These are kind of what I said I wasn't going to put on this page right…ok well they don't look that bad, and at least these don't have a buckle lol (they do have a buckle version).
The thing is these shoes are just so damn comfortable I had to include them, as you know, if you couldn't guess it based on the name they are made strictly for comfort.
If you don't mind scaling back on aesthetics a bit then these are some of the most comfortable pairs of shoes designed to help you stand all day at work.
Boots
Taos Women's Crave Boot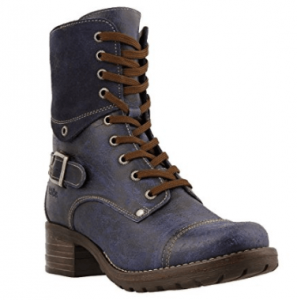 These may just be the most comfortable boots for women. On almost 400 Amazon reviews these boots got a 4.7 rating.
They look great, feel great, and will last a really long time. The arch support on these boots are high quality and come with an insert that won't need to be replaced.
That is a common praise of these boots, that surprisingly, you don't even need to add orthopedic inserts because they are already so comfortable.
In addition to that, they have just about any option you can think of. So if you want a different color they have just about anything. And if you want a different style they have that too.
They offer a taller option, a shorter option, and even a "western" option for you country girls.
Dromedaris Kara Boot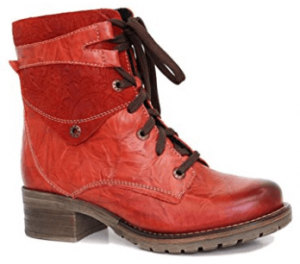 The Dromedaris Kara boot is another near 5-star boot that is top notch when considering comfort and looks as well. These are a little more country than the Taos Crave and have a really unique look to them.
They are eerily similar to the Taos in terms of arch support, overall comfort, and color selections and negative reviews were almost nonexistent on Amazon as these boots currently have a 4.8/5 rating on over 80 reviews.
These boots are just a flat out sexy boot, and yet provide maximum comfort for standing at work.
Dansko Luann Ankle Boot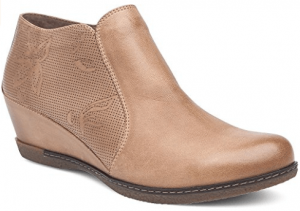 The Dansko Luann has a nice look to it. It easily slips on with an easy access side zipper giving you a practical option to go with, and it still looks extremely classy.
Dansko is well known for providing extremely comfortable options and I think the Luann is the perfect option for indoor work environments.
Made to fit just right, these boots will be an excellent choice as you stand at your standing desk.
Skechers On-The-Go City Bundle Boots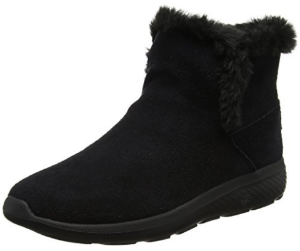 Unlike a lot other boots made mainly to look attractive, these boots have excellent arch support designed to help you stand on your feet all day.
They don't have an overly high heel either which can be another issue with women's boots being uncomfortable. Also, in addition to the comfortable sole, this boot provides it also comes lined with fur all the way to the toe! So it's almost like wearing a slipper all day, only ya know, it's a good looking boot you can wear to work.
Being a boot made by Skechers these also won't be absurdly priced. In fact, they tend to go for about half the amount other high-quality boots go for making this a quality purchase.
Teva Women's De La Vina Boot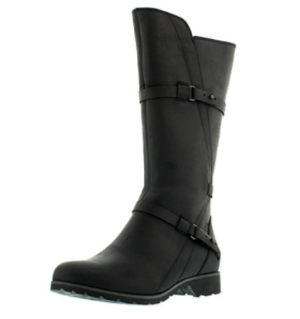 If you're looking for a stylish, tall boot that can also work for you at work while standing, then, believe it or not, this one can totally work for you. Yeah I know, when you think about a work situation it's hard to think something that looks this damn good can be comfortable for standing, but it is.
The reviews on this were not only positive in terms of comfort and arch support, but also the durability of these boots was something that was a common theme. On over 600 reviews on Amazon, these boots have a 4.4/5 rating. Usually the more reviews there are the more ratings tend to decline, so having a 4.4 rating is excellent!
These boots are perfect for an office job where you utilize a standing desk, but still want a stylish boot to wear.
Dress Shoes
Timberland PRO Renova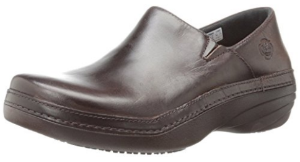 I'm calling these dress shoes, but ya know, they could also be considered boots…or loafers. Either way, they are classy looking shoes they could be considered formal.
They would go great with khakis and a button up. The great thing is that the arch support on these is really good. It has a thicker heal as well for extra cushion if you tend to have issues with pain in that area.
Timberland is known for making excellent shoes and this is one of the best you can find for standing all day.
Pikolinos Sitges W7J Oxford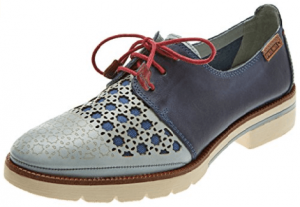 Considering I personally wear Pikolinos and have a strong bias towards them (because they are comfortably af), I have to recommend a 2nd option made by them for women.
This shoe has a more eccentric look to it yet is still really classy and will work in most office environments. If you decide to go with this option you'll probably get complimented quite a bit on your bold choice of shoes.
And that's a good thing with these because they look super cool and as I mentioned above, are incredibly comfortable for standing all day.
Alegria Joleen Loafer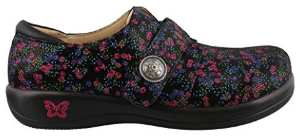 I know what you're thinking. Dress shoes? Seriously? Don't worry, they have an all black or an all brown you can go with as well, plus if you don't like the buckle you could try their Keli Pro version, which is pretty much the same thing but didn't have as high of a rating as the Joleen.
So this comes in as a great option that comes at a decent price. Another great thing is that they don't just have a few different colors, there are dozens of different colors you can go with if you decide to go with these or the Alegria Keli's.
The Alegria brand is gaining popularity for its comfort and unique style they offer.
Naturalizer Betina 2 Pump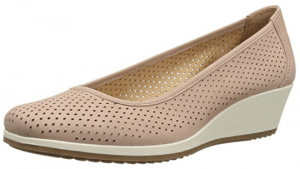 These are probably the closest thing you can get to heels that are still going to be comfortable enough to stand all day. These shoes made by Naturalizer are a great option because they have such a unique look to them.
These are just sexy shoes. They look good and yet still offer a level of comfort that will work for standing at work all day.
In addition to the pump featured here, Naturalizer actually offers a variety of different types of shoes that are made to be comfortable yet still look good.
CLARKS May Marigold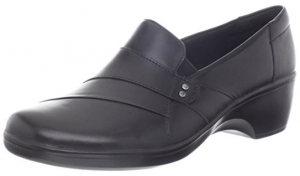 This option made by CLARKS is great because it is not only comfortable but highly affordable as well as you should be able to find these around the $50-$75 range. For what you're getting here you can't ask for much else.
These shoes are a comfortable fit as CLARKS is probably going to be your best option if you are looking for the economy version of something that still looks really good and is still made really well.
These won't last as long as something you're going to pay double for as they are made of a synthetic leather. But hey, nobody is going to know that. For the most part these shoes look as good as anything else. This is a terrific choice.
Anne Klein Camrynne Pump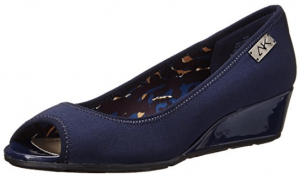 If you decide to go with this fashionable dress pump then you'll definitely stand out at work. These shoes are going to get you compliments. They just look that good.
The 1.5 inch heel on these means they aren't your standard comfort designed shoe, but these are some of the most comfortable pumps you can find.
If you work at a job where you dress up and maybe even wear the occasional dress or skirt, then these are a terrific choice to go with. They also come in black and those look just as good.
Sam Edelman Pump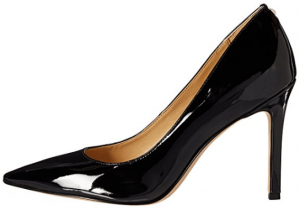 Ok, I didn't want to do it. I mean seriously, how can anyone wear high heels for 8 hours and be comfortable? But I know it's going to happen. You want to wear heels to work.
I mean let's face it, if we're talking style we need to include some heels, and the Sam Edelman pumps are some of the most comfortable high heels for work.
This option shown above is the Hazel, but they have a variety of different options. These are shoes that will last you forever and aren't overly expensive, and are surpisingly comfortable. The reviews on these are extremely positive.
Alternative Styles
Keen Women's Howser II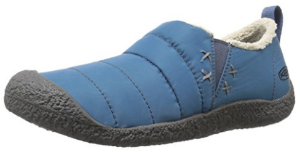 If you're able to get away with wearing slippers at work, then this should do the job for you. These aren't your average loafers, they are kind of a combination of a loafer and a shoe. Which qualifies them to wear at work (if you ask me).
These have a unique look to them that won't appeal to everyone, but they definitely stand out in terms of aesthetics and quality.
The simplicity of being able to just slide them on in the morning and head out makes them an attractive choice.
HKR Platform Loafer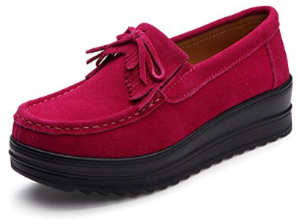 The HKR platform shoe is going to be one of the most economical choices you can make. Not only is it inexpensive though, but it is a really comfortable shoe.
It still gets 4 stars on Amazon and the common theme was that these platform loafers are really comfortable. Just look at all the padding they provide.
Now, depending on your taste you may or may not think this a good looking shoe. The loafer style isn't going to be for everyone. If you like it then this can be a great choice to help you while standing all day at work.
Best Plantar Fasciitis Choice for Women
Brooks Adrenaline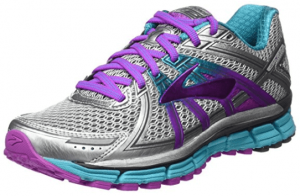 The Brooks Adrenaline is probably the best option you can go with if you have plantar fasciitis. Sure, everybody is different so not everyone will agree. But this option is simply loved by almost anyone that wears them.
Currently, on Amazon on over 1,200 reviews, they have a 4.4 rating. Which is exceptional for the number of reviews on these shoes.
The arch support on these are perfect for someone with plantar fasciitis and you can easily add a custom insole if you want to as well.
In addition to quality support, the shock absorption on these is top notch as well as they have the perfect combination of cushion and comfort while not being overly soft. You simply will not regret going with this option if you have plantar fasciitis.
Best Men's Shoes for Standing All Day
Casual Shoes
ASICS Gel Quantum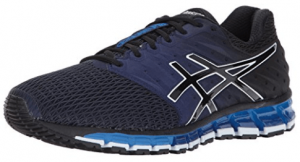 ASICS is known for making really comfortable running shoes. Turns out this are great for standing all day too. The Quantum style is one of the coolest looking options you will find from them.
The shoe above is the ASICS Gel Quantum 180 but you could also go with the 360 version. Both are high-quality shoes that have a unique style.
The reviews on these are basically that these shoes are so comfortable it's freaking ridiculous. They are so comfortable you should basically just buy multiple pairs to last you through the Apocolypse.
ONEMIX Lightweight Air Cushion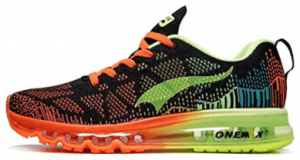 ONEMIX makes some excellent shoes for maximum comfort. And the great thing is, they aren't quite as popular as some other brands so if you go with these you'll probably have people asking you where the hell you got these.
In addition to just being plain awesome, they are rather affordable as well. You can usually find these bad boys for less than $100.
If you don't want such an eccentric style like the one above then they also come in all black that you can wear with anything.
Nike Men's Tanjun Premium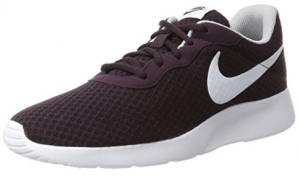 The Tanjun is one of the most comfortable shoes you can find, and it is definitely a stylish shoe as well. It has a good amount of arch support to go with its thick soles for plenty of cushioning and support. This is my favorite option made by Nike that you can go with.
It isn't overly expensive but is one of their more comfortable options. You may want to consider adding a shoe insert to these for added arch support. But either way, these are really comfortable.
These are perfect for anyone that stands all day but is still able to wear casual shoes. This is perfect for anyone selling iPhones or TVs all day as it is made for walking as well. You simply can't go wrong with this option.
New Balance Men's 998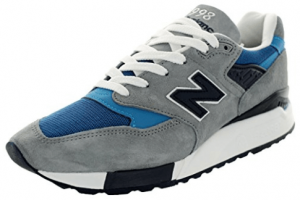 This shoe has that classic New Balance look to it, yet looks cooler than most. It isn't the flashiest looking shoe, but man is it comfortable, and this is one of the highest rated New Balance's you can find.
This is mainly a training shoe but is also made for casual comfort. This makes it perfect for standing all day at work.
You could really go with any option from the 996-998 as these have a similar look and feel to them. And if you've ever worn a pair of New Balance you know they tend to just be more comfortable than the average shoe.
With all of the cushion these have combined with their cool look, they are simply great sneakers.
Reebok Men's R Crossfit Nano 2.0 Training Shoe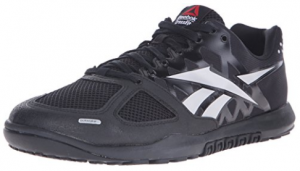 These shoes are primarily made for CrossFit. So if that's your scene then this may just be your top choice. The difference between these shoes and most others on this list is that although they are comfortable, they don't have much arch support at all.
And some people prefer it that way. A flat shoe can be just right for some people, and this is one of the best you can go with. It is a durable made shoe as it is designed for high-intensity training. So if you're using these to stand all day at your desk then they should last a long time.
Brooks Men's Caldera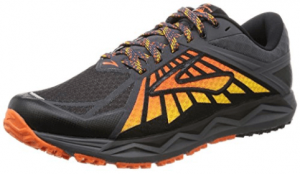 Look. You can't go wrong with some Brooks. I think the Caldera looks badass, but you could also go with their "Launch" style. Hell, really anything they make is good.
This version got some of the best ratings though and at the same time, they come with excellent cushioning and support.
As you can see the style of these are very eccentric looking, so they won't be for everyone. I'm sure you know whether or not these are for you just by looking at them.
Cole Haan Grand Horizon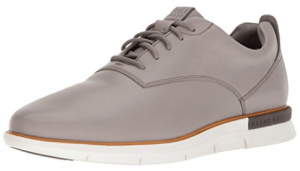 These are an excellent shoe for work because they are kind of a hybrid between regular sneakers and dress shoes. They aren't too casual and aren't too dressy, which is going to be great, especially for a lot of office jobs.
If you want to go even dressier then they have an Oxford version of these that are a quality buy as well.
The comfort of these are also top notch as people seemed to be surprised at just how comfortable they are. Now, if you're considering getting these then it is important to know that a lot of the reviews stated they run a little big, so you may want to go a half size down.
Boots
Pikolinos Caceres Cap Toe Leather Boot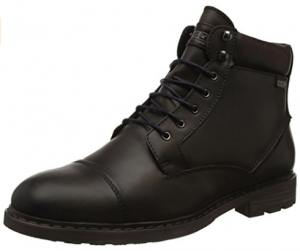 The instant I put this boot on I knew I had to have these boots. I stand a lot of the day at my standing desk, and these were a match made in heaven.
Pretty much what happens when you put on these boots is that it feels like your feet just kind of melts into them. Kind of like you're walking on clouds…I had to look down to make sure I still had feet.
My feet were in a state of such overall comfort that I forgot I even had them attached to my body. That's how comfortable these are. Oh, and you can have them too.
Keen Anchor Park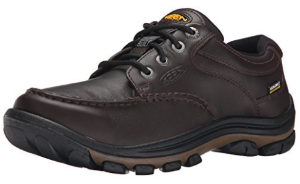 Keen makes some really awesome hiking boots, and this their version of a casual walking shoe. So it still has the rugged hiking boot look only dimmed down a bit to go perfectly with a pair of khakis.
Now don't get me wrong, you can always go with one of their hiking boots as well because those are also made for comfort. But these are going to be one of their best options for standing all day.
These combine high quality, comfort, and arch support to make a great all around boot/shoe.
Carhartt CMF6366 Work Boot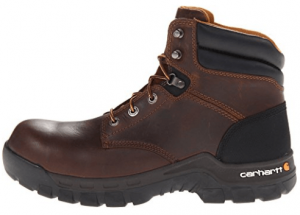 These are a more heavy duty boot that is made for pretty much anything ranging from construction work to indoors in an office. These are primarily made for outdoor work that includes standing on hard surfaces.
The fact that they are made for standing on concrete all day means that they are a great boot for standing on anything.
If you like the style of these then I say go for it, they are a very comfortable boot that is also incredibly durable and will last longer than most. This a great buy.
MIDA 14062 Men's Winter Ankle Boots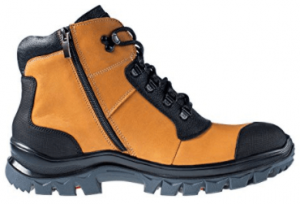 I don't know how to put this…but these boots, are kind of a big deal. Not only are they super awesome, but they are multi-purpose boots made for walking through the snow.
Hell, they even have a non-slip optional grip on the bottom of the boots. So you know when your grandparents are like "back in my day I used to walk 8 miles to and from blah blah blah" well these are the boots they needed.
Fortunately, you don't have to walk all day long, you're just looking for something to help you stand, and these will do the trick.
Thursday Boot Company President Lace Up Boot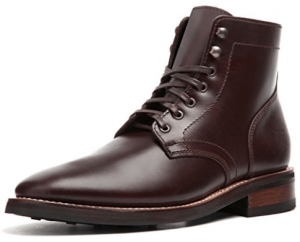 Now these are just a classy boot. Built to the highest level of perfection. They combine quality, durability, and of course, comfort.
Even though these are actually boots, they really could qualify as dress shoes as well. So these are perfect for any indoor office environment.
They have a few different color options including a solid black that looks just as sophisticated.
In terms of comfort they have a leather sole on top of the rubber sole as you can see above, this gives them plenty of extra cushion for standing all day at work.
Florsheim Medfield Plain Chelsea Boot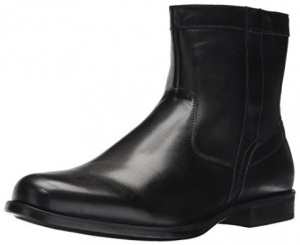 Here is another sleek looking leather boot that is one of the most comfortable boots for standing. They have 100% leather insoles that are made to last. Unlike traditional insoles, they don't lose their original feel.
The insoles have a "stability heel cup" for extra shock absorption. So they specifically made these boots with comfort being a main focus.
In addition to all of the comfort these boots provide, as you can see they are great for almost any work environment, whether you are in retail sales or stand at a standing desk, these will work for you.
Magnum Stealth Force Zip Up Boot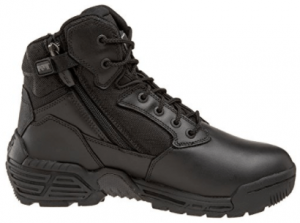 I wanted to include something here that works for just about any circumstance. And this is it. The Magnum Stealth Force boot is just about as versatile as you can get.
It is great for heavy-duty work, walking, and can even work in an office environment because of the all black look it has.
These boots have great tread, are waterproof, they breathe well, have a zip up side for easy convenience, and also aren't overly bulky to slip under a pair of jeans or even khakis making this an all-around beast of a boot.
Out of all of the different options that have this type of style these got the highest ratings and praise in terms of overall comfort, the thick bottom sole gives you so much comfort it almost just feels like you are levitating.
CONDOR Men's Wyoming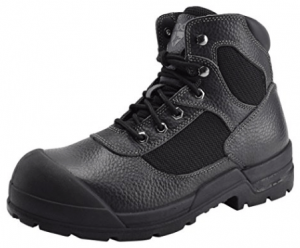 Okay okay. I get it. You want something more affordable, and pretty much everything else listed here costs over $100. So these are the bargain boot choice for standing all day.
These will cost you less than $50 but yet surprisingly are made of real leather. Other boots you tend to find at this price range are faux leather that doesn't last very long.
Now, another good option also made by CONDOR is their Dakota boot, which is similar to this only goes higher up on the ankle. Both are good options but these got better reviews on overall comfort.
Dress Shoes
Allen Edmunds Carlyle Oxford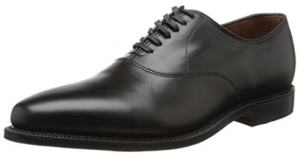 The Allen Edmonds Carlyle is the perfect combination of class, style, and comfort. Their hand stitched design is thought out to every last detail being just right.
In terms of comfort, there may not be a better option than what the Allen Edmonds line offers. They have other various styles as well and each and every one of them are top notch.
These dress shoes are a business man's dream, and are the first choice I would go with if you want a comfortable dress shoe.
Samuel Hubbard Founder Oxford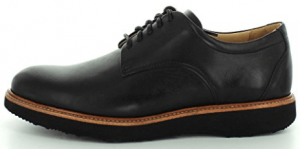 These are another dress shoe that stands out above the rest in terms of comfort. They are simply made for maximum comfort.
They provide more cushion than most dress shoes as the thickness of the sole spreads down the entire shoe. A lot of dress shoes only have a decent amount of cushioning on the heal area, but these are the exception.
Aesthetically they don't look quite as dressy as some other options listed here, but that may be a good thing as these will go well with a pair of khakis.
Bostonian Melshire Wing Lace Up Oxfords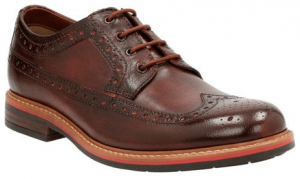 Look, you're not a fackin schmuck that's gonna spend four hundred dollas on a pair of fackin shoes. You's guys on the east coast is too smart for that.
Who do these wise guys think you are, a bunch of bozos!? Pleeaasse, the Bostonian Melshire comes in at less than a hundred. They also go great with a pair of khakis that you can put your khakis (car keys) in.
Just don't fackin nack' on me for tellin ya about these at such a great price eh?
Whoa…I got little carried away with that Boston accent. Anyways, these shoes are a great buy (forget about it).
ECCO Holton Slip-On Dress Shoe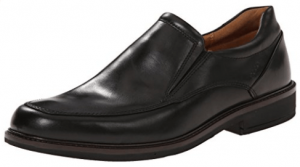 ECCO makes some high-quality dress shoes, and their slip-on Holton option may just be the most comfortable option you can go with to take some pressure off of your feet.
The way most people tend to define these are that they are extremely comfortable, which is exactly what you're looking for.
These are simply some of the best slip-on dress shoes you can find. Built to last and built for you to wear throughout the day. They also have enough room that you can add an orthopedic shoe insert if you want to, but that may not be needed with these.
CLARKS Tilden Cap Oxford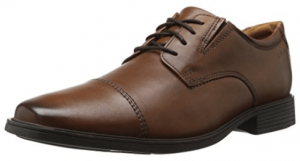 I think people will just assume you spent hundreds on these dress shoes. They look extremely classy but yet come at an incredibly affordable price.
Which is basically what Clark's is known for. They make high-quality shoes but tend to cost half as much as other options. Basically, you're getting a 4-star product instead of 5 stars but saving a ton of money.
These are still really comfortable dress shoes, and with all of the money saved you could add some shoe inserts to make these even better.
Bruno Magli Maioco Dress Shoe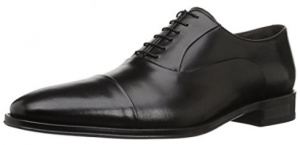 The Bruno Magli Maioco is another top-shelf dress shoe that not only looks incredibly sleek and stylish, but manages to also be incredibly comfortable.
They are actually made from goat leather, which has an even softer feel to it than the traditional leather we tend to be used to.
If you do decide to go with these then you'll look like you should be on the cover of GQ. These are simply such an amazing all around dress shoe that they are worth the extra money.
Alternative Styles
Enlen&Benna Lace Up Oxfords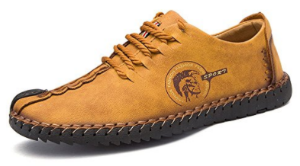 This is another shoe…boot…mocossin?? I'm not really sure what you would call it, but it's different than anything else on this page. This is another insole that doesn't have much arch support yet is a comfortable option.
There isn't much room to add an insole to these so if you don't want a flat shoe then I wouldn't go with this option.
So this won't work for someone with plantar fasciitis as they will need more support. These are simply for those odd balls that don't need much arch support and prefer a flatter option.
Best Plantar Fasciitis Choice for Men
ASICS Gel Nimbus 18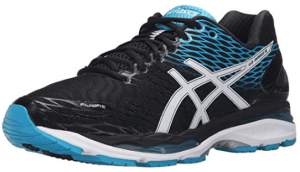 It's tough to choose one to be the best option, but the ASICS Gel Nimbus 18 gets terrific reviews not just for plantar fasciitis, but for overall comfort as well.
Yeah, there are other options you can go with from ASICS that can be good as well. And Brooks has some close second's also. But this is my choice for the best men's shoe for plantar fasciitis.
Considering it has a 4.5/5 rating on Amazon with (currently) over 1,500 reviews, you'll be hard pressed not to like this shoe. It's comfortable, looks great, and of course has great arch support.
Other Things to Consider to Help With Standing
Look, getting a pair of comfortable shoes is probably the best thing you can do to help with standing all day. But there are other things you can do as well.
In addition to getting some quality shoes, I highly recommend getting a standing desk mat. This will give you about an inch of cushion under your feet to give you even more padding.
Another thing you may want to consider is adding shoe inserts. You probaby already have a specific insert you like, and with most of these shoe options listed above you can add a custom shoe insert to them.
More than likely the cheaper option you go with the more likely you will want to add your own insert.
Now going with all 3 (shoes+standing mat+inserts) could just be exactly what you need to make your work experience completely comfortable and pain free.
What do you think about these options, do you like them? Are there any others you think should be on the list? Let me  know in the comments below!