The Ergopose Electric Standing Desk is one of my favorite full standing desks you can find right now. It is one of the most affordable options you can find and yet its quality isn't lacking behind some of the "elite" desks being sold for double the price. Here is the full review.
Overall Rating
Company: Ergopose
Desk: "ePo" Adjustable Height Standing Desk
Style: Electric
Average Price: $349 (frame only), $579 with frame.
Rating: 93.5/100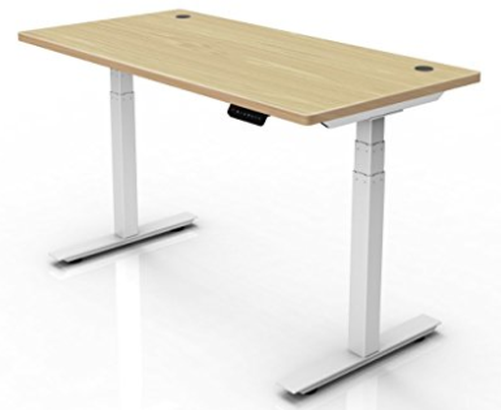 Specs
Height Range: 23″-49″ (without the tabletop)
Width/Depth: 42″-72″ wide, 24″-48″ deep
Speed: 1.5″ per second
Weight Capacity: 352 pounds
Warranty: 5 years
Weight: 61 pounds (frame without top)
Handset: LED, 4 preset height options, up and down arrows
Noise: Less than 50 decibels
Assembly: 30 to 60 minutes
Pros
Highly affordable
Quality height range
Limited wobbliness even at max height
Quality warranty for the price
Easily adjustable with the click of a button
4 preset height options
Quiet when adjusting
Can buy the frame separately to save money
Adjustable width and depth for various desktop sizes
Cons
Not as fast adjusting as a manual desk or desk converter
The company hasn't been around very long
Ergopose Standing Desk Overview
This is a standing desk that hasn't been on the market for very long and many people simply don't know about this option. It is an affordable standing desk that I think outperforms other "affordable" standing desks.
The specs are just about the same as some higher priced models but this comes anywhere from a hundred bucks less to several hundred less than other "elite" standing desks, and this is why I have it rated so highly.
This can be the perfect standing desk for the average middle-class person who is looking to save money but doesn't want a product that is going to break down in less than a year.
The ePo in More Detail
Price
The frame for this desk goes for $349. To give you some perspective on this, the Jarvis desk is considered an affordable desk as well yet the frame on that goes for about a hundred bucks more.
If you're looking for a full standing desk, then this is one of the most affordable options you can go with.
Now, if you add Ergopose's bamboo desktop to the frame then you can add an additional $250-$300 for the 48-inch desktop, and if you go with the largest 6-foot option then you can add $350-$400 to the total price. So this would put you anywhere between $599 to $749 for the total price.
One thing I do recommend if you're trying to save money is to go with a quality frame like this but then add your own desktop to it to save some additional money.
Warranty
This standing desk comes with a 5-year warranty on the desk frame. With the price of the frame at $349, I would expect a 2 or 3-year warranty. So the 5-year warranty that it comes with is really good for the price.
Some higher priced standing desks come with 7 or sometimes 10-year warranties so it isn't exceptional overall, but when you look at what you're paying it is.
Desktop Size
The desk will accommodate a desktop anywhere from 24″ x 42″ being the smallest option, to 48″ x 72″ being the largest option.
This is going to cover just about anyone's needs.
Quality Height Range
The 49″ maximum height is excellent. This means assuming you add a 1-inch desktop to it then your maximum standing height would be 50 inches. This would be ideal for someone as tall as 6'8″ and could even work if you are a couple inches taller than that.
If you're 6'9″ or taller then you may want to consider something different. For a height reference, you can read this article to see the exact height you will need for your standing desk. The good thing is that most people reading this won't be that tall, making this desk tall enough for 99% of the population.
With the desk going as low as 2-feet off of the ground, it gives you the option for children to use it as well. The lowest setting will also accommodate most people.
Build/Sturdiness
With the company being around just over a year, it is tough to say what the long-term quality of the desk is. The 5-year warranty that goes with it gives you assurance that it isn't going to break down anytime soon though.
As for it sturdiness while standing. Most reviews stated there was very little wobbliness. I would even put this on par with the Jarvis desk or the Uplift desk, both of which go for about a hundred bucks more.
Accessories
Like other electric desks, this comes with a handset where you can raise and lower it with the click of a button. This desk comes with 4 preset height buttons as well which is pretty much the maximum you tend to see on electric adjustable desks.
I was surprised to see this didn't come with only 2 or 3 preset height options.
Sound
When adjusting the Ergopose desk you can expect it to be less than 50 decibels, making it very quiet and probably wouldn't even be an issue in a library.
Check out this video to see it in action.
Final Verdict/Overall Score
| Factor for Total Score | Rating (Out of 5) | Impact on Final Score |
| --- | --- | --- |
| Durability/Quality | 4.5/5 | 18/20 |
| Stability/Wobbliness | 4.5/5 | 13.5/15 |
| Price | 5/5 | 15/15 |
| Height Range | 4.5/5 | 13.5/15 |
| Speed | 4.5/5 | 13.5/15 |
| Aesthetics | 4.5/5 | 9/10 |
| Noise Level | 4.5/5 | 4.5/5 |
| Warranty | 4.5/5 | 4.5/5 |
| Value | +2 | +2 |
| Total | | 93.5/100 |
Overall this desk scores really well. I gave bonus points for value considering the price and what you get.  The 5-year warranty is actually an excellent warranty for the price of the frame. It is simply the most affordable quality standing desk as the specs are elite while being fairly priced.
If you end up getting 5+ years from this desk then it is a valuable purchase.
More Info and Where You Can Buy Online
Ergopose Standing Desk at Amazon.com
Ergopose Standing Desk at Ergopose.com